by Kellene
For the past 10 years I've been teaching others how to easily use a pressure cooker in their modern-day kitchens. It's no secret that I absolutely LOVE mine and simply could not live with as much peace of mind without it.  Amidst my classes I frequently encounter persons who have horror stories of how the pressure cooker blew up in their grandmother's kitchen spraying tomatoes all over the ceiling. I always assure them that such horror stories have a logical reason and need not be the norm. In fact, I believe that pressure cookers are very, very safe to use in the homes. Think of me as the Pressure Cooker Dragonslayer. *grin*  Pressure cookers are harmless—unless
of course, you encounter an "ID-10-T" error.  Yes, the" I.D. one zero tee error", as espoused by the IT tech geeks with a sense of humor, otherwise known as an "idiot" error, does indeed have the power to ruin a good day. But you never know. There just might be a useful lesson in there for your preparedness efforts. I know I got a wake up call.
Let's just cut to the chase. I was stupid. I was trying to film a short instructional video on my Flip, which I held in my right hand.  I had released all of the pressure in the cooker, and was attempting to lift off the lid with my left hand—my weak hand. As such, I foolishly got distracted with the camera angle and didn't pay attention to the fact that I was placing my left hand right in the middle of the stream of hot steam that was escaping from the pan.  Immediately my left hand seared with pain and I dropped the lid.  I went to the sink to run water over it, but it became quickly apparent by the intensity of pain that this wasn't a simple burn.
I'll go ahead and admit that while I (surprisingly) did not utter a single swear word, I was scared and really, really hurting. I was the only one at home at the time and since the running water was the only thing giving me any semblance of comfort I felt slightly handcuffed to the sink. Oh…I have never been in such pain—ever! I suspect I panicked a bit and didn't think clearly. Then I made myself breathe, say a quick prayer, and then tried to think of what in the world I could do to solve this serious problem.  Should I call 9-1-1? No. Too expensive. Should I drive myself to the ER? Nope. I simply could not leave the running water that long as the pain was simply too intense—and besides, what would I do if I couldn't get to a hospital and this happened? (Yes, in my warped mind I DID indeed still think like this) The hospital would have given me a good shot, cleaned the wound, and sent me on my way along with a hefty bill.
So, I escaped the water long enough to make a sound decision on which essential oil to use. I instinctively went with the Lavender oil. But taking my hand out of the water and letting the oil soothe me wasn't an option. Again—it was simply too painful. So I grabbed a nearby bowl, filled it with water, and then dropped the essential oil in there. I found some comfort this way. I won't continue with this mess except to say that I have never been so happy to hear my dogs bark to tell me that my husband was home. Although he was shocked a bit to see me so distressed and crying, he simply knew what to do and went about it in a very matter of fact manner. He applied Burn Free, wrapped the hand, and wanted me to keep it elevated. Sorry Honey. I know you just did this pretty wrapping job on my hand, but I SO want to plunge it back into the water for some relief.  So he endured my water ritual for the next 6 hours until I could finally bear the pain long enough for it to crest and he could rewrap it.
So why in the world am I sharing this somewhat embarrassing story with all of you? Because I got hit with a taste of reality that has an affect on my preparedness efforts. I know I have learned a few things, so I hope you can too.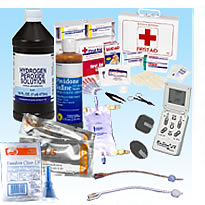 1)      I need a heck of a lot more gauze, medical tape, and bandages.  So I'll definitely be keeping my eyes out more  for those kinds of items. But I'll also get back to crocheting my own bandages. They are a lot thicker than the commercial gauze and more durable and thus can get cleaned, sanitized and reused. The stitching is easy and mindless, so it can be done while you're watching the kids soccer practice or your favorite TV show.
2)      Essential oils are great for care, but perhaps not the best for emergency care in the event of a laceration, broken bone, or immediately after a severe burn such as this.  While using them instead of chemical drugs is a good idea, I certainly wouldn't advise relying on them solely for true emergency scenarios. I sure wouldn't postpone the resetting of a bone or stopping the bleeding while you go and try to figure out which essential oil is best. (Although my instincts did NOT lead me astray in this case—thank heavens.) They definitely help in the healing process and the lavender water felt a heck of a lot better than the just plain water. I'm positive that I would have had more blistering and burning had I not taken this treatment to task early on. But the essential oils simply cannot replace the learning of other key medicines and procedures.
3)      I need more Burn Free! If we had a half dozen people affected by a severe burn, I would have run out of that stuff faster than a toilet flushes. It's also more likely the burn accidents can occur if you're living amidst your non-traditional methods of cooking such as a butane stove, fire pit, etc.
4)      Aspirin is an analgesic and the only one of the traditional pain relievers that can be claimed as such.  While I actually had on hand some more robust pain relievers, all they did was mask it whereas the aspirin really did relieve the pain and the source thereof.  So I'll give it a bit more credit in my preparedness repertoire in the future.  My girlfriend who's a long-time nurse told me to go ahead and take 4, even 6 aspirin if I needed to. While it may make my ears ring, it will do a great job at diffusing the pain—and she was right on both counts. However, be sure that you drink PLENTY of water if you consume any kind of medicine like this. It's hard on your poor liver, stomach lining, and kidneys, so they need a little extra boost.
I'm sure that I have more to share on this matter (such as the Frankincense essential oil is doing a great job at making my hand appear a little less "raw") including other methods that I have on hand that I could have used instead. But it sure did open my eyes at how vulnerable we could be without immediate access to medical care. So boning up on my emergency medical skills is definitely in it's rightful place as the second more important aspect of Preparedness—Mental Preparedness.
To see our upcoming event schedule, click here
Check out our in-home-course programs
Subscribe to Preparedness Pro today and never miss a thing!
For any questions or comments on this article, please leave a comment on the blog site so that everyone can benefit!
Copyright Protected 2010, Preparedness Pro and Kellene. All Rights Reserved. No portion of any content on this site may be duplicated, transferred, copied, or published without written permission from the author. However, you are welcome to provide a link to the content on your site or in your written works.
© 2019 Of COURSE this post is Copyright Protected by Preparedness Pro. All Rights Reserved. NO portion of this article may be reposted, printed, copied, disbursed, etc. without first receiving written permission by the author. This content may be printed for personal use only. (Then again, laws are only as good as the people who keep them.) Preparedness Pro will pursue all violations of these rights just as vigorously as she does any of her other freedoms, liberties, and protections.