by Kellene
Today I'm going to share with you one of most powerful financial aspects of using coupons AND I'm also going to share with you a couponing tip that will make anyone who's using coupons, ecstatic!
A couple of weeks ago I taught the first ever live broadcast of my Coupon Training Boot Camp (also known as "Enough and to Spare").  We received great feedback from the attendees—some of who were even experienced couponers that simply got recharged. Frankly, I even got recharged as I was teaching one of the most powerful financial benefits of using coupons.  For those of you who are interested, you can now purchase my extended in-home program of Enough and to Spare)
Although it was a 3.5 hour webinar (without any breaks, because I simply forgot to give everyone time for such—bad Kellene!) I felt like the time flew by because we got to talk about something that was fun, truly makes a big impact on a person's cash flow, and fills our pantry in no time!  (Perhaps it didn't fly by for anyone who had a full bladder, and for that I do truly apologize. *grin*)
Anyway, I felt it was important for me to share with you what I believe are the primary reasons to get involved with couponing. (Please see my previous posts for my debunking of couponing myths).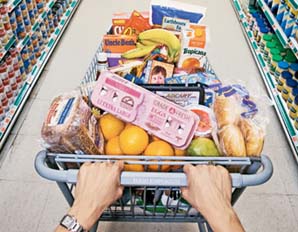 Are any of you old enough to remember paying only 5 cents for a loaf of bread?  Nowadays they are anywhere from $1.50 (on sale) to $4.49 for the heartier, hoyty toyty kinds.  How about when you paid only 10 – 25 cents for a good sized candy bar? Now they are regularly priced at $1.39.  Aye Yay Yay!  And yet my research as of late shows that our incomes have no where near caught up with that kind of escalation.  But since we all require food (or "food-like" sustenance i.e. peanut M&Ms) then we can't really accomplish much with our grumbling. Nor can we do much in any act of protest. We're pretty much stuck. Sure we can be more careful about what we buy, but careful doesn't get you a loaf of bread for only 5 cents…or does it?
I remember in the 1980's my step-dad was in charge of buying the groceries every week for the family. At that time he had 5 persons in the household—three of which were ravenous teenagers. I remember being shocked when I visited him and discovered that their grocery budget was only $75 a week!  I even went shopping with him just to see for myself that it could be done.  I was amazed that he was able to feed so many with such a small budget.  I realize that small is a relative term, but I know that the $75 Dad spent was carefully calculated in terms of how many servings of food it would deliver as well as packed lunches. During that shopping trip, I remember Dad telling me that he still couldn't get over the price of groceries.  He claimed that he remembered when he and his family lived an entire month on only $50 worth of groceries in the late 60's and through the 70's.
Now, let's fast forward to 2010.  Just recently, my sister made her way to Target with her action plan and her coupon notebook in tow.  She was so accustomed to doing this, that she didn't pay close attention to the amount of items she was putting in her cart. Instead she was focusing on her couponing list which indicated what she should be buying and stocking up on because it was freely, cheap, or even less than free. When she got up to the check out stand and her items started crossing the scanner, she began to panic a bit. She purchased a plethora of items in addition to her groceries such as hair color (yup the secret's out now, Sis), household cleaners, clothes for the kids, and a few toy items that would be great for birthdays and such throughout the year.  She found that she had stopped breathing as she observed the register show a total amount of $386 dollars! My sister was a bit taken aback as she was knocked into reality for a moment. At that second she doubted her sanity and was a bit panicked thinking that she may have gone too far beyond her couponing powers this time around. She wasn't sure for a moment that her coupons were going to be able to make up enough of a difference to keep her out of trouble with her budget.  As the cashier started scanning her coupons, the numbers began to decrease bit by bit.  The result? She went down from $386 to $112 and she also received $50 worth of Target gift cards to use the next time she came back!  Essentially, she was able to benefit from all of the food, chemical, manufacturing advancements of 2010, but at 1970 prices!  So tell me folks, is there another aspect of your financial life that you can do that with?  Can you get gasoline at 1970 prices? I've never seen gasoline sales, so I'm going to say nope, but if you use coupons you can qualify for gasoline discounts. Even better you get credit for your purchase BEFORE the coupons kick in, resulting in you getting gasoline prices from 2 to 8 weeks previous.  Now you may know why I call my coupon notebook my time machine!  The other day I bought 3 loaves of bread, 8 AAA Energizer batteries, and 2 pounds of butter, 5 pounds of steak, and two boxes of Post Raisin Bran all for less than a dollar—total!  I'm thinking that in this case, I may have gone back to the early 1900's.  hee hee  In my opinion, coupons are the only real time machine presently available to us.  But it works every time and there's no need to worry that you're going to get stuck back in time either. *grin*
So, there's that thought for you, now let me share with you another great way to get your hands on coupons.  How would you like to be able to purchase JUST the coupons and not the newspaper? Would you like it if you could get THREE POUNDS of the printed coupons (Smart Source, Red Plum, and Proctor and Gamble) every month for only $33 a month?! I know I would.  So, here's the deal; the cost is $33 a month. You'll receive 3 pounds of original, printed coupons. You'll receive at least 2 of each coupon, sometimes as many as six.  The coupons will be from the last 4 to 6 weeks.  They remove the junk pages from the coupons slicks and also are mindful of any expired coupons. If there are expired coupons, then they throw in more to help compensate for that. You'll have more Smart Source coupons than the Red Plum or Proctor & Gamble. In order to get this deal, you will have to CALL or EMAIL American Consumer Services. No, they don't have a website. Their email is [email protected] or you can call them at 1-866-790-5088.  Place your order with your credit card/debit card and the following week they will send out your order.  Now, this is a small company. Very nice. They still answer their own phones etc.  Don't feel like you have to rush to get this special. In fact, the owner was a little bit nervous about me sharing this with you because he knows that we have 90,000 + readers each month. Whew. Oh, and also, if you mention Preparedness Pro, you'll get $3 off of your first month's subscription. Also, you can cancel your subscription at any time if you're not satisfied.
Happy & Giddy Couponing, folks! Be sure that you dress appropriately for your time travel.
To see our upcoming event schedule, click here
Check out our in-home-course programs
Subscribe to Preparedness Pro today and never miss a thing!
For any questions or comments on this article, please leave a comment on the blog site so that everyone can benefit!
Copyright Protected 2010, Preparedness Pro and Kellene. All Rights Reserved. No portion of any content on this site may be duplicated, transferred, copied, or published without written permission from the author. However, you are welcome to provide a link to the content on your site or in your written works.
© 2019 Of COURSE this post is Copyright Protected by Preparedness Pro. All Rights Reserved. NO portion of this article may be reposted, printed, copied, disbursed, etc. without first receiving written permission by the author. This content may be printed for personal use only. (Then again, laws are only as good as the people who keep them.) Preparedness Pro will pursue all violations of these rights just as vigorously as she does any of her other freedoms, liberties, and protections.