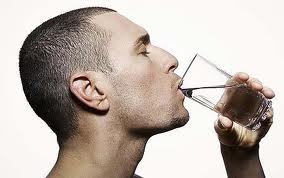 Yes, I admit. I harp about water, water, water virtually non-stop. But I realize that perhaps I haven't provided you with a thorough foundation as to why I'm so seriously convinced that a self-reliant water scenario is a serious issue for families of any and every size, regardless of what your water source is. Municipal, river, spring, well, etc. They all have some realistic vulnerabilities for which we should prepare in an effort of self-reliance.
Is Your Drinking Water Safe?
First of all, I cannot stress sufficiently that the water we drink, including that which we pay exorbitant prices for, is not all  it's cracked up to be. In fact, the 2009 American Civil Engineers reports most recent rating graded our drinking water as a D- along with the D grades for our waterways, levees, and waste water systems! (Issued every 4 years.) As such, the slightest interruption or disruption to those sources can cause an uncomfortable crisis.  For example, in May, 2010, a water main broke in Boston, MA. Individuals who normally would have been on their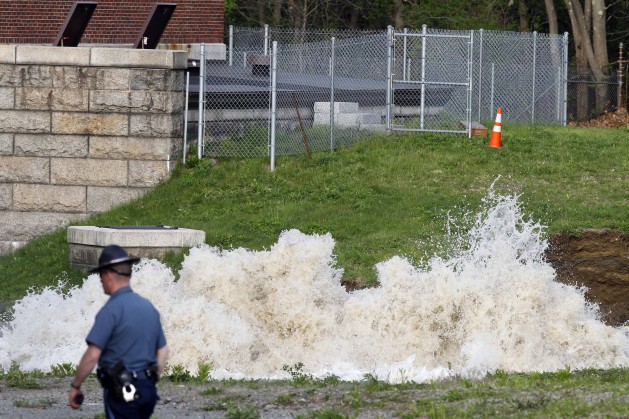 way to work while pounding out multi-billion dollar deals were instead waiting in a massive line of idling cars in order to claim their single case of water to get them through 3 days of a "boil water order." Like fighting for an additional eighth of a point commission on a multi-billion dollar deal, some of the recipients unleashed a diatribe of vulgarities when they discovered they would not be receiving two cases of water after idling their Mercedes in the line for over an hour. Yup, all this drama and stress modifications to millions of lives all because there was a breach in an aqueduct far outside the city in a suburb—a breach caused by the failure of a simple coupling that was only 7 years old. The repairs threatened to take weeks, but were completely miraculously in only 72 hours.  In typical political fashion though, this small incident garnered Barrack Obama's interest as he signed a disaster relief bill to pay for up to  75% of the costs of restoring the coupling.  Wouldn't it have been a lot easier if our water systems were well-maintained all the time so that we didn't have to tax the rest of the American citizens for our own follies?
Unfortunately those we pay to watch over our safety and security have not performed their duties with honor and integrity for a very long time now. There's no sugar coating it. It's not a political issue. It's a matter of prioritization. But our denial of these issues has catapulted our water sources into some of the absolute worst in all the world—worse, these problems are threatening to become nearly irreparable as a result of the volatile infrastructure that surrounds them. The roads, bridges, piping, nuclear plants, and electric grid are nearly as volatile as our water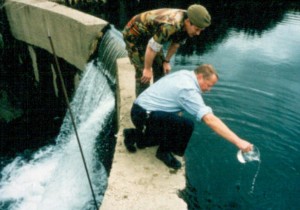 system. (Perhaps once you fully appreciate this scenario, you can better appreciate why I say that a power outage would actually cause a financial collapse and vise versa.)
Now, back to our drinking water
Our water sources are pooled throughout the nation via reservoirs, dams and levees. The integrity of these structures is just a part of what determines our water resources—of which we use 408 billion gallons of  DRINKING water a day!  However, just because it flows into our home, doesn't mean it's what we'd approve of putting into our body. Why? Well, it has a lot to do with the infrastructure that directs and protects our water.
Is a water shortage realistic? Unfortunately, yes. For example, on a dry day in the NY subway systems there are 200 pump rooms which are responsible for removing over 13-15 million gallons of water from the underground caverns every single day—water which exists only because of seeping, leaking water pipes. According to the American Society of Civil Engineers, they  claim that we have water leaking out of our water carrier pipes to the tune of 7 billion gallons every day. We lose an average of 10 percent of our water supply every year according to the EPA. Even worse, we have over 10 billion gallons of sewage seeping into our drinking water pipes every year—that's AFTER it's been treated by the municipalities!  Keep in mind that a significant portion of our water delivery systems have been in place since shortly after World War II and over 25% of them during the Civil War! This year as we've experienced extreme heat and extreme cold, water main pipes have caused over 25 billion worth of damage—repairs which were NOT included in the budget whatsoever. Oklahoma reported over 685 main breaks in Oklahoma City in the month of July alone—four time the normal rate—as a result of the extreme heat temperatures, causing water to be shut off just when residences actually needed it most. Think you're safe? Think again. With NORMAL temperatures, a water main breaks every two minutes in the U.S.  for a total of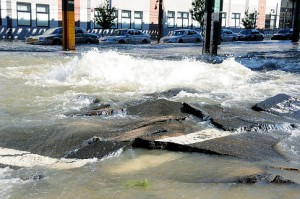 300,000 a year! Most of the underground mains are 80 to 100 years old, several times past their expected life range. In Washington D.C. the average age of a water main is 77 years old. We're not talking about patching here, we're talking about needing a complete replacement. But  nowadays when we go in to replace these antiquated systems, we've got cable, phone lines, and electrical lines to be concerned with as well. When the water mains go, so do the services near these water mains.
This past summer, the town of Kemp, TX suffered from 14 water mains breaking on August 7th during one of the worst droughts ever—leaving residents without any water for nearly a week. Can you imagine what that would do to commerce in that town? What if such a crisis were to happen in a town in which pharmaceuticals are manufactured?
Perhaps this makes some sense as to why the average increase costs of sewage and water services are 13%! We haven't even begin to touch all of the KNOWN toxic chemical seepage instances that we know about, which no one claims to have any authority to stop.
Oh, and by the way, did you know that we don't have a single federal agency which oversees our water? Yeah, but let's bring on those oh, so necessary unconstitutional czars!
All of these weakened and ignored levees/dams dot the entire U.S.—some even tower over our communities and schools. We all saw what happened when Hurricane Katrina stirred things up. Even without the levees breaking, the water contained horrific substances just waiting to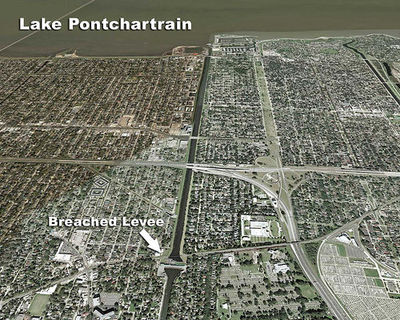 be absorbed into our bodies through the skin. The water contained raw sewage, chemicals, petroleum, and gases. We can't live side by side with these dangerous substances and presume that they will keep to their own corners and behave even when a tornado, earthquake, or some other accident takes place. We make a big deal about how vulnerable the levees were in Louisiana, but the fact of the matter is, we heavily rely on these dams and levees to hold back trillions of gallons of sewage and toxic sludge. We don't  have inspectors who stay on top of these matters; and we've learned from the Katrina incident that even when a warning is issue it goes unheeded. Out of 85,000 dams in the U.S. only 11% of them are owned by the government, leaving the rest to be maintained by private corporations and private entities. There are at least 4,095 dams that are presently rated as "unsafe" with 1,200 of them listed as "high hazard." That may not seem like a lot to you, but when you consider that there are thousands of orphaned corporate dams abandoned by the corporations which created them, remembering and the majority of all of the dams are not even inspected--that's now a scary number to behold. For example, Alabama has NO inspectors for their 2,000 dams. I wonder how many of them are considered "high hazard"? Texas has 7,400 dams with only 7 inspectors. Those inspectors only get around to 230 dam inspections in 2 years time! Iowa has 1 full-time and 1 part-time employee to oversee 7,400 dams, and have only looked at 129 dams once in the last 4 years. So, do we feel comfy cozy in the security of our water supplies?
We simply cannot believe that the cozy comfy services we presently enjoy will continue to go on forever. We must take on the responsibility for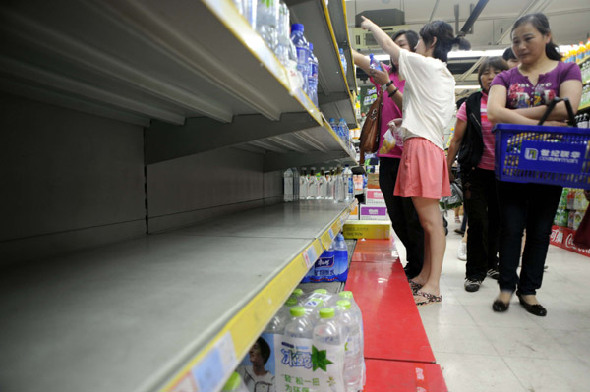 our hydration, cooking, and sanitation now! Instead of coming up with all of the reasons why we "can't" accomplish it, we need to start asking ourselves how we CAN accomplish the need to provide sufficient water for our families. Just as a reminder, you need a minimum of 1 gallon per person, per day, for a year. Why a year? Well, let's see. How long did it take for the levees to be repaired in Louisiana? Oh yeah. I forgot. They STILL aren't finished. *sigh* I don't want you scared. I want you at peace, but without a false pretense. Fully informed peace of mind is still very realistic, folks.  Oh, and by the way, for the umpteenth time, NO, you do not need to rotate your water. Put it in and plan on filtering it once it comes out. We can go over various filter options in a subsequent article.  In fact, considering how our water systems keep getting worse as time goes on, I'm more comfortable putting the tap water in today than the tap water of tomorrow.
© 2019 Of COURSE this post is Copyright Protected by Preparedness Pro. All Rights Reserved. NO portion of this article may be reposted, printed, copied, disbursed, etc. without first receiving written permission by the author. This content may be printed for personal use only. (Then again, laws are only as good as the people who keep them.) Preparedness Pro will pursue all violations of these rights just as vigorously as she does any of her other freedoms, liberties, and protections.