When it hit me, I felt  so foolish for not having thought about it more specifically before, let alone plan for it. I mean really, you'd think that someone who eats, drinks, sleeps, thinks, writes, and talks about self-reliance would actually have the presence of mind to address being prepared for the long-term care of her babies in any scenario.  How in the world can I be a proudly obsessed preparedness-minded person if I don't have a long-term game plan to feed my pups quality nutrition regardless of the scenario in which I might find myself? Oh well; I guess I can still hold the title of Preparedness Fanatic now that I've at least learned my lesson and solved the problem.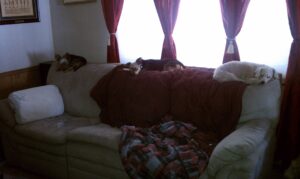 Dog Food is Expensive!
"$150 dollars!? Good Gravy, what are we feeding them, Beluga caviar and organic duck eggs!?" This was my response when my husband returned from his regular trip to the pet store to stock up for a couple months on dog food. Mind you, we have three dogs, yes, but they are midgets—two Yorkies and one Toy Poodle—although I have to admit when watching them eat,  they look like they are in a contest against each other to see who can finish first without actually tasting their food. (Binky, the youngest and smallest, would like the world to know that she wins every time, even when we give the other two a head start.)
Not every dog owner feels like their pets are family members; and perhaps some of our readers are simply planning on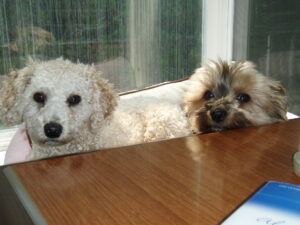 their dogs fending for themselves in the aftermath of a crisis of some sort. But from a security and sanitation stand point, and the health of the dog, this isn't ideal. I don't need to dredge up all of the possible scenarios in which you'd agree that there are great risks if our canine friends are coming and going freely in the midst of a crisis scenario. For example, an epidemic  is just one scenario which would require keeping your pets nearby and monitored so as not to aid in the spread of germs or get sick themselves. I'd have a hard time just letting them roam freely in a time of great civil unrest as they might not come back, or be sorely injured by other roaming animals—either two-legged or four.
This takes me to yet another reason why I'd want to keep them by my side continually—I don't want them to be part of a societal problem for others, nor do I want them to end up as someone else's meal. I realize that these aren't happy, fluffy thoughts, but  they certainly are realistic given the litany of events with which we may be confronted. So, if keeping Fido nearby is important, then I presume feeding him would be as well.
Using Leftovers for Dog Food
Another miscalculation that some pet owners may run into is the concept that they will just feed their dogs scraps or leftovers from mealtimes. In a time when food is scarce or extremely expensive, there simply won't be much in the form of scraps. I've been doing a lot of research of the everyday lives of the survivors of the Great Depression. In the city, there simply were no pets—they were a luxury that very, very few could afford. Whereas in the more rural areas, they were deemed an asset for protection (something to mull over that we'll explore in another article). Bottom line, if you're committed to having your crisis scenario being any different from those during the Depression, or even from the tens of thousands of families who have been abandoning their pets over the last three years due to the economic crisis (primarily in the form of foreclosures—forcing people to leave their homes and rent in non-pet-friendly environments), then you're going to have to plan for their well-being just as much your own.
By way of some foundation, veterinary experts state that the ideal food for your canines is actually one-third raw protein and two-thirds produce with some quality grains.  The secondary preference is real, honest to goodness,  freshly cooked food.
Next is quality canned foods, and the last on the list is the dry stuff. Frankly, trying to store the dry dog food for long periods of time is not an easy task, and it attracts rodents like crazy. On the other hand, I do get a lot of dry dog food free or dirt cheap thanks to couponing, and so when I do, I work it into the food that I do feed them. But remember, your pet's food has got to be stored in a cool, dry place, also with an added layer of protection, such as Mylar bags or thick food-quality buckets. Unfortunately, there are no published "shelf-life facts" for dog food because that industry simply does not think in terms of a long-term tomorrow other than their sales projections. Additionally I have several cases of canned dog food in storage as well, but I frankly don't rotate it well; it's literally in storage and isn't our preferred wet food to feed them, as I'll explain why in a moment. But when I can get it free or cheap like the dry dog food, I'm going to do so. If it makes it into my home or into the humane shelter it still carries with it the need to be good quality, void of animal parts that simply aren't fit for consumption.
Cook for your Dog!
So, what's my strategy now that I got conked on the head with an expensive reality? Cooking for them; and frankly doing so has saved us boatloads of money on their nutrition and it's just as easy to serve at mealtime as opening a can. In fact, my next step will be to actually can some of their food ready-made.  I've found some great recipes online for meals, as well as training treats and even nutritious chew "toys." Or you can go to Amazon.com and look up "cooking for pets" and you'll find a litany of possibilities there too. I was surprised to see how easy it was to make their wheat treats. In fact, they love the wheat meat creations that I make which my husband and I love.  The interesting thing is that as they eat more of the "real food" that I make for them, they become a bit more picky on the snacks that they will eat that Scott serves them. My oldest, Sinta, won't eat a cracker or any other dry snack if she can smell the canola oil. (As an interesting side note, the USDA forbids corn oil and canola oil being any part of the feed going to cows—but Hey, the humans can eat it just fine. *sigh*)
What I feed them is barely a deviation of what I cook for my husband, although I am careful to make sure they don't eat black olives or onions, those two are no=no foods for dogs; avocados (and any part thereof); alcohol (has the same effect on their liver and brain as on you but does the damage 10-fold and very quickly); onions and garlic (even in a powdered form) is sure to make them anemic; coffee, tea, and caffeinated drinks (can send them into a seizure); grapes and raisins will make them vomit; milk or dairy products give them diarrhea; and macadamia nuts are straight poisoning to a dog and can cause strokes or tremors; and you definitely don't want to add chocolate to any of these concoctions as it causes heart failure. If the fat is isolated off of leftover meat, then feeding your faithful friend will create pancreatitis and of course the bones are an absolute  no-no as any veterinarian will tell you emphatically, no matter how big or how small, you're just begging for death to occur as they puncture organs, and causes death. Fruit with small seeds intact should also be avoided, even if the seed is large, as in peaches and apricots. Their seeds actually contain cyanide in them which is used for a healthy lifestyles in humans, but not deemed helpful to smaller canines. Also, go easy on anything salty. If we ever get French fries its one of their favorite treats, but they don't get them until I can lick some of the salt off first. Too much salt in their diet will indeed cause seizures. Yeast breads are also not great to feed the pups either because it ferments in their small stomachs, produces an alcohol which can then result in alcohol poisoning. Baking powder, baking soda, and nutmeg are toxic for your dog. Whew! That's a lot of "No's" but it's not anywhere near what a person struggling with food allergies has to consider. So, what's left to feed them?  Well that's easy. Beans, rice, barley, brown rice, meats and gravies, fresh or steamed veggies, some fruit for a special treat, oh, and Teddy Grahams—but just for an occasional treat for yourself.
Here's one of my favorites puppy casseroles (and then I add a little more meat and a few more seasonings for the portion that me and my family will eat.)
Pampered Pooch Casserole
1 1/2 cups converted long-grain white rice, barley pearls, wheat berries or brown rice.
2 teaspoons olive or flaxseed oil
2 cups water
1/4 teaspoon ground thyme
1/4 teaspoon garlic powder-NO MORE than this amount
½ cup of shredded carrots
½ cup of crisp green beans or peas
1 cup grated Monterey Jack cheese
2 cubes beef bouillon—preferably MSG free
1 pound lean ground lamb
Directions
Combine rice and oil in a saucepan over medium heat; stir and cook 2 minutes. Add the water, thyme, garlic powder, and bouillon. Cover, and cook 15 minutes more over medium heat, or until liquid is absorbed.
Meanwhile, cook the ground lamb in a large skillet over medium heat until browned, about 10 minutes. Drain, then stir into the rice along with the Monterey Jack cheese until the cheese melts. Cool just a bit before serving. Dogs love to eat warm comfort food like you do, but they don't have the same ability to cool food off in their mouths like we do and for some reason they will never spit it out if it's too hot.
You can go to the butcher and actually get their scraps. I like to throw them all in my pressure cooker and beat the heck out of them, and then use the broth and the meat bits to make up all kinds of healthy meals. I can even can them in my pressure canner for long-term storage too. Regardless of your ability to get scraps, you could get very cheap cuts of meat and break them down well in a pressure cooker as well for a fantastic gourmet nutritious meal every time.
Doggy Biscuits You Can Love
Ingredients
2 cups whole wheat flour
1 cup cornmeal
1 tablespoon salt
1/3 cup vegetable oil
1 egg
1 cup water
Directions
Preheat the oven to 350 degrees F (175 degrees C). Grease a cookie sheet.
In a large bowl, stir together the whole wheat flour, cornmeal and salt. Mix in the oil, egg and water to make a soft dough that is not too sticky. You may add more flour if needed. Roll teaspoonfuls of dough into balls, and place on the prepared cookie sheet. Flatten slightly.
Bake for 20 to 25 minutes in the preheated oven, until nicely browned and firm. Cool completely, then store in an airtight container.
Mealtime for your furried friends no longer has to be expensive, questionable, or compromising. And better yet, it's all easily done with long-term, shelf-stable foods. Bon appetite, Roxie, Sinta, and Binky!
owever, you are welcome to provide a link to the content on your site or in your written works.
© 2019 Of COURSE this post is Copyright Protected by Preparedness Pro. All Rights Reserved. NO portion of this article may be reposted, printed, copied, disbursed, etc. without first receiving written permission by the author. This content may be printed for personal use only. (Then again, laws are only as good as the people who keep them.) Preparedness Pro will pursue all violations of these rights just as vigorously as she does any of her other freedoms, liberties, and protections.