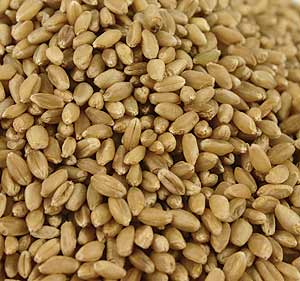 Would you like a few easy ideas that you can do with your wheat that will actually garner the joyful attention of your children, a sprinkle of admiration from your neighbors at that next potluck, and your own peace of mind knowing you're serving something delicious and nutritious? Yeah, I thought so. So how about we talk about wheat berries today?
For starters, let's remember that if you aren't regularly consuming wheat now, then when you may have to move to eating it exclusively everyday you're going to experiences some serious health challenges which can range from diarrhea to death.  Wheat is a wonderful source of fiber, but fiber requires a well hydrated body in order to be absorbed and processed properly.  So remember, wheat without water in your long-term food pantry is a recipe for disaster.  I realize for most people that I speak with, their stores of wheat are earmarked as "just in case" kind of food because one can reasonably get it, store it and forget about it for 30 years. But as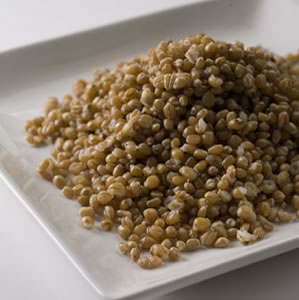 I've said previously, nothing should be brought into your home that you're not familiar with in its use, preparation, and consumption. So I'd like to help you out with that one today so that you can add some more highly enjoyable meals to your repertoire and gather some additional peace of mind by knowing that you've got some delightful possibilities for today as well as a long ways into the future.
Wheat berries are very easy to make from your whole wheat kernels or from cracked wheat. You'll be surprised with all of the delicious and simple ways you can incorporate wheat berries into your dishes. You can use them as a meat extender such as in a meatloaf recipe (half ground beef and half cooked wheat berries), in lieu of leaf lettuce in salads (remember to add some delicious sprouts too) or instead of rice in any casserole, soup, or fried rice recipe. Regardless, all of these options are super easy so learning how to make these power-packed dishes won't tax your brain, budget, or drain precious time from your busy day.
My favorite way to make wheat berries is super-duper easy and super fast thanks to my Kuhn Rikon pressure cooker.  All I do is put 2 ½ cups of water, 1 tsp. of salt,  and 1 cup of whole wheat grain and 1 "quick glug" of olive oil directly into the pressure cooker. Stir well and bring to a simmer, then put the lid on and allow the wheat to cook at high pressure for 7 -10 minutes. Once they've cooked I remove them from the heat and allow the pressure to release naturally. From there I drain any excess liquid (there should be very little with this method of cooking)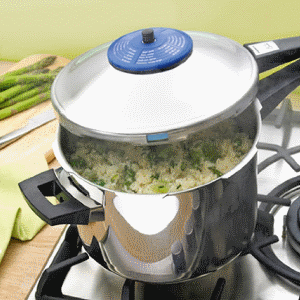 and I can then use these berries for any of my favorite recipes.
Most recipes call for you to allow the wheat berries sit all night long or at the very least 2-3 hours after cooking. But the pressure cooker cuts through all of that nonsense, and in a crisis situation this recipe will prove invaluable because you will dramatically conserve fuel because all you really need to do is bring the pressure cooker up to full presser, remove it from the heat source and wrap it up with several layers of towels, or in a quilt, or a Wonder Box. The pressure cooker will continue to cook for up to one hour and you've only needed enough fuel to bring it up to high pressure (about 5 minutes worth of fuel at the most when using a high quality pressure cooker.)
The good old fashioned way of cooking wheat berries is to just put them in a pot with a tight fitting lid, (combine 3 cups of water, and 1 cup of wheat and 1 tsp. of salt.) Bring to a boil. Allow to simmer ½ hour. Turn off the heat and allow the wheat to stand 8-12 hours. Drain any remaining liquid. You can also make them in a thermos by adding 1 cup of wheat to 2 ½ cups of boiling water, tighten the lid and then allow them to soak overnight.
Once you've made your wheat berries they can be stored in an air-tight container in the refrigerator for a week to a week and a half.
One of my favorite ways to eat the wheat berries is as "popped wheat." All you do is make the wheat berries as indicated above and then roast or fry them in hot oil. To fry all you need to do is put ¼ inch of oil in a skillet, heat it up to about 340 degrees, add the wheat berries and "fry" for about 30-45 seconds. They won't "pop" like popcorn, rather they will simply get crispy and brown. Once finished just remove from the oil and drain. Then top with your favorite seasoning salt such as Lowry's Salad Supreme, Shirley J's Pizza Pasta Seasoning, Shirley J's Barbeque Sauce (powdered form), powdered Ranch dressing, Old Bay Seasoning, or for a sweeter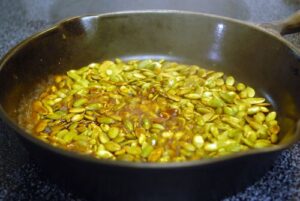 treat you can sprinkle cinnamon and sugar.  Either way, they are extremely addictive yet very satisfying due to their high fiber content.  To roast them you simple need to spread them on a greased cookie sheet and bake at 300 degrees for 10-15 minutes.
Wheat berries can be used for some very hearty and tasty warm cereals. Considering that oats don't last anywhere near as long as wheat, that's a great solution. Just fill your bowl with warm wheat berries and add milk/almond milk and some honey, brown sugar or maple syrup. You can also make a wheat berry pudding following any tapioca recipe and substitute the tapioca with cooked wheat berries.  Add a dash of nutmeg to the top of each serving and you're sure to experience a whole new delightful treat.
Wheat berries also make the foundation for some GREAT salads! Just yesterday my friend, Buffy, shared with me some memorable wheat berry salads. (By the way, we all should have a friend named Buffy. Your world's simply not complete without it. *grin*)
Below are two of the recipes she shared with me which I've tweaked a little bit. Either of these recipes can be made with fresh or freeze-dried/dehydrated ingredients. The taste was so great I could have eaten an entire bowl, but the fiber is so satisfying I don't think I could have eaten more than a ½ cup of either one of these salads.
Now, for those of you who aren't able to consume wheat, the good news is that I've experimented using quinoa and amaranth in the same kinds of recipes and I've liked the results too. Mind you, I'll stick with the wheat due to the fact that it costs substantially less, but you certainly need to be left out of this delicious fare because of celiac disease!
Enjoy!!
Wheat Berry Mandarin Salad

In a medium sized bowl mix the following ingredients:

½ cup fresh sliced strawberries (frozen or reconstituted is fine—be sure to pat them dry before adding)

½ cup fresh raspberries (frozen or reconstituted is fine—be sure to pat them dry before adding)

½ cup Craisins

1 10 ½ oz.-12 oz. can mandarin oranges, drained

3-4 cups of cooked wheat berries

(I also recommend added about a ½ cup of your favorite sprouts such as broccoli or cabbage sprouts.)

 

Dressing:

¼ cup olive oil

2 Tbs. sugar

2 Tbs. vinegar

1 Tbs. parsley

½ tsp. salt

Dash of pepper

Spinach Style Wheat Berry Salad

8 slices cooked bacon, diced

1 15-18 oz. can of pitted olives, drained and sliced

1/3 cup of diced red and green bell peppers

1/3 cup chopped spinach (fresh or frozen is fine)

½ cup shredded mozzarella cheese

3-4 cups of cooked wheat berries

Combine all ingredients above in a bowl and then top with the prepared dressing as indicated in the recipe below.

Dressing:

1 Tbs. dry mustard

1/3 cup red wine vinegar

1/3 cup sugar

1 cup olive oil

1 Tbs. poppy seeds

1 tsp. salt

Wheat Berry Dragon Salad

1 ½ cup diced cooked chicken

1 package oriental flavored ramen noodles, broken in small pieces

½ cup sesame seeds

½ cup slivered almonds

1 ½ cup of cooked wheat berries

Dressing:

½ cup vegetable oil

2 T. sugar

2 T. Soy Sauce

¼ cup red wine vinegar

½ tsp. salt

1/3 cup of finely sliced green onions.

1 flavor packet from the oriental ramen pack

On a prepared cookie sheet spread the almonds, sesame seeds and the ramen noodles. Roast at 300 degrees for about 5-10 minutes stirring occasionally so that they reach a golden brown color evenly.  Toast noodles, seeds and almonds on stove top until golden.  In a medium bowl, mix the chicken and wheat berries together.

Combine all ingredients of the dressing mix.  Add dressing, to the wheat berries and chicken mixture. Chill for about 30 minutes. Then mix in ½ of the toasted ingredients and top with the remaining toasted ingredients. Serve immediately.

If you'd like to learn more about  how versatile wheat is, all the benefits it provides, and how you can use it to substitute for meat, check out our In-Home Education Program: Wonderful World of Wheat!



© 2019 Of COURSE this post is Copyright Protected by Preparedness Pro. All Rights Reserved. NO portion of this article may be reposted, printed, copied, disbursed, etc. without first receiving written permission by the author. This content may be printed for personal use only. (Then again, laws are only as good as the people who keep them.) Preparedness Pro will pursue all violations of these rights just as vigorously as she does any of her other freedoms, liberties, and protections.