by Kellene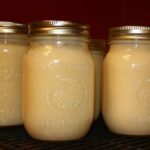 As crazy as it sound, I periodically engage in debates with another person or a cause privately in my mind. Ok. Yes, sometimes I do say things out loud just to see how they sound.  It's how I formulate an articulate and sound argument on a particular issue.  I think I started it as a teenager when I plotted how I was going to rationally get away with pushing the envelope with my mother's rules.  So, today, I am going to let you in on an argument that I've been having with myself and the imaginary USDA persons who believe that bottled butter is bad due to potential botulism poisoning.  I still hear so many of the concerns caused by the fictional USDA warnings about bottling butter. And I think it's ridiculous—as is clearly noted in my previous article. So hear it goes folks…

First of all...why in the world would the USDA say that bottling your own butter increases the risk of botulism?? I may not be a scientist, but I do know what kills botulism:  heat and oxygen; 180 degrees of heat, to be exact, for about 20- 30 minutes. When I purchase my butter from the store, can I safely assume that there is no botulism in it when I buy it? Isn't it fair to say that the manufacturers of the butter properly pasteurized it to eliminate botulism?  Um, I would certainly think so.  So, Mr. USDA, help me understand why is it that you are concerned that if I take my store bought butter from my refrigerator, put it in a pan and heat it for 15 to 20 minutes, which also exposes it to oxygen, which kills the botulism, and then transfer it to sanitized jars and seal it, that somewhere in that process I'm introducing botulism bacteria into my butter?! Botulism, by the way, originates from spores found in the soil!? Last time I checked I haven't been able to grow butter in my garden. Botulism needs low oxygen, comfy temps, AND low acidity to thrive.  It's not like I'm bottling my butter in the middle of my garden or field out back.  Yes, botulism is serious. You can't see it, smell it, or detect it other than in a laboratory. So let's be serious about it instead of spreading unfounded risks.  The growth of botulism requires low oxygen, low acidity, AND a comfortable temperature. Extreme hot or cold, along with the elimination of oxygen --AFTER the butter has been exposed to oxygen, is enough to cause the bacteria to become dormant.  Notice I said dormant-not eliminated.
In the past I have bottled my butter with a combination of the stove top, sanitized jars, a funnel, and shaking the contents for a while after bottling them. But lately I've been tweaking my method and am excited with the fact that I've made the process easier AND safer!  (I keep telling you all that I'm the laziest preparedness person you will ever meet. And what do they say about lazy people?  Give a lazy person a job and they will find an even easier way to do it.) hee hee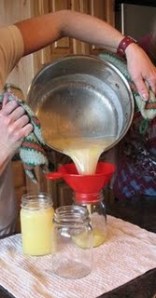 For starters, remember one thing about a solar oven.  It can easily reach 180 degrees and maintain that level with a modest amount of sun coverage.
Secondly, remember that you cannot burn or scorch anything in a solar oven. Thus, instead of having my butter melt in a saucepan on my stove for a long enough period of time that will  eliminate the botulism concerns, I've begun melting the butter in my solar oven.  This eliminates the oft-hyped concern that most bottle butter naysayers have to contribute about the process. At 180 degrees you are cooking low and slow. Botulism doesn't have a chance in that environment.  This is why I teach folks that they can also use their solar oven to sanitize bandages, dishes, and medical supplies.  Heck, you can even pasteurize water in your solar oven!
My solar oven has simplified the bottled butter process substantially.  I take ½ pound of butter and put it in a sanitized ½ pint mason jar.  Then I add a single marble to the jar as well. (This will aid me in the shaking process.)  Then I put a lid on the jar, and screw it down tightly.  I melt the butter in the solar oven for about an hour—PLENTY of time!  The lids seal nicely and the butter melts beautifully without getting brown or scorched.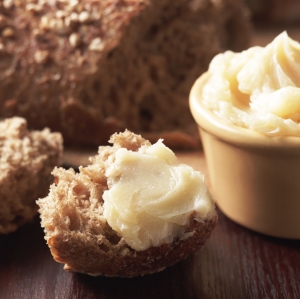 Then I cool off the jars of butter in the house, shaking them every 10 minutes for the first ½ hour of cooling. Then I put them in the refrigerator and continue to shake them every 10 minutes for the next half hour (the marble REALLY helps in this regard).  From there the golden jars of delight are stored downstairs in my cool, dry pantry for approximately 3 to 5 years.  No funnel, no mess, and no worries about botulism. Now when I make homemade bread, I can enjoy the taste of REAL butter on it, instead of the powdered stuff—even if there were no electricity for months and months.
Ah, freedom. You've just got to love it! Now, I feel so much better after this rant. How about you? *grin*
(Author's note: I prefer the Global Sun Oven for its superior insulation, heat retention, seal, and sturdiness.  You can find them on Five Star Preparedness for a good, everyday price which includes drop shipping right to your door.)
To see our upcoming event schedule, click here
Check out our in-home-course programs
Subscribe to Preparedness Pro today and never miss a thing!
For any questions or comments on this article, please leave a comment on the blog site so that everyone can benefit!
Copyright Protected 2010, Preparedness Pro and Kellene. All Rights Reserved. No portion of any content on this site may be duplicated, transferred, copied, or published without written permission from the author. However, you are welcome to provide a link to the content on your site or in your written works.
© 2019 Of COURSE this post is Copyright Protected by Preparedness Pro. All Rights Reserved. NO portion of this article may be reposted, printed, copied, disbursed, etc. without first receiving written permission by the author. This content may be printed for personal use only. (Then again, laws are only as good as the people who keep them.) Preparedness Pro will pursue all violations of these rights just as vigorously as she does any of her other freedoms, liberties, and protections.