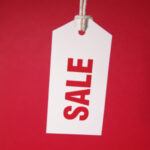 Hey Folks, Just a heads up. This week the "General Conference" sales go into high gear. I'm always checking out my local Macey's, Bosch Kitchen Centers, and of course, Augason Farms for sales.  If any of you are still wanting to get a Nutrimill, a hand grinder, or a Kuhn Rikon or BRK pressure cooker I suggest that you contact a Utah Bosch Kitchen Center and take advantage of the sales going on here. I know that the Bosch stores near me are offering at least 10% off the Kuhn Rikon/BRK stuff.
As for Augason Farms,
they are releasing their freeze-dried entrees this week in #10 cans. And because of a glitch in timing with the USDA they are only approved for direct sale (not for resale). This means that Augason Farms is blowing these out of their warehouse for only $19.99 when they are normally in the range of $28-$33 each! So, I would definitely be at the door of Augason Farms bright and early on Wednesday morning to be sure that you get these. I know for a fact that there is one guy who wanted to place a pre-order and get $10,000 worth of them. Fortunately individuals folks can swoop in and grab some of these before Mr. Money Bags is able to get them. (Not that there's anything wrong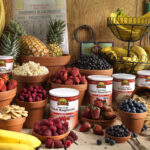 with someone with money, mind you; I just would like to see as many folks be able to benefit from this sale as possible.)
They will be having a lot of other items on sale as well, including some packages of their Raspberry Muffin Mix for only $2 each. Their freeze-dried strawberries and corn is also on sale. I thought the dough enhancer at only $3.99 and honey powder at only $9.99 to be a great deal as well. Also, if you go to the back of the outlet, you will see the #10 cans of scone mix. I hate to tell you this, cause it will just make me crave them (and I'm trying to be very, very good) but this scone mix goes fast in any growing family's home. It's downright yummy and even better at only $4 per can. They also have Honey Whole Wheat Bread mix in a #10 can for only $4 too. Vital Wheat Gluten (which I use to make wheat meat) is only $4.79 (regularly $8.).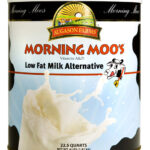 On a non-food note, check out their 4 cans of butane for only $5. That's a steal when you consider that one can is $3.99 at Home Depot.
Take advantage of the availability and pricing while you can folks. I understand that Costco is selling the Morning Moo's milk for only $9 for a #10 can. That's a great price for non-Utah locals because the "sale price" this week at Augason Farms is $10.79 by comparison.
© 2019 Of COURSE this post is Copyright Protected by Preparedness Pro. All Rights Reserved. NO portion of this article may be reposted, printed, copied, disbursed, etc. without first receiving written permission by the author. This content may be printed for personal use only. (Then again, laws are only as good as the people who keep them.) Preparedness Pro will pursue all violations of these rights just as vigorously as she does any of her other freedoms, liberties, and protections.