by Kellene
Why I Refuse to Have Anything to do With Oprah
This is a multi-part series that will specifically address the aspect of self-employment and why it's critical to our independence—even if only pursued on a minor level. I will also be sharing information on how to make a self-employment status more profitable and how to better manage the taxation thereof as well.
For starters, I realize that the title of this article may constitute some type of a first degree offense with some people, perhaps even some of you. But the article title does at least imply that I will explain why such is the case. After reading it, perhaps you will come to the same path as I have. Oh, and lest you think I've been drinking too much sugar, I assure you this has EVERYTHING to do with Preparedness.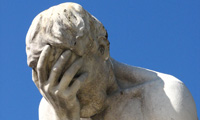 The other day the talk radio news I listen to mentioned a poll that was recently taken which stated that only 1 in 3 Americans felt happy about their state of life at present. The majority of those polled stated specifically that they felt helpless about what's going on in Washington and they were stressed about money. Surely we have plenty of blame to go around right now as to why this level of distress runs rampant in so many hearts at present, but let's look at what is really the root of it (as manifested in voluntary vulnerabilities) and see what we can do to reclaim an independent life from these uncomfortable circumstances. Yes there exists the villainous Bernie Madoff , Enron, George Soros, Fannie Mae and Freddie Mac problems out there that have fleeced the wealth of America for a long time. But I believe that while such persons need to be accountable for their actions, it's even more critical that we accept responsibility for the appropriate level of culpability we have played in being negatively affected by these unfortunate circumstances.  After all, true independence always demands accountability. (I'll get into more of that in just a moment.) This is where Oprah comes in. Look at her persona, the themes of her shows, the giving away of exorbitant prizes, etc.  In my view, it's all a celebration and grandstanding of the state of victimization.  I simply do not abide by such a notion.  I believe firmly that there are no victims, only volunteers. I think a situation of victimhood is really in the eyes of the whiner and those who serve as enablers. Do we really find virtue in such a mindset? Do we really want to foster such a mentality?
Like him, love him, or loathe him,  Obama made it to the White House not because of any accomplishments or experience that proved him to be a leader of the this great nation. He literally had a ZERO resume in that regard. Instead he actually had several alarming aspects to his background which went completely ignored—why? Because he catered to the willingness of the majority voters in our nation to accept and coddle the so-called victims of this nation.  Those who were willing to accept that they were victims of a "hard life and tough times" saw him as their personal piggy bank.
Many persons now find themselves in over their head with a mortgage that is significantly higher than the value of their home, calling themselves victims of overzealous brokers or banks. In fact, they are not victims, but willing participants in the "getting something for nothing game."  Many are now left paying oversized mortgage payments because their home equity was stripped by a manipulated series of events by truly evil doers.  Ideally, these homeowners will benefit from all of this in realizing that a home made of dirt, brick, and sticks is NOT an asset that appreciates in real value just by standing still, but is actually nothing more than a roof over our heads. Folks. This isn't pretty, and it may ruffle some feathers, but the fact is, as Americans we (and those who live in other 1st world nations) haven't even begun to know what really being a victim is.  A victim is not someone who finds themselves under the thumb of an incompetent political leader—especially when they did little or nothing to ensure an alternative outcome.  A victim is not someone who got laid off from a job because of exported employment—especially when there is a dearth of valuable, tangible manufactured goods in our nation that can be created and sold with little education requirements. A victim is not someone who finds themselves unable to pay for quality health care because the costs are too high when they have had abundant choices for better health their entire lives. A true victim is someone who literally CAN NOT even go to the community bathroom in their village without fear of being raped and battered; not able to safely harvest what little they've been able to plant due to genuine fear that they will be shot dead in the process; or a the person who has absolutely no say about their political state of affairs without surely being sentenced to death.  The appalling thing is that even in the areas in which true victims may dwell, women still go on living and caring for others in their lives.  Villagers still plant crops every season hoping and praying that somehow this season may be different. And many have lost their lives simply by standing firm in their beliefs about freedom. We truly do have it easy here folks. More importantly, we truly do have the ability to be independent and prepared on an everyday basis from all that we feel vulnerable to at present.  So in this particular series, I intend to walk through the path that can lead the willing there with some professional and amateur insights—creating true independence along the way. Whatever your trade or business, whatever your hobby or passion, we can convert that into a successful state of independence through self-employment that will provide for us based upon our own harvests, and not the ill-gotten gains of others. Till next time—may you have peace in your everyday preparedness.
Self-Employment Equals Independence II
Self Employment Equals Independence III
Self Employment Equals Independence IV
Self Employment Equals Independence V
Join us on Facebook Follow us on Twitter here To see our upcoming event schedule, click here Check out our in-home-course programs Subscribe to Preparedness Pro today and never miss a thing! For any questions or comments on this article, please leave a comment on the blog site so that everyone can benefit! Copyright Protected 2010, Preparedness Pro and Kellene. All Rights Reserved. No portion of any content on this site may be duplicated, transferred, copied, or published without written permission from the author. However, you are welcome to provide a link to the content on your site or in your written works.
© 2019 Of COURSE this post is Copyright Protected by Preparedness Pro. All Rights Reserved. NO portion of this article may be reposted, printed, copied, disbursed, etc. without first receiving written permission by the author. This content may be printed for personal use only. (Then again, laws are only as good as the people who keep them.) Preparedness Pro will pursue all violations of these rights just as vigorously as she does any of her other freedoms, liberties, and protections.