I'm not writing these words with any presumption that there is some sort of a preparedness rule to be followed; rather I do so in hopes that my rationale may cause you to think strategically on this matter in a way that benefits you and your family.

Nowadays it doesn't take some catastrophic event to cause our electricity to be disrupted for several hours at a time. The fact of the matter is, our grid system is vulnerable to all kinds of interruption events. Weather, utility digging, a poorly timed auto accident, and even financial woes can bring about black and brown outs.  I don't know about you but when this happens I used to always worry about what would spoil in the refrigerator and freezer when this happens.  There's nothing worse than seeing $200 worth of pot roasts and Haagen-Dazs ice cream go bad all because the appliance shut down from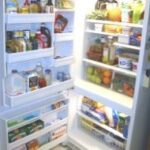 weariness or a power outage. As such, I've decided to be more proactive in determining what my vulnerabilities will be in such possible circumstances. So I methodically determined what I keep in my freezer and refrigerator and how much of it in an effort to mitigate potential losses.  I call this mindset my refrigeration strategy.
Strategy #1- STUFF it! The fewer items in the refrigerator and freezer. the faster it will increase in temperature without constant electricity. The reason for this is that when you've frozen a full freezer or chilled a full refrigerator, all of the items act as insulation for each other if the power source is interrupted, providing you with a longer window of endurance in the event of an outage.  Mind you, this strategy does have it's down side; I have to constantly reassure my husband that the groceries I bring home will fit and I suppose it also means that if there is a long power outage that I've just put that much more food and supplies at risk; but I believe I mitigate that with some other strategies.
Strategy #2: Can the Meat: The #1 item found in both refrigerators and freezers is meat.  It's obviously quite rare to find one of these appliances without it. In my household we store only those meats which I don't care for canned such as shrimp, fish, lunch meats and leftovers. By canning my meat—which is a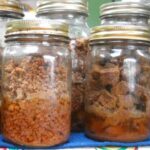 very, very simple process, I not only eliminate the possibility of losing this expensive menu item, I also save myself time when cooking in the kitchen. Rather than cooking up the meat and then shredding or deboning it, I can readily use the canned meat and only need to warm it up. Additionally, canned meat is SO much more flavorful than frozen and I never have to worry about freezer-burn.  I think it bears repeating that using this strategy eliminates my exposure of losing or ruining my most expensive food source.
Strategy #3- Eliminate Unnecessary Items: This strategy is applied to my freezer. Rather than take up lots of space for ice cubes, ice packs, or other items that rarely get a glance all year round, I simply make do without. I do have a super small ice cube tray, but we mostly drink water in my household and that already comes out of the dispenser cool. In a time of crisis even room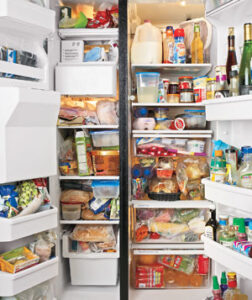 temperature water will aid my body in regulating its heat. So I haven't lost out on anything.  If there's an injury that requires an ice pack of sorts, there are plenty of other items I can use from my freezer rather than wasting space with non-food items.
Eliminating unnecessary items also applies to food items that do not require refrigeration by which so many folks believe otherwise such as ketchup, mustard, and pickle relish. While keeping these items at a cool room temperature serve them best, there really are a lot of items that we refrigerate or freeze today primarily out of habit.
Strategy #4- Wax Cheese: Yes, I'm a cheese fiend. I admit it. But the truth of it is, is that my initial attraction to being able to preserve hard cheeses without preservation was that I didn't need to take up the enormous amounts of space in both appliances. By learning to successfully wax cheese, I'm able to free a lot of space for other items that I'm not able to preserve so easily. Before I implemented this strategy, I had an entire refrigerator full of nothing but cheese, when in fact, one of the first things I should do when I purchase hard, store-bought cheeses is to go home, take off the plastic wrap, wrap it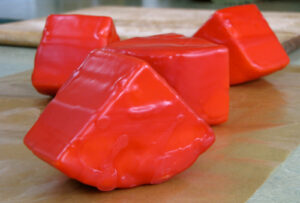 loosely in a paper towel, bag it, and then put it in the refrigerator—enabling my cheese to breathe properly like it does during its typical cave aging process. Real cheese (hard) has got to breathe. Plastic wrap doesn't allow for that.
Strategy #5: Rotate, Rotate, Rotate: The longer an item stays in the refrigerator or freezer the less valuable it will be as a nutrient to your body. Even in the fridge, food can only last so long before it is no longer recognized as a "food".  As such, staying on top of what you've got and USING it strategically is important. The fresher the item is, the longer it will last in the event that the power goes out unexpectedly.
Strategy #6: Cool Before You Store: You never know when an outage will take place, but when you put something in your cooling environments, an item that is still warm will drop the temperature in the refrigerator quickly before the appliance is able to reverse that effect. I'm not sure I can entirely bite off on this theory, but I once listened to a doctor's lecture who stated that there were thousands of food poisoning deaths per year that could have been prevented if the temperature in the refrigerator had not been brought down due to placing hot left-overs in it.
With all of this said, if you were to look at my refrigerator and freezer, I suspect that it might look very different than your own. I strategically only put items in it that I love and that have no other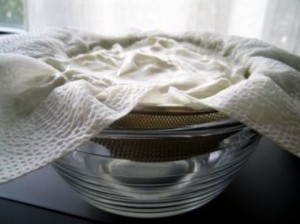 preservation option. By adhering to my other strategies, though, I make more room for my must-have items which I bring home such as frozen vegetables, yeast, milk, cream cheese, ice cream, and leftovers. It's not the end of the world if the veggies, yeast, or cream cheese thaw. I can always eat the ice cream a little faster. *grin* And if my milk get's warm, there's still yogurt, ricotta cheese, or other dairy products I can make from it at room temperature or warmer.
Perhaps now you might understand why I cringe a little bit when I read comments about how folks store this and that in the freezer or refrigerator. Nuts can easily be stored in vacuum sealed Mason jars. Meats can be canned. And while I love my frozen veggies over canned ones, I've still learned how to cook and use the canned ones--along with a few of the fresh produce from my garden this year. In my opinion, the fewer vulnerabilities I expose myself to now, the better. Just some food for thought.
© 2019 Of COURSE this post is Copyright Protected by Preparedness Pro. All Rights Reserved. NO portion of this article may be reposted, printed, copied, disbursed, etc. without first receiving written permission by the author. This content may be printed for personal use only. (Then again, laws are only as good as the people who keep them.) Preparedness Pro will pursue all violations of these rights just as vigorously as she does any of her other freedoms, liberties, and protections.