Gotta Love That Pressure Cooker!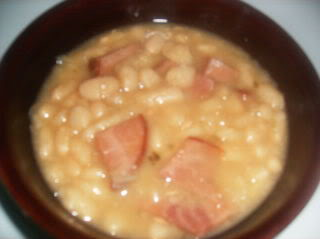 Two weeks ago I had to make a meal, pronto, for my husband and I.  Since I had been writing most of the day, I hadn't exactly planned anything. So at 4:30 p.m., I finally decided to rummage in my freezer to see what was available. I saw a freezer-burned ham bone. While that may not sound very appetizing to most of you, I assure you that freezer-burned meat is no problem when you have a pressure cooker.  So I placed the ham bone in some water and a couple
tablespoons of Shirley J's Slow Cooker Pork Seasoning in my pressure cooker. I stabilized the pressure at high heat for about 30 minutes while embarking on a kitchen cleaning frenzy. As I was doing so I spied about 3 cups of pinto beans that I had purchased in the bulk foods section of Winco which I had forgotten to seal in a Mason jar. So I decided that ham and beans sounded like a good option for dinner before I dried my beans out too much.
All I did was rinse the beans off and then added them to the pressure cooker with the ham bone. Thanks to a pressure cooker, by 5:30 p.m. my husband and I were enjoying a very tasty ham and beans meal with only these three ingredients. Pretty impressive when you consider that most dishes of this nature call for soaking the beans overnight and slow cooking the entire meal most of the day.  Instead, we enjoyed a convenient, comfortable meal with all of the nutrients intact. I like having a meal in a jiffy without nuking it or compromising the texture and taste. And thanks to this invaluable technology, I got every drop of bone marrow from my ham bone. Yum-Mee!
Now some of you may be surprised that I didn't have to soak the beans or simmer the ham and beans for hours. But that's simply one of the great things about having a pressure cooker. I easily use my pressure cookers every week to make meals that would usually take an exorbitant amount of time.  Whole grain white or brown rice only takes 10 minutes on high pressure—and turns out perfectly every time.  Irish cut oats, wheat berries, any type of grain or legumes turn out wonderful with a minimal amount of effort. Even better, when I use a pressure cooker, I don't have to heat up my house by cooking all day AND I am able to continue cooking on high heat even though I have my stove top turned all the way down to the lowest setting. From a preparedness standpoint, this is especially handy in the event that you have to live off of a limited supply of precious fuel such as propane, butane, or kerosene.
So, for this weeks article to aid you in using your long-term pantry items, I hope that I've sufficiently encouraged you to check out this marvelous tool of everyday preparedness. If you already have a pressure cooker, I hope you won't hesitate to constantly try new things and see just how much of a great impact it can have on your busy schedule and sophisticated palate.
To see our upcoming event schedule, click here
Check out our in-home-course programs
Subscribe to Preparedness Pro today and never miss a thing!
For any questions or comments on this article, please leave a comment on the blog site so that everyone can benefit!
Copyright Protected 2010, Preparedness Pro and Kellene. All Rights Reserved. No portion of any content on this site may be duplicated, transferred, copied, or published without written permission from the author. However, you are welcome to provide a link to the content on your site or in your written works.
© 2019 Of COURSE this post is Copyright Protected by Preparedness Pro. All Rights Reserved. NO portion of this article may be reposted, printed, copied, disbursed, etc. without first receiving written permission by the author. This content may be printed for personal use only. (Then again, laws are only as good as the people who keep them.) Preparedness Pro will pursue all violations of these rights just as vigorously as she does any of her other freedoms, liberties, and protections.