Chocolate Raspberry Mousse and American Lasagna
I know. I know. I've slacked a bit with the Friday recipes.  So I'm going to give you two of my favorite standards today and hope that you'll forgive me.  Since the first one is chocolate and the second one is a quick and easy lasagna-like dish, I think I will have earned the forgiveness.
Let's start with the dessert first—naturally.  Like many of you, I get a hankering for chocolate periodically.  This dish satisfies it sufficiently with only a small amount of effort and easy ingredients to have on hand long-term. Thus it's one of my favorite dessert dishes.
Just as an aside, Five Star Preparedness quickly sold out on all of the Spiff-E-Whip they had on sale through the group buy this month, so if you see a good deal on the Spiff-E-Whip otherwise, I recommend jumping on it! It's a staple in my home.
Chocolate Raspberry Mousse
1 cup of freeze-dried raspberries
1 ½ cup cold water
1 cup Spiff-E-Whip
¼ cup sliced almonds
1 teaspoon almond extract
3 teaspoons cocoa powder
2 teaspoons powdered sugar
Place the raspberries in a small bowl and top with the cold water. Allow to sit for about 5-7 minutes. In the meantime, take the almonds and place them in the oven at 350 degrees for about 7 minutes, until slightly browned.
Drain and reserve the water from the raspberries.With a mixer, mix together the Spiff-E-Whip with 5 ounces of the water reserved from the raspberries. Mix until light and fluffy, about 3-5 minutes. Add the almond extract, cocoa powder, and powdered sugar. Mix another minute until well incorporated. Gently fold in the roasted almonds.  Divide mixture evenly into 6 small dessert cups.
With the mixer, mix the raspberries on low speed until they represent a chunky puree. Top the chocolate mousse mixture and serve.
American Lasagna
This recipe is a modification of a great dish that Grandma used to make all the time.  I almost prefer it over the traditional lasagna that takes so much time. The Swiss cheese adds a wonderful zip to the taste.  I love to serve this with a nice salad and some garlic toast.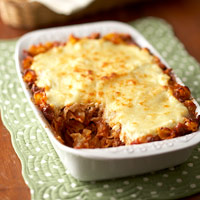 I usually keep cottage cheese on hand in the refrigerator, however, I am equipped to be able to make this in the event that electricity goes out for an extended period of time, as making cottage cheese from powdered milk is quite simple. Swiss cheese is also a hard cheese (unless made poorly and cheaply) and thus it's one of my regulars to wax and keep in my pantry.  This is definitely a dish that is one of our pantry's staples. Lastly, I also can my own ground beef, sausage, and turkey whenever I find irresistible sales. Thus I can simply pull out a couple of jars any time I want to make this recipe without cringing at the price of meat at the time.
This particular dish is what my husband calls one of my "12 Tribes of Israel" recipes.  I have a few recipes like this one which makes a lot in the event that I ever have to feed some of those refugees when The Gathering really kicks up. *grin*  It makes a ton!  I keep trying to scale it back, but every time I do, the taste is off just a bit, and besides, my hubby complains that there wasn't enough for several days of leftovers.  Fortunately I have the perfect large, deep-dished casserole dish for it. So, until the 12 Tribes start knocking on my door, he's happy to enjoy the leftovers all to himself.
8 cups of dry, curly egg noodles. (Cook and drain according to manufacturer's instructions.)
1 ½ pound of ground beef, browned and drained
3 regular sized cans of diced tomatoes or Italian stewed tomatoes
1 regular can of tomato sauce
1 small can of tomato paste
2 cloves of minced garlic
1 Tablespoon Shirley J Onion Seasoning
1 tablespoon oregano
2 cups of cottage cheese
½ pound of shredded Swiss cheese
Salt and pepper to taste
Preheat the oven to 350 degrees.
In a large bowl, gently combine the noodles, beef, garlic, onion seasoning, oregano, cottage cheese, tomatos, tomato sauce, tomato paste, and salt and pepper.
Place ½ of the mixture in a large, deep casserole dish. Top with ½ of the Swiss cheese. Place the remainder of the mixture on top and top with the remaining Swiss cheese.
Bake at 350 degrees for 30 minutes or until the mixture has warmed throughout and the cheese is completely melted on top.
Enjoy!
To see our upcoming event schedule, click here
Check out our in-home-course programs
Subscribe to Preparedness Pro today and never miss a thing!
For any questions or comments on this article, please leave a comment on the blog site so that everyone can benefit!
Copyright Protected 2010, Preparedness Pro and Kellene. All Rights Reserved. No portion of any content on this site may be duplicated, transferred, copied, or published without written permission from the author. However, you are welcome to provide a link to the content on your site or in your written works.
© 2019 Of COURSE this post is Copyright Protected by Preparedness Pro. All Rights Reserved. NO portion of this article may be reposted, printed, copied, disbursed, etc. without first receiving written permission by the author. This content may be printed for personal use only. (Then again, laws are only as good as the people who keep them.) Preparedness Pro will pursue all violations of these rights just as vigorously as she does any of her other freedoms, liberties, and protections.