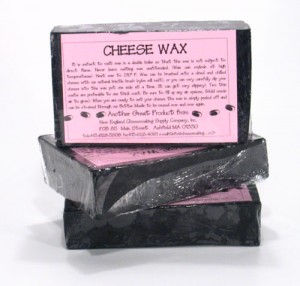 Over the weekend I received 2 postings on the cheese waxing topic. Both postings were strongly AGAINST someone waxing their own cheese. Unfortunately, I feel that this leads folks astray just as much as telling a person that there is no need to prepare. So I wanted to add some clarification and THEN post the main part of the body of the message these individuals posted.
For starters, there are three reasons why I wax cheese. One--because I don't want to be without out it, even in the midst of a food shortage, financial collapse or an EMP strike. I love the stuff that much. Given that the refrigeration availability is questionable in such circumstances, I wax and eat my own regularly. Research I've done says that waxed cheese stored in a cool, dry place will last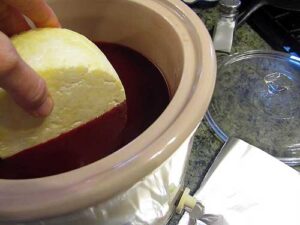 up to 25 years. There's no way that any cheese I have in the house will last that long. :-) So I'm banking on 5 to 10 years when I wax cheese.
The second reason why I wax cheese is to fight back on hyper-inflation and currency devaluation. This past weekend I did a cheese waxing demonstration for a large church function.  I wanted to show those in attendance how cheeses look that are preserved with their own rind (like they did centuries ago--and some still do) as well as to show examples of hard cheeses. I grabbed maybe 5 chunks that fit in my hands and my total grocery bill came up to SIXTY-FIVE DOLLARS! *choke, gasp* As I was leaving the hoyty-toyty cheese section I saw that a 2 pound block of Tillamook cheese was "on sale" for "only" $9.99!  OUCH! Today I will be using some coupons and obtaining two pound blocks of cheese for a whomping $2.99 each. We all only have so much freezer space, right? I don't have the luxury of having a freezer dedicated 'just" to cheese, and even if I did, when the electricity goes out long-term, I don't want any problems with all of that cheese I've got stored i.e. going bad, getting stale, etc. On sale or not, if you have to throw it out, it's still a waste.
The third reason why I wax my own cheese basically boils down to the entire crux of preparedness in my mind--INDEPENDENCE. Cheese is definitely a product that I love to eat, cook with, and thoroughly enjoy.  I don't want to be entirely dependent on my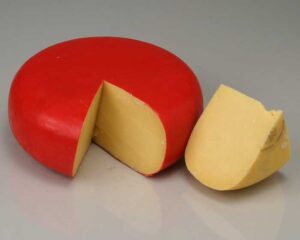 electric company, the grocery stores, or the dairy industry in order to assure that I have some on hand. Thus, I get it in abundance whenever possible and then preserve it the way that I'm most comfortable with, which allows me to be INDEPENDENT of others.
So, is there a problem with all of this?  Well, yes, I suppose there is. You see even though there has been only one reported case of food poisoning associated with cheese (it was a commercially canned product that had a cheese sauce in it), there are quite a few folks who are in a dither when I talk about waxing your own cheese.  And yet these SAME "expert" individuals AGREE that you CAN store "dry waxed cheese at room temperature."  If you read my posts on this topic you will see that I constantly state "hard" cheeses are what I wax and store.  Hard cheeses are hard, because they are DRY--at least they are supposed to be.
By the way, if you are in doubt as to whether or not a cheese is "hard" enough to wax and store, simply press your thumb firmly on it. If it leaves an imprint, even for a moment, it's not hard enough. One of the practices that I've begun to implement to ENSURE that the cheese I wish to wax is hard enough is to wipe the cheese down lightly with some vinegar, then leave the cheese out on my counter for 2 to 4 days to dry further. This prevents the "weeping" of the cheese that you get when you are waxing ostensibly hard cheeses that have been made with too much liquid. (Let's face it folks, if the food manufacturers are going to sell their food by the pound, they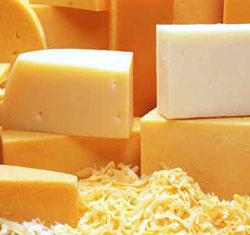 are going to find ways to make the food weigh more. Liquid does that.)
I kind of giggle at the thought of what these individuals would have said back in the "olden days" when folks had the audacity to wax their own cheese, bottle their own butter, grow their own vegetables, and drink raw milk from their cows, etc. Perish the thought!  Wow, how did we ever make it to this point of progress in society without the ever-so-reliable USDA and Extension Services telling us what to do?
One of the best times to wax your cheese is when you've made it yourself! But that's for another day. I will tease you a bit though and tell you that there's never been a better cheese than the one you make yourself. Oh, and just so you know, a white mold on the outside of your cheese is actually good. It's what the rinds are actually made of.  You can also salt the outside of your cheese prior to waxing, but that get's a bit messy, in my opinion.
I'm not really sure why these individuals feel certain that I'm going to kill you all unless their own words are heard, but I'm not afraid to give you information and then have you make your own decision. In fact, if you think about it, that's what I do on this site everyday.  The problem is that many folks will send me an e-mail (or a post) and think that it's the be all and end all to the consideration. I don't think giving information that way is helpful to anyone.
So, I've posted below the message from the extension center. In fact, it's the same one I obtained locally here as well.   I'll italicize and bold the  part in which he glosses over the part which tells you that yes, you CAN wax hard/dry cheeses and store them at room temperature.
Hello Everyone:

It seems someone is traveling around telling folks to wax cheese and place it in food storage. And, giving credit to consumers, I've heard from many that this suggestion just doesn't sound safe.

We'll they are right.

Waxing cheese is a method to minimize mold growth on the surface of cheese. It cannot prevent growth or survival of many pathogenic bacteria. In fact it may promote anaerobic bacteria growth, like botulism.

Before the days of refrigeration, we made cheese that was dryer and fermented to a lower pH (higher acid). These types of cheeses were traditionally stored at room temperature with wax covers. The very low pH and fermentation byproducts could inhibit food borne illness bacteria. A perfect example is parmesan style cheese. Acid, dryness, and fermentation byproducts make this cheese capable of storage at room temperature.

Today, many cheeses are made strictly for storage under refrigeration. These cheeses may not have a low pH and other factors created in their manufacture to prevent pathogen growth, since the manufacturer knows they will be kept refrigerated. If someone waxes this cheese and leaves it in food storage, then there is absolutely no science indicating any level of safety.

Please inform consumers that there is no scientific evidence that waxing cheese is safe. In fact, there is evidence to the opposite - placing cheese meant for refrigeration at room temperature is a SIGNIFICANT risk and hazard for food borne illness.

Regards,

Brian A. Nummer, Ph.D.

Extension Food Safety Specialist

Director, Retail Food Safety Consortium

8700 Old Main Hill

Utah State University

Logan, UT 84322-8700

435-797-2116"

End Quote

Please note these are not ALL of the cheese waxing directions which are far too lengthy for a blog article. Should you like to know how to wax your cheese perfectly and without errors that may cause you to have to do it all over again, please use the resource guide available on this site "For the Love of Cheese" as found in the Prep Pro Classes tab of this site. It includes video instruction and detailed written instruction. This way you won't get discouraged and your waxed cheese will turn out right the first time.
© 2019 Of COURSE this post is Copyright Protected by Preparedness Pro. All Rights Reserved. NO portion of this article may be reposted, printed, copied, disbursed, etc. without first receiving written permission by the author. This content may be printed for personal use only. (Then again, laws are only as good as the people who keep them.) Preparedness Pro will pursue all violations of these rights just as vigorously as she does any of her other freedoms, liberties, and protections.