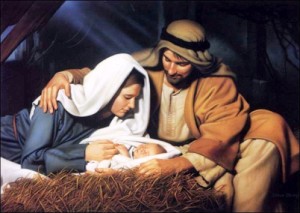 We truly wish for a very joyous and peace-filled season for everyone. I realize that there are some tables this year that will have an empty seat--a painful reminder of  the loss of a loved one in times past. (I know that I can personally empathize with that one.) I also realize that this time of year may bring about an emotional roller coaster as we deal with family members and their children. I also know that due to tough financial times, many of us feel inadequate in our ability to give gifts of love to others--perhaps feeling like there isn't much to give. But remember that underneath all of the mayhem, commercialization, hurt feelings, empty hearts, sparseness and chaos there is a very peaceful scene of a small babe sleeping peacefully in a manger. And in fact,  that baby is the very reason by which we can have peace--even with the loss of a loved one, we can have love in our hearts for folks who may not be very love-able, and we can literally have joy--in knowing that there are many more gifts to unwrap that we have yet to see from Him.
Merry Christmas and a Happy New Year from
Preparedness Pro
© 2019 Of COURSE this post is Copyright Protected by Preparedness Pro. All Rights Reserved. NO portion of this article may be reposted, printed, copied, disbursed, etc. without first receiving written permission by the author. This content may be printed for personal use only. (Then again, laws are only as good as the people who keep them.) Preparedness Pro will pursue all violations of these rights just as vigorously as she does any of her other freedoms, liberties, and protections.