Many moons ago (I think nearly 11 years) my hubby and I decided to go to Walt Disney World for a delayed honeymoon. As a part of our Land/Cruise package, we were given about $300 in the form of a gift card that we could purchase any of our food with as well as any items that the restaurants sold.  We did such a good job in budgeting the use of this card while we were there that we found ourselves still with about $100 left the night before we were to board on the cruise ship. In essence, our gift card would be useless and expired as soon as we left the park. So, my husband,
in one of his rare less-than-brilliant moments, decided that he wanted to use the leftover credit on some Cinderella steins at Cinderella's Castle. I think it only took me a couple of years to finally donate those things to the local Salvation Army store.  My point in telling you this story is that soon, this is very similar to the position we all be in with the U.S. currency we presently hold. It's called hyperinflation, and I firmly believe it's in our own backyards, circling around to our front doors.
I firmly believe that if folks understood this, and they understood that their paychecks will soon not be able to purchase even the most basic essentials, I'm positive that they would start looking at ways to maximize their dollars right now, while they still DO something for them. While this may sound a bit overly dramatic, I assure you that it's based on extensive research and experience in recognizing the looming hyperinflation that is an imminent threat to our nation right now.  Yes, I said, right now.  This shouldn't sound like a new alarm to anyone reading this. Although I suspect we tend to block it out because we've been hearing it so much.  But don't you think it would be an absolute shame to needlessly suffer simply because those who love us warned us "too much?"  How ironic is that!
As proud as I am to live in this country I believe we all have to realize that we are not the exception to the empirical rules of financial law…we cannot spend our way out of the debt that our nation is in.  IF debt was the only problem, then maybe such a move could be accomplished—but only because it was a lucky gamble. In this case though, it's not a gamble—it's an illicit manipulation and those who have the most to gain are definitely aware of the consequences. What does this mean? Well it means absolute bankruptcy. It means a halt to food stamps, unemployment benefits, critical municipal services, Medicare, Medicaid, and Social Security income. It means that folks who have IRA's will all suddenly feel like they work for Enron in its last day.    It also means empty grocery stores, rationing of essentials, but even if you aren't a part of that ostensibly elite group of manipulators, you are not left without a map.  There has NEVER been a time in history in which a nation has been able to sustain debt in excess of 15% of their Gross National Production.  Never.  The death warrant on a healthy economy has already been signed, sealed, and delivered, folks.  The only thing we can do is prepare for the consequences and I'm telling you today that using coupons is one of those ways that you can do so!
Regardless of the calories you expend at work, the numbers of hours you clock in, or the floor number of your office, you do not have any control over the value of the dollar in your paycheck.  Unless you are receiving a 13% raise every 4.3 weeks, you are not keeping up with the REAL cost of living increases.  This 13% represents an average of the increase of all of the "necessities" which we purchase on a regular basis.  So, are you in a losing game right now? Yes—BUT only if you ignore the problem.  If you take advantage of what tools that are available out there to help you combat hyperinflation, then you will make it through until the spiral death resets our economy.
First of all, let's be clear, no one can presently cure hyperinflation of the U.S. dollar. Like I said before, we've already picked up the wrong end of the stick and the other end must follow. We can improve its impact, but the fact remains that there are trillions and trillions of dollars printed and in circulation. These dollars only exist to create the illusion that money is aplenty. Again, money is only worth what it can buy. And right now there are too many dollars chasing too few items to buy.  That may not ring true to those of us who never see such an abundance of dollars in our checking account. And I'm sorry to say, that's exactly what the Federal Reserve is counting on—for you to only see things from your immediate point of view.  The uneducated have always been the most valuable tool of the maniacal. But, what we can do is get focused—not on the value of the dollar, but what that dollar can STILL do for us now.
No, coupons aren't the answer to living during hyperinflation, but they are indeed an ideal solution for those who have the foresight to make use of them now! Seriously, if I could come to each one of your houses and speak to you for just a few moments about the importance of this tool in preparing yourselves against the disaster of hyperinflation, I would do it.  It's that important to me. But, unfortunately, such a labor—regardless of how passionate and well-intended I may be motivated—is simply not realistic.  And so today, I try once more to get you mentally accept and act on this great tool—not to manipulate you, not because I have this pompous sense of having to be right all of the time—but seriously, because I am positive that I see things pretty clearly right now, and I KNOW that the coupons can help you and those around you very quickly, abundantly, and that they won't be able to help for many more years. So I say, get while the getting is good! Once the financial collapse has undeniably occurred, the paper the coupons are printed on will be worth no more than the paper the currency is printed on.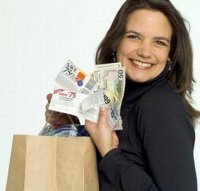 Last month I was able to purchase over $950 worth of groceries and my total out of pocket was just under $204.00. How?  Well yes, coupons had a key roll in that, along with a store special.  But we should also take note that part of the reason why I can do that now is because so many products are at artificially low prices. We've all come to accept that there are "loss leaders" at grocery stores—you know those items which are such a ridiculously low price just to entice you into the store? Well, considering that I got three grocery carts full of stuff last month for free or cheap, I'd say that's a whole heck of a lot of loss leaders, wouldn't you? Just like the present rate of inflation, money printing, and national deficit, this is NOT something that can be sustained. The more I can get for "free or dirt cheap" the more the rational side of me gets a bit concerned because I know that what goes up, must come down.  When it finally hits that there are too many useless pieces of paper aka currency, chasing after too few products, the stuff is really going to hit the fan. The knee jerk reactions to this kind of a problem are price fixing and rations. When that takes place you then have a black market. No matter what, unprepared people go hungry.
So, I have a proposal for you folks.  PLEASE allow me to teach you how to effectively use coupons now, while you can.  We have a class coming up the end of this week on Saturday.  After that it will be on August 21st.  However, I'm giving everyone fair warning—the prices of all webinars are increasing in prices the first week of August, so be sure you get registered to which webinars you'd like to attend, now. Our nation's hyperinflation nightmare isn't going to pay much heed to empty excuses later.  I know, 100%, that I can help ANYONE get ready for tougher time through this completely, kick-butt coupon boot camp! it's about time that we all get a bit more serious and focused and fight fire with fire. I hope to see you there!
To see our upcoming event schedule, click here
Check out our in-home-course programs
Subscribe to Preparedness Pro today and never miss a thing!
For any questions or comments on this article, please leave a comment on the blog site so that everyone can benefit!
Copyright Protected 2010, Preparedness Pro and Kellene. All Rights Reserved. No portion of any content on this site may be duplicated, transferred, copied, or published without written permission from the author. However, you are welcome to provide a link to the content on your site or in your written works.
© 2019 Of COURSE this post is Copyright Protected by Preparedness Pro. All Rights Reserved. NO portion of this article may be reposted, printed, copied, disbursed, etc. without first receiving written permission by the author. This content may be printed for personal use only. (Then again, laws are only as good as the people who keep them.) Preparedness Pro will pursue all violations of these rights just as vigorously as she does any of her other freedoms, liberties, and protections.