I have to admit, I love gadgets that make my life easier. I'm always on the lookout for preparedness type gadgets that will make my life easier even in a "survival mode." I figure you might as well make use of the technological advances we have now to survive without traditional technology later. So here's a list of some of my favorite "gadgets." You can do an internet search to find any of these items.
My List of Favorite Gadgets:
A Hand-Held Beater: This gadget your mom used to use before the electric beaters came along. Storing eggs is great, but you won't want to exert the energy necessary to beat them with a whisk. So invest in a quality hand beater or two now.
Bosch Hand-Held Crank: This is a handy dandy gadget that I simply put on the top of my Bosch bowl and then hand crank the bowl in the event I don't have power. It allows me to still benefit with the kneading attachments of the Bosch and knead my bread without having to exert tons of energy. I couldn't believe it when I saw it, but I knew I had to have one when I did!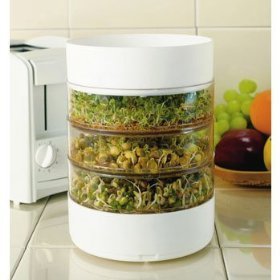 Tray Kitchen Sprouter: This gadget is made by Victorio. It is AWESOME from sprouting. Instead of having to rinse and drain carefully, all I do is spread the sprouts out evenly on one of the three trays, fill the very top of the gidget/gadget with water and then the proprietary system trickles the waters down through each of the tray levels, ending at the bottom one where it pools all of the excess water far away from the sprouts. I simply repeat this twice a day. As you may know, properly draining your sprouts is important to their proper growth. The watering in this case is gravity fed, so I'm always in "drain mode" every time I use it.  I can grow three different sprouts at a time or a lot of one. I LOVE this thing!
Solar Oven: Duh! Like you didn't expect me to mention this gadget? You all know how in love I am with a solar oven. No fuel, no hassle, perfect tasting food every time and it replaces my need for a canner and a dehydrator. Invest in a commercial quality one so that it can handle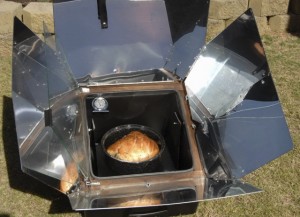 cooking multiple meals a day for the long term.
A Mason Jar FoodSaver attachment: This attachment allows me to save dried foods for 3 to 5 years in a Mason jar. I store foods like chocolate chips, brown rice, Snickers bars, almonds, coconut, etc. with this type of item and I presume that I will still want to do so in the future as well. While I use it with my Foodsaver now while the electricity is aplenty, I can still use it with a tire pump without the electricity in the future. Simply reverse the direction that you're pumping the air so that it sucks the air instead of pumps it. I couldn't live without this gadget!
A Hand Grinder/Flaker: When making a choice as to which hand-grinder you want to have be sure that you find out how many cranks it will take you to make a full cup. I prefer the ones that have a "stone grinder" on them. I've compared these to others and it "only" takes 100 cranks for a cup of flour, whereas the smaller ones grinding mechanism, such as those found on the Grain Mill model, requires over 7 minutes of cranking just for a cup of flour. That's a lot of exerted physical energy. Getting a model that will also act as a flaker is great for making flour or flaked pieces out of dried sprouts, beans, and groats.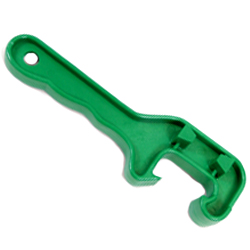 Bucket Wrench
Bucket Lid Wrench: This isn't about preserving fingernails. It's about making a job a hundred times easier. Spend the $5 bucks to get yourself the green or red plastic wrench that allows you to simply pop off the lids on your round or square buckets. I use mine all the time!
Solar Powered Battery Recharger: Obviously the success of this gadget is in purchasing rechargeable batteries. But it's worth the cost difference to me since I can let the sun continually recharge them. It's virtually impossible in my mind to store enough batteries that I would use for a full year otherwise.
Pressure Cooker: Kuhn Rikon all the way baby. This is the ONLY brand I recommend. I can buy cheap cuts of meat and cook them in the pressure cooker and you would have thought I slaved away all day after a small fraction of that time. Also it rehydrates freezer burned meats. Taking advantage of it's inherent heat retention, all I have to do is bring it up to full
pressure, then remove it from the heat, wrap it up in towels and it will retain it's heat for a full hour…cooking all along the way. As a result, cooking on the weekdays when I'm swamped is SO easy, and cooking in a survival mode won't require me to store oodles and oodles of fuel. (By the way, I have three of these and have used them all at one time on several occasions when I'm making a "big fancy meal" that's intended to impress but I don't' want it to zap my energy.) :)
Asian Cook Stove: These little puppies run on a simple can of butane. There are tons of them out there with different names, but I just call them the little Asian cook stoves. (The brand I have is called "Joy Cook"  You can
get them $15-$20 bucks. They fold up in their own little black case and they are super light. I have a few of them on hand in the event I'm using all three of my pressure cookers.
Indoor Safe Propane Heater: This is a great option to heat your home without having to ventilate your home. (kind of defeats the purpose of heating your home while having to let cold air come inside, eh?) It's specially made for that purpose and is called the Big Buddy or The Little Buddy. Bottom line is this gadget uses a special canister of propane and it's indoors safe.
Square Buckets: It's not secret that I LOVE these. And while they may be simplistic, I still consider them a "gadget." I not only store my items in them, but I also keep a few on hand in case I need to send someone on their way with some provisions. You can purchase them at Five Star Preparedness.
BlastMatch Fire Starter: This is kind of a cool gizmo. All you do is forcibly pound this against cement or a rock. Strike it near whatever it is you want to light.  It sends sparks out from the friction of the tool and the surface and you can easily light your fire
Magnesium: I know this may be a lot like the previous mentioned gadget, but I just can't control myself sometimes. Hee hee  I have this uncanny fear that I won't be able to start a fire when I need one. A few flecks of magnesium will light up and burn even in a wet environment. My husband keeps one on him regularly. You simply use a pocket knife to strip off a few flecks and then light it. Voila. You've got what you need.
So, here's my list that I can think of right off the top of my head.  At least it will give you a few things to ask Santa for this year…that is assuming that you've been behaving yourself.
© 2019 Of COURSE this post is Copyright Protected by Preparedness Pro. All Rights Reserved. NO portion of this article may be reposted, printed, copied, disbursed, etc. without first receiving written permission by the author. This content may be printed for personal use only. (Then again, laws are only as good as the people who keep them.) Preparedness Pro will pursue all violations of these rights just as vigorously as she does any of her other freedoms, liberties, and protections.