Ok folks. Today I've narrowed it down for you on what freeze-dried, shelf-stable and some dehydrated products that I can recommend with a clear conscience. This list will give you a little roadmap so that you don't have to experience any costly palette snafus (I couldn't resist saying that. Hee hee).  After I list my favorites, I'm also going to list a couple of brands that I absolutely loathe in order to steer you clear of them as well.
All of these products have extensive shelf-life, amazing versatile applications, great taste, etc.
Brand: Thrive  (fka Shelf-Reliance)
You'll find that you have LOTS of gluten-free, GMO free, and even organic options under the Thrive Life brand. I can't tell you how many times I've tried something with Thrive that I was hesitant to, and then there was that WOW moment.  This happened with three of their products in particular...1- their powdered milk. It's now officially me absolute favorite of all of the powdered milks out there (and I've tried over 30!).  The next big surprise was their freeze-dried yogurt bites.  I couldn't believe how great it tasted right out of the can! (they even have Greek yogurt now!). Lastly was their freeze-dried meats. I took a taste of the freeze-dried beef and I couldn't believe all of the flavor that was packed into it!!  I've not hit any bad things with them, but then again, I refuse to purchase "powdered honey" (as should all of you because honey is already shelf-stable), and I refuse to purchase any ready-made entrees. (There's no reason to when it's SO much less expensive to make your own meals from shelf-stable ingredients that are as easy as "dump and heat". And I can then control ALL of the ingredients that go into my meal--something I can't do with the prepared freeze-dried/dehydrated meals).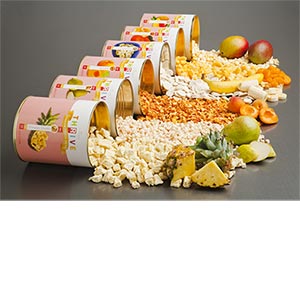 Some of my produce favorites I can mention in particular with Thrive Life Foods are their freeze-dried broccoli (the BEST I've ever tasted), FD mushrooms, Freeze-dried peaches, freeze-dried blueberries, freeze-dried green beans, freeze-dried zuchini, freeze-dried peas, freeze-dried bell peppers (including the red and green) and their freeze-dried corn.  I like their freeze-dried green onions, but you'll want to make sure you're aware that it's only the WHITE portions of the green onions that are in the containers. Any Thrive Life Consultant can beat the Costco price too and they are always in the know of some specials that Thrive Life is running that month. So you'll always want to find a Thrive Life Consultant to do business with instead of Costco.
Brand: Shirley J 
Shirley J Universal Sauce Shirley J White Cheddar Sauce Shirley J BBQ Sauce Shirley J Pizza Pasta Seasoning Shirley J Onion Seasoning Shirley J Slow Cooker Pork Seasoning Shirley J Chicken Bouillon Shirley J Beef Bouillon Shirley J Sourdough Bread Mix Shirley J Biscuit Mix Shirley J FUDGE Brownie Mix (really fudgy flavor folks…not for the weak.) Author's note on Shirley J products—they have totally changed my cooking and eating way of life. Great nutrients, no added MSG, no hydrogenated oils, less sodium, great depth of flavor, lower fat and calories, take up less space than alternative products, great shelf-life and so easy to work with. I'm head over heels in love with them--can you tell?)
Brand: Blue Chip/aka Morning Moos aka Augason Farms (available through www.augasonfarms.com) I may not be in wholehearted agreement with how the guys in charge run this company, but there are some irresistible products that they have that are unique to them.  Their powdered milk is pretty dang good...and in fact was my favorite until I discovered Thrive Life's powdered milk.  I also love all of their produce up until the time I discovered the Thrive Life products.  But what's uniquely theirs is their Spiff-E-Whip, their gluten-free baking mixes, Morning Moo's chocolate and strawberry powdered milk, biscuit mix, Potato Gems, taco flavored TVP, and their pancake mixes and of course their Ultra Maxi Gel that I can use as an egg substitute.  The Spiff-E-Whip is low fat and low sugar and it tastes SO FAB! I can eat the potato gems right from the can.  And the Morning Moos is perfect for those picky kiddos who may otherwise have a problem with powdered milk. I swear that their chocolate milk tastes like a fudgsicle!
Brands that I will AVOID: ANY Daily Bread products: you cannot get any information from their website whatsoever. You have to give them all of your information on their website in order for them to send a salesperson to you—and somewhat rude ones at that.  Then, and only then, can you get pricing, a comprehensive list of products, and if you're lucky, samples.  They do not advocate you purchasing one or two items. They are focused solely on you purchasing packs of products.  They definitely mislead you on their serving size information on their labels as well. (just do the math and you'll see what I mean) This is definitely NOT the way I recommend doing business.
MOST Provident Living (Emergency Essential) Freeze-Dried/Dehydrated products: I feel that the majority of these products are simply the repackaging of other freeze-dried or dehydrated products (and I have first-hand knowledge of many of their products for such to be the case).  I feel that the freeze-drying process they use is inferior to better freeze-dried products (like those listed above), making a more dense, somewhat bitter tasting product because of the use of some heat in the freeze-drying process. Provident Living rarely oversees the manufacturing of any of their products, even their own private-labeled ones. Rather, they focus more on massive buying power and then selling the items based on a consumers concern over what lies in the future. I also feel that their products are far too expensive for what you get and their sales associates have ALWAYS misled or misinformed me when I've tried to give them another chance. *sigh* 
I compared freeze-dried apples the other day and I had to take nearly an hour longer to reconstitute their apples than I did the Thrive Life or Augason Farms freeze-dried apples. That's not how freeze-dried is supposed to behave.  And yes, the Provident Pantry apples were bitter initially until properly hydrated.
Mountain House: If you're going camping or hiking, then these products are a great resource. However, I think it's a big mistake for anyone to spend the money and bring these products into your home with the intent of feeding them to your family long-term.  Purchasing the "easy to use/make items" that go INTO the Mountain House products is much less expensive, much more versatile, and encourages a stronger level of mental preparedness in being able to cook several dishes rather than relying on just one.  They are WAY too expensive for the portion sizes, the texture, and the nutritional content. They only have a place in my home for camping or hiking excursions. There are plenty of other "easy fix" options available that do not cost as much.  I also feel that their packaging is deceptive—packaged in #10 cans that are barely over half full.
I hope this list helps you out in your preparedness pantry grocery list. Join us on Facebook Follow us on Twitter here  Subscribe to Preparedness Pro today and never miss a thing!
For any questions or comments on this article, please leave a comment on the blog site so that everyone can benefit! Copyright Protected 2010, Preparedness Pro and Kellene Vaile. All Rights Reserved. No portion of any content on this site may be duplicated, transferred, copied, or published without written permission from the author. However, you are welcome to provide a link to the content on your site or in your written works.
© 2019 Of COURSE this post is Copyright Protected by Preparedness Pro. All Rights Reserved. NO portion of this article may be reposted, printed, copied, disbursed, etc. without first receiving written permission by the author. This content may be printed for personal use only. (Then again, laws are only as good as the people who keep them.) Preparedness Pro will pursue all violations of these rights just as vigorously as she does any of her other freedoms, liberties, and protections.