The Financial Storm Strengthened by Food Shortage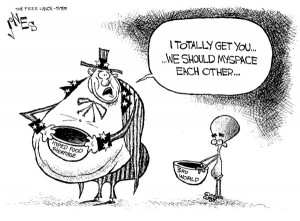 Today I will continue the series of Food Shortage. For starters though, I just want to say thank you for the mounds of e-mails I received from persons over the last couple of days begging me and encouraging me to continue with the series. It was almost as if some felt that I had given up on writing this series due to some of the negative comments that were posted in response.  Now, now, Folks; you should know me better than that. I don't scare easily.
I do owe you all an apology, though. I picked the worst week of the year to launch this series when I knew that I would be swamped with the filming with TLC (The Learning Channel). But frankly, I didn't want to wait even a week before I started providing the info. (As it turned out, on some of the issues I was only able to give some of  you a 48 hour advanced notice before the mainstream news started reporting portions of what I wrote.) As such, I took a leap of faith hoping I could balance the two. You can bet it was a pretty big obstacle I was dealing with if it got in the way, but a worthwhile one nonetheless.
So here we go.
As I mentioned in the first article, this whole nightmare scenario that's playing out isn't just about the produce shortage, the wheat and corn shortage. In fact, while I believe that either or those two issues are significant enough to cause some great discomfort to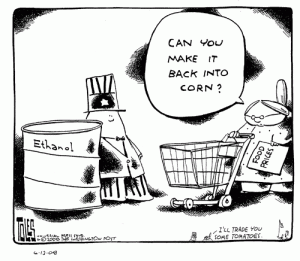 most Americans, I specifically mentioned that we have the makings of a perfect storm brewing, because in addition to all of this, we have a triple whammy factor when the looming financial collapse is thrown into the mix.
For those of you who have not gone back and listened to the Preparedness Radio Show broadcast on how to watch for THE biggest indicator of a looming financial collapse being right around the corner, here's the link you can go to—download and listen.
There. Now. no more complaining.  On this particular show I specifically provided a very specific scenario by which you could properly gauge WHEN some of these rough financial times would surface based on some key indicators.  Unfortunately, these events have manifested themselves right about the same time as the recent storms hit and froze the produce crops, reliable news got out about China attempting to buy up all of the wheat supplies available, and also just following Ben Bernanke's confession that we were in for another 2 to 3 years of a rough road ahead of us financially.
Two of the most critical matters adding substance to this speeding snowball of challenges is the fact that Mexico's law (which was passed last September) is now taking effect in that no businesses are permitted to accept U.S. dollars anymore. Pesos only. Ruh-roh.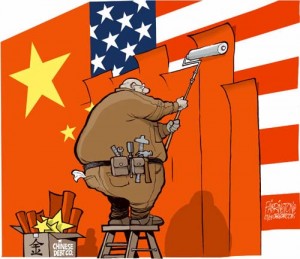 (You'll have a better idea of what this means once you listen to the broadcast. This article will be meaty enough without my having to go and recap that.) The second issue will be the revelation of just how much U.S. debt China holds at present.
As an added blow to China and Russia's flagrant violation of the Petrodollar Treaty, the IMF (International Monetary Fund) has elected to back them in proposing a diminishing reliance on the U.S. dollar and more focus on the Yuan and "other currencies." This is akin to a child seemingly misbehaving only to discover that the guardian was actually instigating the behavior. This is a very, very bad sign for our financial security.
The IMF may continue to refer to themselves as "the lender of last resort" but let's not kid ourselves. They have been pulling the strings quite adeptly since 1913.Why else do you think that the Federal Reserve got away with giving trillions of dollars of U.S. dollars from the "stimulus package" to FOREIGN NATIONS on the sly? Yup, Big Brother, the IMF definitely had a hand in that. I've warned folks many times that the American people are not the employer of the Federal Reserve. The IMF is; and that's exactly who they report to. They simply collateralize their shenanigans on the backs of Americans.
Continuing on…keep in mind that rather than rein in the reckless spending (if the House and Senate approve a measure to keep the present spending limit) the U.S. will indeed fail to meet it's obligations on payment of debt and thus would not be able to "borrow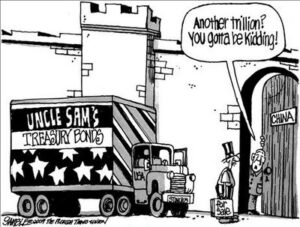 their way out" of this scenario that we find ourselves in.  Such an action will carry with it no other alternative other than drastically diminishing the value of ever single dollar in print.
There are a lot of financial ills creeping up on us that most do not see, and even if they are reported by the mainstream media, it is done so in such a manner that most do not connect the dots directly to their own bank account.  For example, there are actually MORE loans that are ripe for foreclosure than have been filed at this point. This is a result of the back log of cases at major mortgage holders (if indeed they actually hold the original promissory note—but that's a whole other article).  Just as a rock which precariously balances on the end of the cliff, this additional $21 million may be just the problem that brings it thundering down into the deep. For those of you who believe that the banks will just get another bail out, understand that these banks have already had a bail out directly and through their relationships with Freddie Mac and Fannie Mae.  There's only so much carnage that can be hidden folks—even with bailouts that are done with bogus currency and lifeless digits on a computer screen.
Just to give you a point of reference, the present load of foreclosures is more than 7.8 TIMES the historical average. Translation, not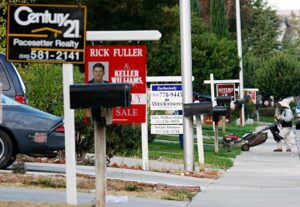 only is it the highest every, but it's beat its highest rate in terms of dollars by 7.8 times.  Adding insult to injury is the fact that in rough times Americans usually turn to the one asset they can count on—their home—and attempt to pull equity out in order to stave off tougher times. Aside from the rate of foreclosures in this nation being at an all time high, those who are able to stay in their homes are actually experienced plunging values—thus there is no equity from which to draw! (Frankly I see that as a blessing, but I'm sure many don't feel that way.)
So with all of that news, does that mean that at least rental properties will increase in value and cash flow? Nope. Why? Because it's just that bad! Folks aren't moving into a home and then into an apartment folks. They are doubling up or moving back in with Mom and Dad. Even Deutsche Bank weighed in on this matter showing that rental vacancies are also at a historical high of 11.1 percent of inventories. What this will do is actually drive UP monthly housing payments for those who can afford to get a new mortgage. When combined with the food and fuel cost increases, this means an actual doubling of last years consumer costs!  Yup, there's definitely some head scratching going on in the banking circles. They always have assumed that when times get tough in one market, the other market (rentals) will increase, but this is not happening.
In an effort to gain greater financial standing, one of our nation's earliest tyrants, J.P. Morgan and Chase entities have blatantly informed it's high-browed customers that they would be willing to take gold as payment and collateral for large financial
transactions.  Morgan and Chase are two of the biggest originators of the Federal Reserve, Folks. If there's anyone who has an inside scoop on the true state of affairs with our currency, it's them! This move to gold is simply an indicator that they are playing both sides of the fence—the currency which they feign to believe in so greatly, and the gold which they believe will help them survive any collapse while still living the high life.
Here's another little insight, Folks. The U.S. currency is not the only currency that's being printed without prudence. It is also happening in Japan, EU, UK, China and India. If the other more prevalent monies are being devalued, then not even some savvy trading platform games can bring the dollar back into favor, because that which it would normally be hedged against to increase in value is also broaching on valueless paper. Are you aware that if you are a member of the IMF then you are forbidden to use gold-backed currency? Because, you see, if it's gold-backed, you can't have reckless inflation! Only fiat currencies can be manipulated out of the hands of the majority and into the hands of the uber-wealthy. (See Article 4, Section 2b of the International Monetary Fund (IMF)'s Articles of Agreement)
Recently, someone posted incorrect information on the comment section of this blog. (As a policy I don't permit misinformation to be posted—at the very least without correction.)  In an attempt to correct my research, he cited the typical droll numbers put out by the mainstream media which are supposed to reflect the amount of foreign debt held by China and or Japan. Well, Bernanke made an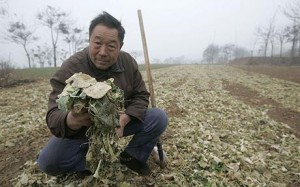 unprecedented move this past month by revealing just how much U.S. debt China  really holds—"AT LEAST TWO TRILLION DOLLARS!" This means that China holds at least TWENTY FIVE PERCENT of all of U.S. debt! This is more than DOUBLE the amount of state sanctioned sound bites we typically receive which has recently been reported at "only" 9.5%! Even Nov. 2010's latest figures showed a paltry $896 Billion held by China. Perhaps now we can all better understand why China manipulated the value of their own Yuan and decided that it has had enough of a love affair with its U.S. girlfriend! Even though Bernanke knows this, he even took a financial beating playing in China's market as he was caught off guard with the impact of their market of the global food inflation—caused by China's shortage. (This is why I was making such a big deal of the fact that China's been hiding the reality of their drought situation until just recently.)
In 2010, there were more Americans living below the poverty level than ever before. With this series of dominoes falling down, it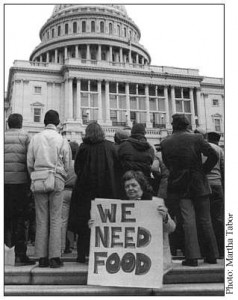 doesn't look like 2011 will be an improvement. So far, unemployment and underemployment are to blame. What happens, though, when the very basic of necessities such as food and fuel are priced out of range for those same persons?  Keep in mind that this also means that people in this same income range are desperately looking for work.  Any corporate pencil sharpener knows that if he can get the same work done for 30-50% less in wages, he'll see an increase in his own bank account. This clearly threatens the jobs held presently by the rest of Americans.
O.K. You have been reading this for the last 5 minutes and your face has turned a bit blue because you forgot to breathe. So please take a deep breath and then ask yourself the most important question. What's your countermove to all of this? What are you going to do to put yourself in a better position in spite of all of this?
I'll take a look at that later this week in this series. Til then, remember there's no such thing as emergency preparedness—that's an oxymoron. Where there's peace, there is preparedness.
© 2019 Of COURSE this post is Copyright Protected by Preparedness Pro. All Rights Reserved. NO portion of this article may be reposted, printed, copied, disbursed, etc. without first receiving written permission by the author. This content may be printed for personal use only. (Then again, laws are only as good as the people who keep them.) Preparedness Pro will pursue all violations of these rights just as vigorously as she does any of her other freedoms, liberties, and protections.