by Kellene
You might be surprised to learn what is made from corn.
Did you know that batteries, diapers, cheese, peanut butter, Coco-cola, Motrin, vanilla extract, baking powder, white vinegar, saccharin, Sweet and Low, charcoal, a slew of household cleaners, drinking alcohol, condiments, toothpaste, dental floss, toilet paper, iodide salt, finger paint, crayons,  and margarine all have corn products in them? This list is in addition to the obvious corn products that you are already no doubt familiar with.  Corn is in a slew of food additives as well such as maltodextrin, pumaric acid, di-glycerides, Ethel acetate, xanathan gum, semolina, absorbic acid, gluten, citrus cloud emulsion, saccharin, calcium stearate, xylitol, and sorbitol as well as a litany of other "ides, ites, and tols."  Did you also know that
fish, meat, poultry, and pork usually contain corn and have been fed the cheap food of corn? In fact, it's nearly impossible for anyone to completely avoid contact with CORN nowadays!  Corn starch is dusted on your frozen vegetables, corn wax is coated on your fresh vegetables, fish is washed in a corn-derived citric acid, and even when you make that homemade bread from scratch, you've still got corn because the baking yeasts often feed on corn based ethanol.  (As a bigger eye opener, you may want to view the movie "King Corn" or enjoy blogs authored by Chris Ellis)
So, OK. Our life is permeated with corn.
It's come to be such thanks to the fact that corn has historically been a cheap commodity. But what happens when corn stops becoming cheap but we find ourselves in a society that's wholly dependent on corn?  You see, the price of your diapers are what they are today based in part on the easy and cheap access to corn. What happens when the price of corn goes way up or corn becomes hard to come by?
Corn crops: 2009. Too wet to plant until late in the season. Too wet to properly fertilize to get a greater yield. Too wet to harvest. Harvested corn repeatedly tested as too wet for dietary corn and storage. And finally there's also the demand to meet the standard ethanol productions. While drying portions of the crop is possible, it's also very costly. Corn is typically sold at 10-15% moisture. However this year some of the largest corn growing areas are harvesting it at an average of 22% moisture.  (Remember, the more moisture, the more expense to either dry it, or the faster it will go rancid, thus causing a loss of product.  Ironically, there have also been some spotty bouts of shortages on propane which is necessary for the drying process.  Hmmm…(*note to me, get more propane tanks filled.*) All of this following a 2008 growing season that experienced dramatic rise and drops in harvest prices and expensive fuel prices making harvesting nearly 12% more expensive than previous years. In the first week of January, USDA estimated that 29%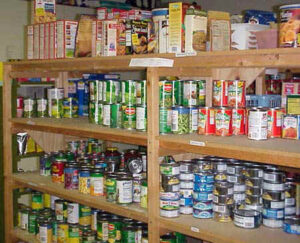 Have your food pantry stocked and ready to go!
of the Midwestern corn crops were STILL in the fields. That is the demise of our nation's corn crops this year resulting in anticipated high prices with high demand.  The domino effect continues as late corn and soybean harvests delay winter planting as well.
So, how does all of this translate into for your preparedness efforts?  Understand how your food production is reliant on a system as equally tenable as a tightrope act. Pay attention to how the key players are affected so that you can strategically acquire necessary goods before the price hikes come into affect.  Attempt to eliminate any food scenarios in which you're wholly reliant on what is given to you as opposed to what you really want for your family. Become as self-reliant for your nutrition and medical needs as possible. It's primarily a matter of education and planning.
In parting, I just had another thought.  What if 90% of our corn crop were infiltrated solely with genetically modified seed like the soy crops have been? Hmm…
Food Part II: Some Kernels of Truth
Food Part III: Nutritional Compromise
© 2019 Of COURSE this post is Copyright Protected by Preparedness Pro. All Rights Reserved. NO portion of this article may be reposted, printed, copied, disbursed, etc. without first receiving written permission by the author. This content may be printed for personal use only. (Then again, laws are only as good as the people who keep them.) Preparedness Pro will pursue all violations of these rights just as vigorously as she does any of her other freedoms, liberties, and protections.