Before I get to the recipe, I wanted to address one other quick matter. There were several of you who wanted to know more about the discussion I engaged in with my friend the other day. Well, this Saturday is your chance. Be sure to tune in to The Preparedness Pro Radio Show as we discuss "Corpus Delicti".  The three words "injury, loss or harm" have never meant more to your freedom and independence. This isn't a loophole we're talking about, Folks. This is right there in black and white, so be sure to tune in!
Now for the recipe...
Last night I had the privilege of making a meal to take in to a friend who had just delivered a baby. To be frank, yesterday was a bit of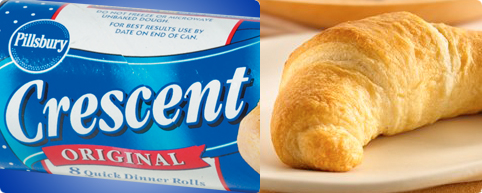 a "low charge" day for me and I wasn't feeling all that ambitious when the time for dinner making rolled around. As such, I decided that instead of making something new, from scratch, to instead come up with a way to use my leftovers and excessive amounts of other foods that I already had on hand to provide a good meal for a family of 8.  Usually, that would mean a casserole, but I had a different kind of challenge in mind. I wanted something that would make use of the several rolls of Pillsbury Crescent Roll dough I had in the fridge, as well as the remaining rotisserie chicken. (I bought 12 of the crescent roll mix during the filming of TLC's Extreme Couponing episode for only .28 cents each.)
So, I percolated on an idea. Though my husband teases me about being "fearless" in my cooking—never afraid to try something new on someone when the results could be disastrous, it looks like I still managed to escape creating a reputation as the worst cook in my neighborhood. (He will never let me live down the fact that I've made food for two wedding receptions using un-tried recipe creations. And yes, they did turn out great. *grin*) As it turned out my idea pulled off well, even with the teenage eaters in the family, and my friend now wants the recipe.  So I thought I'd share it with all of you. You can easily adapt this to any bread or roll dough you might be making from scratch.  And keep in mind that Swiss cheese is one of the cheeses that are hard enough to wax and store. Best of all, remember that the Shirley J Universal Sauce has a 30 year shelf-life and replaces all of your "creamed of" soups. Enjoy!
(Sorry I didn't have the foresight to take pictures, but the delighted text message I got from my friend shortly after the dinner hour was well worth the risk. *grin*)
Flaky Chicken Cordon Bleu Rolls
Three rolls of Pillsbury Crescent Roll Refrigerated Dough
1 cup of finely chopped, cooked chicken
½ cup of finely chopped, ham (can be lunch meat or ham steaks)
Approximately ½ pound of grated Swiss cheese
1 cup of finished Shirley J Universal Sauce
½ teaspoon of Shirley J Pizza Pasta Seasoning
Approximately 4 Swiss Cheese slices, cut lengthwise in thirds
Mix together the chicken and ham in a bowl until well mixed.
In a separate bowl, mix together the finished Universal Sauce and the Pizza Pasta Seasoning.
Spray a large cookie sheet with a non-stick spray or wipe down with Olive oil.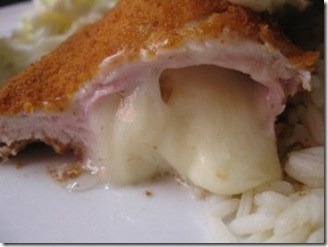 Separate the crescent roll dough into FOUR rectangular shaped parts per package. (this will be two triangular wedges together to form the rectangle) Making a total of 12 rectangles.
Spread one tablespoon of the sauce mixture all over each of the rectangular dough pieces.
Then top with a thin layer of grated Swiss cheese.
Then top is about 2 tablespoons of the ham and chicken mixture, leaving about a ½ inch of the end of the dough uncovered with the meat mixture.
Starting from the end with the meat mixture, carefully roll the dough with all of the ingredients in it and come to rest on the end which isn't covered with the ham mixture.
This will loosely resemble a jelly roll. Place the roll with the seam side down on the prepared cookie sheet. Repeat for all 12 rolls.
Top each roll with a slice of the Swiss cheese.
Cover the cookie sheet with foil and bake at 350 degrees for 20-25 minutes. (Following the package cooking directions for the crescent rolls will result is doughy, uncooked insides, so you need to cook these lower and longer in order to cook all the way through.)
Each roll is plenty to serve each person and is a complete meal when served with a yummy vegetable or tossed salad.
© 2019 Of COURSE this post is Copyright Protected by Preparedness Pro. All Rights Reserved. NO portion of this article may be reposted, printed, copied, disbursed, etc. without first receiving written permission by the author. This content may be printed for personal use only. (Then again, laws are only as good as the people who keep them.) Preparedness Pro will pursue all violations of these rights just as vigorously as she does any of her other freedoms, liberties, and protections.