You know. One of the most consistent battles we have to fight in our pursuit of self-reliance is misinformation. There's always plenty to mislead us, cause us unnecessary heartburn, or make us worry. I believe that allowing ourselves to be swayed by misinformation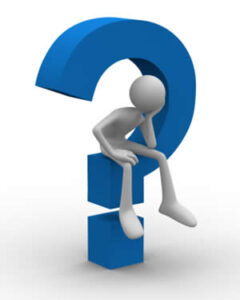 actually diminishes us of our real capability and value in our lives. Take couponing for example. It's one of my most important strategies in my preparedness efforts because it impacts so many of the Principles of Preparedness.  But I suspect that the new show, TLC's Extreme Couponing,  is doing more to dissuade folks from couponing rather than taking it up and that bothers me. I bothers me because I KNOW that couponing is a great way for folks to actually achieve a year's supply of food, clothing, medical needs, etc. for free or cheap and I KNOW that doing so doesn't require a person to be some kind of a psychotic hoarder with nothing else to do but cut coupons and clear shelves.  So, I've decided that today's article will be dedicated to helping folks cut through the shine-ola and hear the truth about couponing one more time. So, do your worst TLC, 'cause I'm talking.
Misinformation #1: Contrary to what you see, no, it does NOT need to take you 20-60 hours a week in order to be wildly successful in your couponing.  I have had the very same percentages of savings that you see on the television show on many occasions and I assure you that I did not have to take out a 2nd and 3rd loan from Father Time to do so. You don't have to go through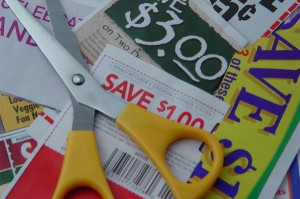 all of the ads and compare them with your coupons. There are plenty of FREE sites that will already do that for you with some pretty cool features to boot. One of the sites I use will actually even tell me which aisle of the store the product's located in. Cool! How much better can you get? Bottom line, you've got make couponing work for you by setting some boundaries so that you still have time for what's important.  I have a strict rule of only spending 2 to 4 hours a week at the most clipping. selecting, and organizing coupons.  That's the limit.   Anything more than that is no longer worth my time because it is taking away from that which is priceless, time with my family and time to unwind. Believe it or not, I even spend less time shopping at the grocery store now that I coupon because I've got my list, my organized coupons and my strict budget. I'm in, out, and home lickety split.
Misinformation#2: You can get your regular items for free or cheap without having a store that does "double coupons" in your area. I know, because I live in such an area. We used to have an Albertson's in our area that would double coupons nearly every week for three days a week, but they had to shut down all of their locations throughout the state. In their place came one more Associated Foods franchise (they are all over the state…*sigh) which doesn't offer its customers ANY of the key coupon magnifiers that I look for in a store. There is one Associate Foods store near me that will offer double coupons up to a 50 cent face value every Tuesday, but frankly, that's just not enough to motivate me to go in there. I haven't yet found a deal so compelling that I had to spend even a minute in their store. In spite of this oh-so-tantalizing Tuesday offer, I do much better with NO double coupon offers at competing stores, all within a mile of this one.
Misinformation #3: A successful shopping trip does not need to be a major production complete U-haul truck, an army of friends,  and cow-towing store employees to help you push your half a dozen shopping carts. When I assure people that they can accumulate a year's supply of essentials for their family—regardless of the size—in less than 4-6 months of using my coupon system, I do so with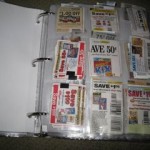 the understanding that such an accomplishment is had week by week of realistic shopping ventures. Yes, there are times when my one, single grocery cart is packed to the brim because of a handful of good deals, but that's the exception, not the rule.
Misinformation #4: You do not have to turn into a crazy person in order to successfully coupon. When I say crazy, I'm referring to the person who clears an entire shelf of dozens of bottles of mustard in spite of the fact that she'll never go through that much—and oh, by the way, her husband doesn't even eat mustard. Crazy is when you obtain massive amounts of coupons in an illegal and unethical fashion as do the majority of the couponers featured on the show. (It's absolutely unacceptable to purchase coupons from a clipping service and the majority of all coupons have such a disclaimer on them.) It's also absolutely crazy to risk a prison sentence because you elected to commit coupon fraud on national television (As did one of their earliest guests—coupon fraud is a federal crime, folks. See:
Nope, you don't have to sell your soul to the devil to be successful, I assure you. There's no need for hundreds or even dozens of coupons of every item you want to purchase. Right now there's plenty and to spare and there will be plenty and to spare the next month and the next month. I don't think I've ever possessed more than 15 coupons of a particular items and even then it's a major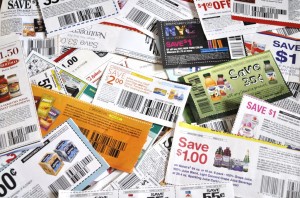 exception. Sometimes I'm at only two coupons for a particular product and sometimes I'm at 11. But you'd have to nearly walk on water to obtain dozens or hundreds of a particular coupon without violating some serious U.S. Treasury crimes.
Misinformation #5: Yes, they DO have coupons for the kind of products that you and your family actually need or want. I realize that they are showing a lot of junk food coming across those conveyor belts on the show, but it's all about what you want to purchase, not what you see on the show.  So long as there are products to sell, there are always ways to save big on them. (I go into greater detail of how this is achieved through my "Enough and to Spare Coupon Training Boot Camp" course.)
Misinformation #6: No, you don't have to take out a second mortgage just to afford your coupons. Sure you can get them via the newspaper, magazines, etc., but half of my coupons come from the internet and the mail. It doesn't have to cost you a cent. For those of you who don't want to spend money on ink and paper (of course, I use coupons to buy my such supplies) you also have a 97% chance that your neighbors aren't using their coupons as only 3% of all coupons circulated are actually redeemed. There are also the newspaper bins where people put their newspapers—not garbage folks, just newspapers—which you can easily access to make a boon out of other peoples discards.  Personally, I like a little bit more predictability with my couponing efforts so I do subscribe to some sources such as newspapers and magazines. (Correction--apparently the CIC warns against dumpster diving for coupons and warns that it could be considered criminal trespass.)
Misinformation #7: Lastly, you don't need to irritate the other customers around you at the check out just because you're using coupons. With the proper organization system and not putting on a show for cameras by purchasing 800 different items, your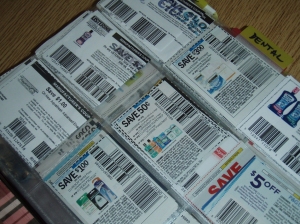 checkout process should be just as smooth as when you're not using coupons. In fact, I find that well-organized couponers actually get through the check-out line faster than non-coupon users because they have to be really on top of things and totally organized. It doesn't matter if I'm handing over 10 coupons or 100 coupons, I've got my stuff together and never have taken excessive time to checkout.
Misinformation #8: Couponing is NOT the same as hoarding. When I watched the first episode of TLC's Extreme Couponing, my jaw dropped again and again and again. I was aghast at what I was witnessing because in some ways it seemed like I was watching their show called "Hoarders", not a show about purchasing groceries. However, considering that I've had plenty of folks judge my preparedness efforts as hoarding—"What in the world do you need 1200 pounds of wheat for?"—I'm somewhat guarded against judging others.  For all I know, they are going to go and donate the stuff to the Food Bank or they have extended family of 20 that they want to be in a position to help when things go south. The bottom line is, don't allow the unfathomable amounts of stuff that these folks purchased on the show dissuade you from taking control over how you can stock up on the items that you need; stabilizing your dollars as best as possible and fight against inflation. And remember, it is, after all a television show. If there's no sex or violence a TV show, you've got to at least have the "train wreck factor" which is what you get when you have someone purchasing 93 bags of croutons.  But if you're purchasing items that your family will actually use and if you're rotating items properly, then don't give a flying flip what other folks think when they see you with 14 rolls of Brawny Paper Towels in your shopping cart. In my house a single roll of paper towels lasts me about 3 weeks. So yes, if I can get 14 rolls for less than 50 cents each, then I'm going to purchase them for certain because paying 50 cents for them today means that I don't have to pay $2.99 six months from now just because I ran out.
The bottom line is that with all that's going against us nowadays to compromise our many Principles of Preparedness we don't need to have our honorable efforts misconstrued and debased. Couponing is one of the most important strategies that I employ in my preparedness efforts because it applies to nearly every Principle of Preparedness. So don't give up on it just because of how it's portrayed on TV. Saving only 50% on your essential purchases will make a big difference over a year, let alone saving 90-100%. So give yourself a shot at it.  I think you'll end up feeling much more in control of your life and your future in this crazy world we're living in. And that's the kind of peace all of us could use in our preparedness efforts.
To learn more about how you can save money in your budget using coupons, get our in-home education course, "Enough and to Spare, Coupon Training Bootcamp" and start saving today by learning all the Preparedness Pro's secrets!
© 2019 Of COURSE this post is Copyright Protected by Preparedness Pro. All Rights Reserved. NO portion of this article may be reposted, printed, copied, disbursed, etc. without first receiving written permission by the author. This content may be printed for personal use only. (Then again, laws are only as good as the people who keep them.) Preparedness Pro will pursue all violations of these rights just as vigorously as she does any of her other freedoms, liberties, and protections.
Related Content: