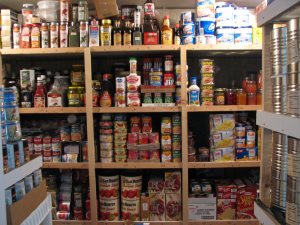 Over the weekend I canned about 15 pounds of ground beef and about 20 pounds of some pork roast.  They both turned out marvelous.  I've heard of some myths that canned meats don't have a great texture or don't taste as well.  That's just hogwash, folks!  Remember, I LOVE to eat, and I refuse to eat garbage, even in an emergency.  So for today's post, here are some of my favorite food storage recipes.  I use these in my everyday cooking and I use them as well in my
"UNDERwhelmed in Food Storage" classes.  They taste the exact same whether I'm using bottled butter, my own preserved cheese, my own preserved eggs, and my canned meat or the "fresh" stuff from the store.  They are essentially my comfort foods and I'm sure they will be yours, too--even in the midst of a crisis.
Solar Oven photo c/o democraticunderground.com
Keep in mind that I frequently use a solar oven to make my casseroles.  Mind you, I'm not a miser by any stretch of the imagination, I just like having the choice of where my money goes.  So, especially in the summer, I love using my solar oven so that I don't have to pay to heat up my oven and then pay to cool down my house.  All of these recipes can be made in your own conventional oven, in a solar oven, or even in your Dutch oven.  They are super easy to create and they will disappear FAST on even the most persnickety dinner table.
Chicken Poppy Seed Casserole
1 box of Rice-a-Roni (or generic brand) fried rice, prepare as directed
4 chicken breast halves, boneless, skinless, cooked and shredded OR 4 cups of canned chicken, drained
1 can cream of chicken soup
1 ½ c sour cream
1 "sleeve" of Ritz crackers, crushed
1 stick butter or margarine, melted
1 tbsp poppy seeds
Poppy Seed Chicken Casserole photo c/o everydayfare.blogspot.com
Layer the bottom of the large casserole dish with the rice mixture.
In a separate bowl, mix together the chicken, soup, and sour cream.
Place the chicken mixture over the rice mixture in the casserole dish
Mix together the crushed Ritz crackers and the butter. Top the casserole with this mixture.
Sprinkle poppy seeds on top.
Bake at 350 degrees for 20 minutes or until dish is hot and bubbly.
10 Minute Soup
1 pound of ground beef, browned and drained
2 cans of regular sized Italian stewed tomatoes
2 cans of beef broth
1 can of mixed vegetables. ( I don't know why exactly, but I prefer the Veg-All brand)
1 cup of mini, dry noodles
Heat beef, tomatoes, vegetables, and beef broth and bring to a boil.  When boiling add the noodles and cook for about 10 minutes.  Having some yummy bread to dip in the broth is a great idea.  Enjoy!
[caption id="attachment_983" align="alignright" width="236" caption="Frito Pie photo c/o photobucket.com"]

[/caption]
Frito Pie
Line the bottom of a casserole dish with Fritos (not flavored in any particular manner).  The depth of the Fritos should be about an inch.  Top the Fritos completely with your favorite brand of chili con carne(usually about 2-3 cans).  Top with grated cheddar cheese.  Bake in the oven at 350 degrees until cheese is bubbling (about 20 to 30 minutes).  This dish is YUMMY. (I like to serve this up with a sprouted salad to make sure that I've got a lot of nutrition in the meal as well.)
To see our upcoming event schedule, click here
Check out our inhome-course programs
Subscribe to Preparedness Pro today and never miss a thing!
For any questions or comments on this article, please leave a comment on the blog site so that everyone can benefit!
Copyright Protected 2009, Preparedness Pro and Kellene. All Rights Reserved. No portion of any content on this site may be duplicated, transferred, copied, or published without written permission from the author. However, you are welcome to provide a link to the content on your site or in your written works.
© 2019 Of COURSE this post is Copyright Protected by Preparedness Pro. All Rights Reserved. NO portion of this article may be reposted, printed, copied, disbursed, etc. without first receiving written permission by the author. This content may be printed for personal use only. (Then again, laws are only as good as the people who keep them.) Preparedness Pro will pursue all violations of these rights just as vigorously as she does any of her other freedoms, liberties, and protections.
Related Content: