In one of my elementary school classes we were actually taught how to cook a frog. (Not literally, but our teacher gave us specific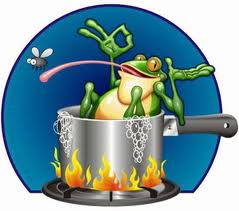 instructions.)  For those of you who don't know, cooking a frog requires patience and time. You simply can't just plop a frog in boiling hot water, it will just jump out (albeit quite injured). Instead you need to plop the frog into a pot of cool water, and then slowly let the water heat up from there. Doing so will cause the frog to grow accustomed to the increased water temperature and it will not jump out. Before you know it, you've got cooked frog with very little resistance.  Many of us are preparing for a moment such as the first method of cooking a frog.  We have this immediate response of jumping out of the hot water and surviving for another day. But too  many of us are preparing for a singular event of disruption in our lives rather than that which we are much more likely to endure—one of slow and steady inconvenience until we eventually find ourselves cooked, so to speak.
Too often I hear folks say they are preparing for "the end of the world."  To me that's a boiling water scenario, whereas what we need to realize is that there will be numerous instances PRIOR to that "end of the world" scenario (as spoken of in the scriptures) which will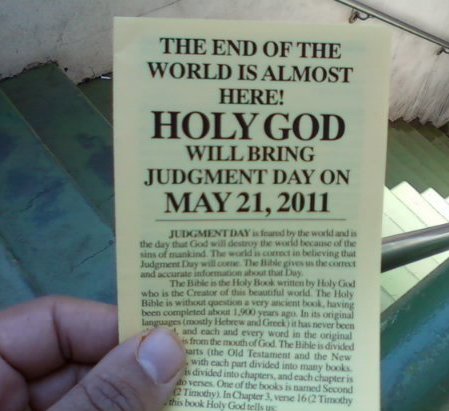 require a preparedness minded response. Again, these kinds of instances will take place BEFORE the proverbial "fit hits the shan." They will prove to be some serious "dress rehearsals" for us in dealing. In some instances these occurrences will feel like the end of the world.
Unfortunately we have seen evidence of this throughout the Asian peninsula. First an earthquake, then a tsunami, then radioactive meltdown, and then powerful aftershocks. Famine, financial collapse, sanitation systems compromised, and an outbreak of infectious diseases such as cholera can realistically expected in such circumstances.    And it is those types of scenarios that we must prepare to endure and thrive in now. This such preparedness is just as important, if not more so, to create an environment of independence in order the THRIVE during the incrementally tough times.
If you read back through by blogs in reverse order, you'll see that I warned way ahead of time of a serious rise in food prices. Clearly that warning has come to an unfortunate fruition; and I suggest that it's still not anywhere near as bad as it's going to get.  You'll also see that I warned of historically high fuel prices—also clearly manifested in the numbers we're seeing that defy gravity consistently. Additionally, you'll see that I warned of a full-out nuclear crisis in Japan following the first signs of trouble after the earthquake/tsunami. Today we see the radiation risk noted at the same level as that of Chernobyl.
I wasn't accurate on these instances because of some lofty political or scientific connections. I was correct simply because I pay attention to what is going on around the world and, more importantly, pay attention to the necessary "cause and effect" of such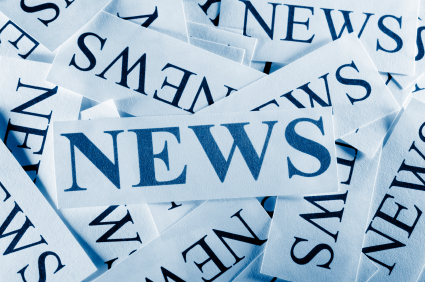 circumstances. It doesn't take a great scientist to figure out which way the dominoes are going to fall once the first one is knocked over. People may yell and carry on, calling me (or you, for that matter) all kinds of awful names but it still doesn't alter the fall pattern of the dominoes.  Tying in to our "cooking the frog analogy", when people throw a fit that I'm out of my mind because I'll state the obvious and the obvious isn't so pretty, it's actually akin to them standing over a still pot of water that's sitting on the stove and claiming that it will never come to a full boil. When that knob is turned up to high heat, it doesn't matter what the water looks like at the beginning. The water is going to boil. Sure the boil will kill the frog, but 209 degrees is no picnic either and 209 definitely comes before 210.
(And by the way, I'm standing firm that a financial collapse is next. Since last summer when I wrote the series on Financial Preparedness, the indicators of such have only been falling into place, not only as I expected, but at a much faster pace than I had anticipated due to Mother Nature hastening things a bit.)
My point is, we're all in a comfortably deceptive pot of water.  It's critical that not only do we stay diligent in our efforts of preparing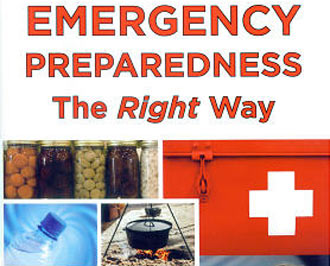 for "the big one" but to recognize that there are other, significant series of events that will lead up to much more serious times. I don't say this as some futuristic storyteller.  Even if you don't believe in the verses of the Bible which make what I'm saying quite clear, history has also made this pattern perfectly clear. So, let's not "poo-poo" all of the other events which will require our focus and efforts. Let's not underestimate what will be necessary in times prior to our most serious scenarios.  This means that we garden now, while we still can, even though there a seemingly endless supply of food. We stock up on our prescription medicines now by filling our prescriptions as early as we're permitted. And we become as learned as possible in matters of self-reliance so that we can confidently and peacefully handle the tough times. From a strategic standpoint, we need to consider what is necessary in order to be able to THRIVE, not just survive.  Thriving will give us choices and independence whereas bare survival will only subject us to the will of others in spite of our best of intentions. Certainly let's be mindful of this reality and peacefully prepare accordingly.
© 2019 Of COURSE this post is Copyright Protected by Preparedness Pro. All Rights Reserved. NO portion of this article may be reposted, printed, copied, disbursed, etc. without first receiving written permission by the author. This content may be printed for personal use only. (Then again, laws are only as good as the people who keep them.) Preparedness Pro will pursue all violations of these rights just as vigorously as she does any of her other freedoms, liberties, and protections.