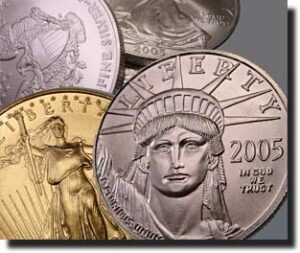 I suppose I have to address this issue sooner or later. What do I think about buying gold and silver to hedge against a financial collapse? Personally, I'd pass.
Among the 10 Principles of Preparedness, the Principle of Financial Preparedness is Number Nine in order of prioritization. If times get so tough that one feels like they have to rely on gold and silver, there are a heck of a lot worse problems that will come to the forefront which will have nothing to do with traditional currency.
Several years ago I had
a garage sale at my mother's home in Las Vegas. She was a notorious pack rat who had run in to sufficient financial troubles that she was willing to part with some of her "treasures."  My sister and I traveled down to Vegas to help her organize, promote, and execute the sale. As I began pricing items, my sister kept assuring me that I was pricing things far too low and that they would sell in Vegas for a much better price. I can honestly say that I was shocked at what people were willing to pay for my mother's items.  My sister was right.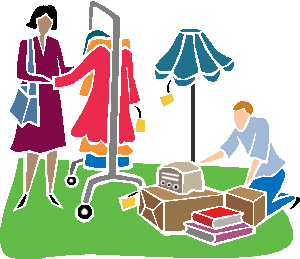 Ironically, it was less than 2 years later that my mother passed away and I was responsible for selling her "treasures" yet again, only this time in Utah.  I was once again rattled by the prices that her items were selling for, but this time because people were offering pathetic, nearly insulting prices for the goods. If I had it marked for only a quarter, inevitably someone would offer only a dime for it. (This was actually a bit difficult to take from an emotional standpoint given the circumstances.)  It didn't matter that 6 hours away that same item would have sold for 4 times the marked price without the purchaser blinking an eye. What was even more surprising to me though, is that some of the oddest items that I had modestly priced triggered a "buying war" among a few of the browsers—rubber Stampin' Up Stamps, Mason Jars, scrapbooking supplies, and some other oddball items that nary garnered a glance in Vegas two years earlier. The difference between Vegas and Utah County? Culture.
Gold-Backed Currency History
In spite of our culture valuing gold and silver for so long, it's wise to understand that it's really predominantly a "cultural thing." Gold was supposed to be the backing of every U.S. dollar that's ever been printed. Then the monetary system digressed to only being approved as fractional backing by gold. Now, it's not a backed whatsoever by a hard asset. Our banking system is now permitting loans of fiat money to be backed with a small percentage of more fiat money.  Credit card companies are permitted to issue billions of dollars of "micro loans" every year without a single gold or silver coin in the backing. Not that I agree with the foolishness of these policies, but the fact of the matter is, when all is said and done, even gold and silver's value is solely based on what someone will purchase or gain. Thus in my opinion, they are likely to only have value to a good dentist someday.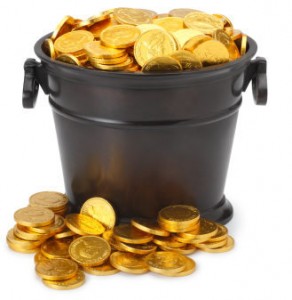 I think the best time to own gold is actually in the past—about 12 months ago or longer.  I think that there was obviously a financial gain to be had by that. But think about it for just a moment.  If gold is so valuable, then why are so many people  trading it in... exchanging it for more fiat money? This is simply because no one can purchase what they truly need with gold.  It's not the gold that is valuable, it's what it can purchase. And with the exception of a pawn shop or a drug dealer or black market broker, it's rare that a person can walk into a place of business and purchase what they want and need with a gold coin or a gold brick.  My suggestion to anyone contemplating investing in gold is to first ask yourself if you have everything else covered.  And if you believe you have everything else covered, what about the other people you care about?  My personal belief is that you can never be perfectly prepared. There will always be something else you can do, learn, or obtain, to better establish an environment of independence.
Barter, Not Gold and Silver
Speaking of cultures, let's remember that history is full of accounts of a broad spectrum of civilizations which thrived on consumable commodities such as salt, wheat, nutmeg, cattle, essential oils, and corn—not gold or silver.  When civilizations were discovered by people from other cultures which valued gold, then, and only then was the original civilization known as being "wealthy"—they were viewed that way simply because another culture labeled them as such.  When a time comes in which you just have to focus on the necessities to get through the day, then only the necessities will be worth anything to anyone else.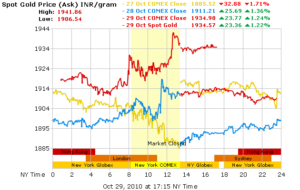 In dire times, "the market" in their infinite wisdom (sarcasm intended) may arbitrarily place a value on gold. But I assure you that such persons are not dining off of gold broth nor are they living in a gold-plated shelter. The value of gold is merely established by digits flying through the air, exchanging gold for some other currency or wealth.  When such exchanges cease to be possible due to an earthquake, famine, fire, or something much more dire, it won't matter who says what, and who claims they are wealthy in gold and other assets.  The size of one's house and the label on one's car only means that they ultimately paid more fiat money for that property, and nothing else. No matter what some ghost-like entity says gold is worth, it is meaningless to the man who is hungry and cold and even more meaningless to the man who has a bounty of it who's stranded in the middle of the North Pole.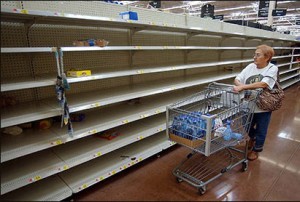 In my opinion, gold and silver right now should be viewed no more differently than any other stock or bond which a person can purchase, leverage, and profit from. Yes, it clearly is a much safer bet than all of the rest, I'll grant you that; but it's nothing more than that—a bet. And given what centuries of history have taught us, there is no reason to place it in such a lofty place in our priorities so as to ignore the other more pressing matters of preparedness. I assure you that the possession of gold and silver and other hard assets will be meaningless within hours after a national (then worldwide) financial collapse is evident. Being debt free will mean a heck of a lot more to a person's state of preparedness in such an event; which is why I suggest that the best form of financial preparedness is to see to our other priorities and eliminate as much of your debt with the fiat money you have now.
© 2019 Of COURSE this post is Copyright Protected by Preparedness Pro. All Rights Reserved. NO portion of this article may be reposted, printed, copied, disbursed, etc. without first receiving written permission by the author. This content may be printed for personal use only. (Then again, laws are only as good as the people who keep them.) Preparedness Pro will pursue all violations of these rights just as vigorously as she does any of her other freedoms, liberties, and protections.