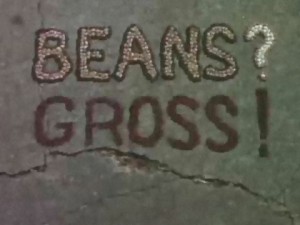 If you think beans are gross, you're in for a surprise! Photo c/o wiredrive.com
Having beans in your pantry isn't appealing to a lot of people. Mostly though it's because the thought of eating them exclusively long-term causes them to prefer death. So allow me to fill you in on some of the basic information about cooking with beans, storing them, sprouting them, etc.
Believe it or not but beans can be a comfort food.
A study conducted at Weber State University showed that when eaten in a thick soup-like or paste consistency, beans have a positive effect on the endorphins and serotonin produced in the body. And yes, the rumors are true, you CAN make really yummy cookies, brownies and fudge with beans! So imagine what the endorphin levels may be in that kind of combination?
Beans are also incredibly nutritious. Most beans only contain 2-3% fat. They not only don't have any cholesterol, but they actually help to lower your cholesterol levels because of their rich source of fiber. They are also high in protein, Vitamin B, good carbohydrates, and iron.
The cost of beans has held rather steady over the last two decades for consumers. Even today a serving of beans can be as low as 10 cents compared to several times that amount for cheese or meats. If you're able, buy bulk beans instead of pre-packaged ones. Doing so will save you about 70%.
Brightly colored beans photo c/o tippinthescales.wordpress.com
When you buy beans, check the quality of them. They should be clean, brightly colored and rather uniform in size with no visible damage. Cracked or chipped beans indicate a low quality product. When you clean the beans, just give them a look over for any dirt or pebbles.
Because we eat so many refined foods, our bodies don't regularly have the enzymes to properly digest beans and grains. So be sure to explore the use of the following tips when consuming them.
Sprout your beans. They are much easier for your body to assimilate when you ingest them this way as they shed off some of the gaseous components during the sprouting process. As you may have read previously, sprouting compounds the nutritional value of any seed, nut, whole grain or legume by as much as 600%! Remember also that when you sprout your beans, they become more of a vegetable rather than a bit starchy.  One 50 pound bag of beans will provide a family of four with one vegetable serving for a whole year if you sprout them! (1 tablespoon of beans yields about ¼ to ½ pound of veggies.)
Slow cook or pressure cook your beans. Cooking dry beans thoroughly is also important to being able to digest them properly.
Consume beans regularly several times a week. Start with small portions if you're not used to it. Eating beans actually supplies your body with the necessary enzymes over time to be able to eat them more regularly.
Cook your beans with a bit of oil. This will help prevent the frothing of them while they cook so that you can cook them at a higher heat.
Soak your beans, if only for 30 minutes before cooking. Even a soak of only a half-hour will compound the nutritional benefits. You can do a "quick soak method" by adding 6 cups of water to one pound of beans. Bring it to a boil and cook for 2 minutes. Remove from the heat and cover and then let stand for one hour. Drain the water, add new water and then cook as you would normally.
When cooking your beans, keep in mind the seasoning strategy. You'll actually get more flavor if you wait until they are just a bit soft before adding your seasoning. If you add the seasoning too early in the boiling water, you won't get the permeated flavoring that you're looking for. But if you add your seasonings freshly at the point in which the beans are a bit soft, they are better able to absorb the full, undiluted strength of the seasoning. Also, embrace using cloves when cooking beans. While such a combination may sound unusual, it's actually a great marriage of flavors that I think you'll enjoy.
Photo c/o Jud Burkett, The Spectrum
When considering how much beans to have on hand for a year's supply for your family, plan on a minimum of 1 pound per person per day. However, this amount includes your other fruits and vegetables (fresh, dehydrated, freeze dried, etc).  Considering that beans can easily be converted into a nutritious vegetable (via sprouting), I tend to lean heavily on the side of more beans in my pantry rather than canned vegetables. Remember, canned veggies contain only 40% of their original nutrition and then depletes over time. However, if stored below 70 degrees in a tightly covered container in a dry place, beans will keep indefinitely. When you expose them to high temperatures and humidity, the necessary cooking time will increase. But will not destroy them. However, concerns with this can be alleviated if you'll simply use your beans regularly and thus rotate your food.
To help you enjoy them a bit more, I'm providing you with a couple recipes. I hope you enjoy them!
Pinto Bean Fudge
Mash together the following ingredients:
1 cup of soft pinto beans
¼ to ½ cup milk (you want the consistency of mashed potatoes
1 T. vanilla
In a double boiler melt 6 ounces of unsweetened chocolate and 6 T. butter.  Pour the chocolate mixture into the bean mixture.  Stir until slightly thickened. Work in 2 pounds of powdered sugar. Knead with hands and then spread on a slightly buttered pan. Refrigerate. Makes 3 ½ lbs. you can also add nuts. Enjoy!
Ranchero Beans
5 cups water
1 onion, quartered
1 clove garlic; peeled
1 carrot peeled and cut into chunks
2 C dry pinto beans (washed)
Sprinkle of cayenne pepper
½ t. ginger
½ t. salt
1 t. honey
1 cup salsa or mild taco sauce
In a blender place 1 cup of water, onion, garlic, and carrot. Pulse until vegetables are finely chopped. Place vegetables and 4 cups of water, beans, cayenne, and ginger in a 5-6 quart pan. Cover and cook for 8 hours or overnight in a 200 degree oven. Add salt, honey and salsa. Return to oven for at least one hour, and up to 4 hours. (To cook in a slow cooker, cook on high for 8 hours.) Add seasoning and cook on low as desired.
To adapt this recipe to refried beans, simply mash and then use. Add a bit of chili powder to taste as well. To convert into chili beans, simply add 1 ½ ounce package of chili seasoning mix, 16 ounces of canned tomatoes and ½ lb. of ground beef. Mix and simmer for 20 to 30 minutes.
To see our upcoming event schedule, click here
Check out our inhome-course programs
Subscribe to Preparedness Pro today and never miss a thing!
For any questions or comments on this article, please leave a comment on the blog site so that everyone can benefit!
Copyright Protected 2009, Preparedness Pro and Kellene. All Rights Reserved. No portion of any content on this site may be duplicated, transferred, copied, or published without written permission from the author. However, you are welcome to provide a link to the content on your site or in your written works.
© 2019 Of COURSE this post is Copyright Protected by Preparedness Pro. All Rights Reserved. NO portion of this article may be reposted, printed, copied, disbursed, etc. without first receiving written permission by the author. This content may be printed for personal use only. (Then again, laws are only as good as the people who keep them.) Preparedness Pro will pursue all violations of these rights just as vigorously as she does any of her other freedoms, liberties, and protections.
Related Content: