Iowa farm with seven inches of snow in October
Ok folks. Here's some more info on food shortage—it's going to be a wet year for crops. I keep getting flack for putting food shortage information out there and have been called a fear monger and irresponsible journalist. But the fact of the matter is, we do need to be aware of these kinds of things so that we can knowledgably address our preparedness needs.
In an effort to allay fears of citizens, the USDA has issued several statements this year celebrating a "bumper crop" outlook among farmers. In some key farming areas, a late crop was planted due to weather complications. However, due to heavy rains nationwide, early frosts and snow, many farmers are reporting a very different scenario.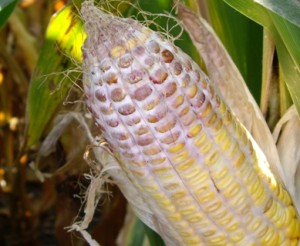 Moldy corn in Indiana Photo c/o A. Robertson
Corn and bean crops all over the farming regions of the U.S. are soaked. It's a wet year for crops. I've read over 30 accounts from farmers who can't even get a combine out in the field due to the rain or snow.  Those who are able to harvest are having a tough time drying the corn and a great deal of the corn is moldy. Some beans have begun to pop weeks early. There have been bumper crops grown, but no way to harvest them with all of the moisture and subsequent freezing weather.
Wheat farmers are conveying the same message as well. "It's as if the harvest time came and went like a thief in the night," says one farmer from South Dakota. Some farmers have resorted to chisel plowing, but it's slow going and with additional threats of moisture and freezing temperatures, it doesn't look good. Some of the hot September days helped late planted crops to mature, but the harvesting of such crops is still a challenge.
Check out these statistics in regards to our crops
According to Texas AgriLife Personnel, Texas wheat crops were subjected to heavy rains followed by army worms. As such the crop yields are diminishing greatly.
South Central Kansas is concerned about even getting their winter wheat planted due to the excessive moisture in the ground at present.
North Texas claims that there has been over 2 feet of rain in the last 2 months and as a result, the cotton will never be harvested.
Redwood County, MN reports that only 50% of the soybeans were harvested and has now "ground to a halt." Their growing season has ended with 5 nights in a row in the mid 20's.

Wright County, IA awoke to an inch of snow on the ground earlier this month. One farmer claimed "Harvest at a standstill after this snow. I think the speculators are in for a big surprise by the time harvest ever gets on the way or done."

A Northern Indiana farmer says "We have not been able to even get into a field to harvest and weather has only let us plant 20 acres of wheat, the corn is running 28% and bean stems are still green. I think they should rethink the harvest outlooks, can't see it being a bumper anything...with a chance of early snow."
A Brown County, SD farmer had this to report, "Haven't turned a wheel yet for harvest. Approaching 13 inches of rain for September and early October and now it is snowing. Gonna be an interesting harvest if we even are able to get in the field."
Action you should take because of crops shortage:
My point? Because of this wet year for crops, don't plan on our reserves being filled again any time soon folks. You should also plan on steep price increases beginning the first part of November due to the low yields. These price increases will be most evident on items which contain corn or corn derivatives. And keep an eye out for anything which contains soy increasing dramatically as well. With the problem being on such a national level, it's bound to affect the market dramatically as opposed to a little "blip" that would occur if the lack of crops were isolated to one area. During this wet year for crops, my advice to you is to store up, folks, so that you can afford your other necessities.
© 2019 Of COURSE this post is Copyright Protected by Preparedness Pro. All Rights Reserved. NO portion of this article may be reposted, printed, copied, disbursed, etc. without first receiving written permission by the author. This content may be printed for personal use only. (Then again, laws are only as good as the people who keep them.) Preparedness Pro will pursue all violations of these rights just as vigorously as she does any of her other freedoms, liberties, and protections.