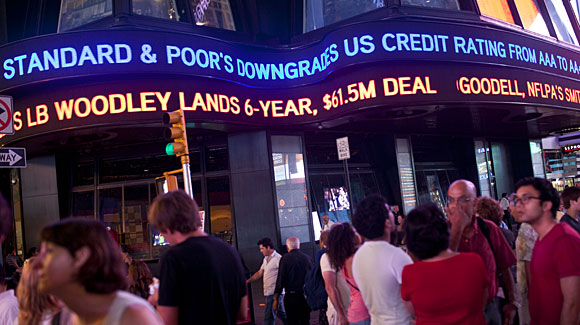 Because of the serious nature of this article and the consternation it may cause some of you, please allow me to say first and foremost that I still believe solely in PEACEFUL preparedness.  In spite of what I'm sharing with you today, I want you to know that I am actually more full of peace than ever before because of where I stand spiritually, mentally, physically, medically, etc. in my efforts of self-reliance.  I reiterate to all of you who will read this article today that no matter what the external circumstances of your life are right now, no matter what you see paraded through the news, I KNOW without a shadow of doubt that it is STILL possible for you to take action which will create more peace than fear in the midst of these trying circumstances. This is not just some cutesy little word manipulation, folks.  It's 100% real.  Thriving is still a realistic option for you and your family if you will move forward in pursuit of peaceful independence, not panic. With that being said, let's talk about what's really going on with the S & P downgrade of the U.S.'s credit rating and what counter-moves you need to take in order to ensure peace and comfort in your family.
Unless you've been off on vacation somewhere or have refused to turn on the news lately, you know about the S & P downgrading the credit rating of the United States of America. But what you may not know is what that means exactly and what the ramifications are, as well as the unavoidable domino effects to expect from it.
Financial Credit Rating
First of all, while some of us may look at a  AA+ rating as insignificant, after all, it's better than any one of us ever got in school, right? But if this were compared to the grading system that so many of us are familiar with from our school days you should know that the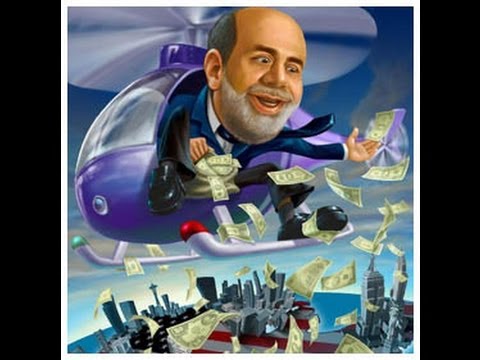 AA+ from an AAA rating is like going from an A grade to a C. In the world of credit ratings, an AA+ is a fall from grace of TWO grades.  AAA is the top rating, then it goes to AAA- and then to AA+.  For each downgrade in this type of environment you can expect a significant ripple effect through Wall Street and the global economy. Since S & P chose to do this on a Friday, the backlash that you are seeing today is only phase one of the necessary consequences to the downgrade. Ironically you can expect S & P to further lower their credit rating as a direct result of the ripple effect of the consequences which will hit us because of this initial downgrade. Yup, you read that correctly. The downgrade will be the stimulus for yet another downgrade. The news of last Friday will play out as a vicious public circle which will spiral downward for some time.
Next, let's understand the seriousness of this downgrade and why S & P issued it singularly, without the other rating agencies following suit.  For starters, S & P is the expert when it comes to rating sovereignties; the expertise of Moody's and Fitch is focused on corporate ratings. This doesn't mean that Moody's and Fitch won't eventually reflect the downgrade of S & P, in fact, I would be surprised if they didn't do so shortly—they tend to follow S & P in this aspect—but the reason why it's so significant that S & P issued this rating is because this is their field of expertise—rating the value of the entity that's issuing the financial instruments. It should also be taken into account that  S & P has some iron-fisted political alliances with our government and with Wall Street. When you consider this close relationship, it helps to better appreciate just how bad things are for us economically-- to be so severe that S & P would strain these profitable relationships from the minute they initiated the downgrade to the AA+. In fact, if S&P truly was an unbiased and truly independent third party, I'm willing to bet significant sums of money that there would have been a much lower rating than AA+ had there not been any such relationships.
Financial History
History has shown us just how tightly these existing relationships are.  After all, it was S & P and Moody's who rated all of those commercial mortgage backed securities as AAA, which led to the significant financial crisis we find ourselves in right now.  Without one iota of concern to their integrity and expertise, they rated hundreds of billions of dollars of bogus mortgages AAA.  So, for S & P to publish such a devastating grade to the U.S. you can bet it was not done without careful, hand-wringing type of consideration.  S &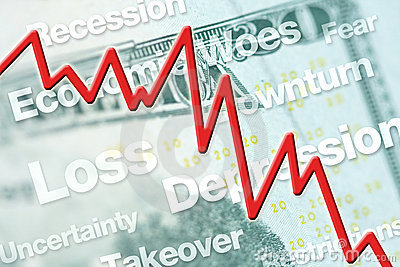 P makes their money by rating financial instruments of sovereign entities such as cities, states, and nations. S & P is also responsible for rating every county, city, and state in the U.S. which in turn enables them to sell bonds in order to raise money.  If the head of the snake has just been downgraded from a AAA to a AA+ then you can be certain that there will be some painful backlash to these other entities as well.
What I'm also trying to say is that the AA+ is no doubt a softened blow than the grade which would be more accurate. In other words, just like the unemployment numbers we're constantly provided, it's much worse than what the media is permitted to provide. Translation: AA+ is only a smidgen of what's to come later.  Keep in mind that S & P warned the Administration that if they couldn't come up with 9 trillion in cuts then this would be the consequences. Well, Congress only came up with $2.1 trillion in cuts. So, you do the math. Just how much worse will the rating get?  Think of it in terms of a homework assignment that weighs heavily on your grade for the entire semester. If the professor says you need a 10 page report in order to qualify for the best grade, but you turn in less than a quarter of that requirement, what would you expect the grade to reflect?  B+ instead of an A+?  I don't think so. In other words this saga definitely has only begun. The term "to be continued" is quite appropriate.
Let's also consider that this is the FIRST and ONLY time that the U.S. has received this kind of a downgrade since the origination of these credit ratings in 1917. As you know, our U.S. president is reportedly the brunt of the some of the lowest political approval ratings in history, but he also now has the distinction as being the only president who's economy was so bad it justified such a rating.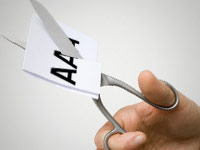 You can bet that the threat of such an unfavorable distinction caused every possible tactic available to be tried in an effort to thwart such a rating. And yet the downgrade still occurred because it was imperative in spite of any external threats of consequence.
So what caused S & P to cannibalize their most profitable line of customers? Well, that would be the fact that they have to answer to the entire world of international investors and customers.  Look at it this way; suppose you've got a Chinese drug dealer who has entrusted his second in command to be the only one who's authorized to inventory all of their precious inventory, and to likewise ensure that the appropriate amount of money comes in exchange for that inventory. If that trusted gang member fails in their count and fails to represent the true amount of their asset, then they will face dire consequences. Likewise the value of the financial instruments which the U.S. sells in order to raise money is based solely on what the rating companies (such as S & P) say they are worth.  For S & P to look the other way any longer—and continue to deny any need to downgrade the value of U.S. assets in light of so many obvious indicators—would be professional suicide. It would annihilate all of the credibility of their entire operation and the domino effect of that would surely be a worldwide economic collapse because it would put into question the value of every single asset that the S & P has ever graded and essentially make them worthless.
Now, if you're China or Japan who have both invested heavily in U.S. assets, you don't want anything to indicate that what you've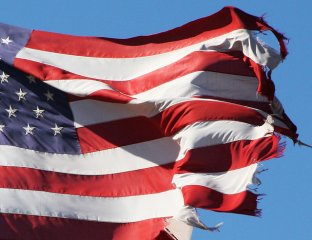 bought and paid for so heavily is suddenly worthless. If you're Spain, who was just bailed out by some U.S. monetary aid, you don't want to discover that the paper money they just lent you is no more valuable than Monopoly money, right?  But imagine if you're one of the nations who have only recently been able to avert a financial disaster in your own country because of the aid which the U.S. has provided?  If the value of that aid is decreased because of this rating, your nation could find itself actually worse off than when you initially needed the financial aid! There's no such thing as a "grandfather clause" when it comes to evaluating the worth and spending power of an asset. When it comes to the financial world, the value of an asset will fluctuate even if you do nothing more or less with it than put it in your pocket. And yet THIS is exactly what you're seeing play out right now; and THIS is exactly why you're seeing the reaction on Wall Street which was necessarily set in motion in direct response to the "budget cut deal" being passed—even  before S & P publicly announced their downgrade. There's a litany of mathematical facts that we've been ignoring for a long time; the consequences of which are impossible to ignore once the highly profiled "debt deal" went through. Wall Street, S & P, foreign rating companies, and soon to be the other rating companies here in the U.S. can no longer hide behind a façade and keep saying that all is well. Doing so could actually trigger a world war. Why? I'll explain it as best as I can if you'll indulge me by allowing me to use another analogy.
You've no doubt seen a movie or two in which a scenario plays out that someone at the poker table is cheating; when they are discovered, the fit really hits the shan. Well, this is essentially what the U.S. has been doing for the last decade—cheating at cards. Unable to draw the cards they need for a winning hand, they have simply manufactured new cards which make their way from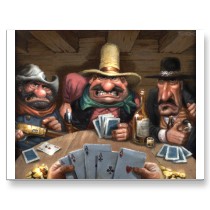 their pocket into the poker deck of cards on each round. Any influx of government cash/spending going into our economy is exactly like that. Programs such as Cash for Clunkers, tax rebates, spending on large projects that otherwise wouldn't get the time of day—such as revising and reprinting the census forms and spending the money on postage to send every American a notification that their census form is coming in the mail—and so many other like programs. Such programs have NOT been put into play to help Americans, rather they have only been triggered so as to incorporate more of the winning cards into the deck on behalf of the poker player who's cheating. What's essentially happened over the last two banking days is that S & P has noticed the fact that there are 150 cards, including 20 aces, in the standard deck of 52 cards—thanks to the shifty behavior of U.S. You've no doubt seen what happens to someone who's been cheating at poker while playing with the big league players.  The only way  to avoid losing a limb or being killed all together at the hand of the other poker players (such as Japan, China, Russia, Brazil, etc.) is to feign dramatic shock and disappointment and then ceremoniously remove the cheating player from the game.  While that may make for good posturing, the problem is that the other players of the game are relying on the U.S.  who's playing in that poker game, in order for them (Japan, China, etc.) to meet their own domestic obligations. Without the U.S. playing at the table, their own economies are now sorely compromised. You see, if the U.S. wins the game, then they will lend more money out to those nations in need. If the U.S. were to lose the game, then the other players profit by those losses as they get more of the pot for themselves. But if the U.S. is deemed as an insolvent player in the first place—well, then you have a real problem because it brings into question every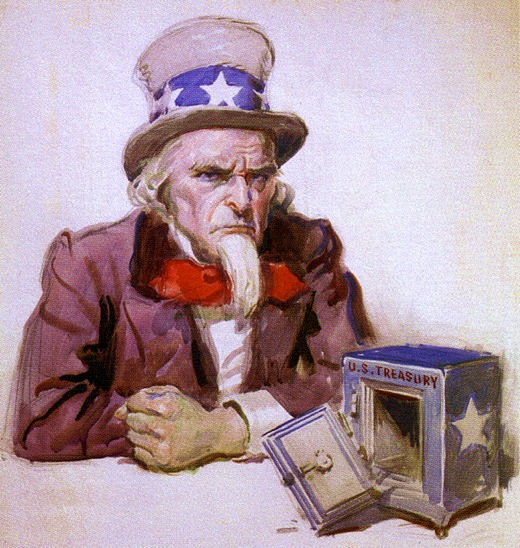 poker chip that was ever won.
There's much more detail to go into, specifically regarding what this credit rating means to us right now, today, and what our response needs to be in order to ensure the maximum amount of peace and the least amount of impact within our families.  So be sure to tune in as I deliver the second half of this information. In the meantime, please do not panic. Do not go out and run up your credit card in hopes that you can get more "stuff." Breathe deeply, inhale a little bit of pure lavender essential oil, and take stock of where you are presently with regards to your preparedness efforts. "See" you tomorrow.
Read the second part to this article here: The Prelude to a Financial Collapse--Part 2
© 2019 Of COURSE this post is Copyright Protected by Preparedness Pro. All Rights Reserved. NO portion of this article may be reposted, printed, copied, disbursed, etc. without first receiving written permission by the author. This content may be printed for personal use only. (Then again, laws are only as good as the people who keep them.) Preparedness Pro will pursue all violations of these rights just as vigorously as she does any of her other freedoms, liberties, and protections.