I realize I'm not apt to win any popularity contests when I suggest that a person really needs to store enough water to provide each member of the family with one gallon per day for an entire year. Yes, I realize that's a lot when it's just one person let alone 5, 10, 20 plus unexpected. But keep in mind that that's what preparedness is about. I don't really believe there is a "finish line" so to speak, when it comes to living a more self-reliant life. No one family, person, etc. can do it all; but if they are teachable and earnest in their endeavors to be independent in order to assure comfort and safety for their loved ones, they will gradually discover more vulnerabilities based upon sound information and will strive to make appropriate "course corrections" along the way.  We need to remember that the magnitude of work that may be involved in a task does not mitigate the reality of the need for that task. I mean if you really think about it, compared to reclaiming our  freedoms in our nation as beautifully intended by the founding fathers (and God Himself, I believe) getting sufficient water supplies for the realistic "what if" scenarios in life is not such a big task.

Water Storage Strategies
It really is all relative to the place of understanding and commitment at which we are standing at the moment that such self-reliance improvement efforts are suggested.  You'll either reject it or you'll find a way to embrace it. Everything we learn in life is about timing if you really think about it. Personally I believe that we are always given the opportunity to learn something in a more smooth, comfortable manner, or we can learn when a crisis befalls us. So, for those who would like to at least have the opportunity to take steps in the right direction to have sufficient water, I'm going to address some actual water storage strategies in this article and then in the next one I'll actually address the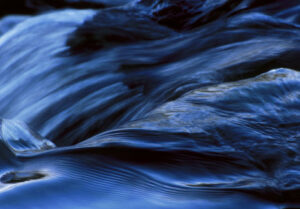 treatment/filtration of our stored water.  I believe that both topics really need to be addressed, because your filtration plans and abilities demand how you are able to store your water.
So first of all, understand that all of your water needs do not require uniform storage nor a central point of storage AND your needs do not need to be entirely met with stationary water you have on hand inside your home or other fixed shelters. In fact, it's actually wise to have various places of stashing throughout the home whenever possible; and it's wise to prepare for multiple ways of obtaining water outside of your pre-crisis methods.
Water Barrels
Now, lets address the actual storage of the water. Keep in mind that every bit counts. So if you come across a coupon and a sale that enables you to get an entire case of bottled water for only $1.50, jump on it to the best of your financial ability. Small containers are easier for travel, sharing, crisis triage/medical care, and make it easier for the drinking water to be handy, and thus more likely to be consumed.  If you had to go downstairs to the basement every time you were thirsty, you'd be much less likely to require yourself to drink water when the can of soda pop was more convenient. So, your water storage may begin with individual sizes and then expand from there. If you've got a food-grade, BPA free container of juice, or other beverage that you're ready to throw out—don't. Instead, fill it up with your tap water (or filtered water if it's available), and find a place to put it. Be sure
that the lid still seals properly as well.  Now, when we're trying to find room for 2 liter or one gallon bottles of water, it's a lot easier than a 55 gallon drum.
I once moved from Florida to Idaho in a little Volkswagen Rabbit Diesel. I was not about to leave my treasured books behind, but the boxes wouldn't fit. So, I simply began stashing the contents of my 4 boxes of books one by one in every little crack and crevice of my car. Granted, this wasn't a wise idea once I had a flat tire, but you get my point. You'd be surprised how successful my clients have been at finding places when they start thinking in terms of "behind the…" Sofa, books on a deep book shelf, the shoes in the closet, or under the bed or just plain filling in the available cracks of other storage spaces. I've also been known to collect quality empty juice, water, and some soda pop containers from my neighbors. If they aren't going to store water, then I sure as heck am.
Then of course you have some of the more popular larger options starting with the 3-5 gallon barrels. I can't even begin to tell you enough how important it is that you have this size of water as well. Water is not only heavy, but it's constantly changing weight, making it that much more strenuous to carry. You don't want all of your water storage in gigantic containers. Remember, while you're healthy and strong now and it may seem easy in your head to walk 2.5 miles to the nearest water source in dire circumstances, you may not always be around to help the weaker members of your family/group. So make sure you've considered those barriers as well.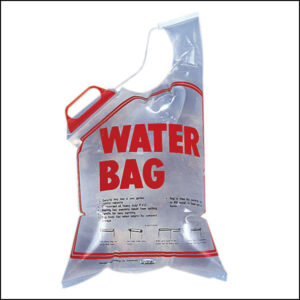 In addition, I'd like to point you towards some other great products that I would recommend to have on hand. There are some great 2 gallon "water bags" that you can purchase that have handles and even a pouring spout formed into them. Easy to store, inexpensive, and these are great for hauling water from a larger source back to your shelter. Also, there is a product known as "water bricks." Unfortunately, my first interaction with their company wasn't exactly positive. I had to e-mail them twice over a three week period to hear back from them so that I could get quality information for this product. They set an appointment to get back with me, but missed that one. So, rocky first impression. However, their product is strong enough in so many ways that I'm still including them here in spite of not yet able to overcome my initial cautious state as a result of the first impression. So, having said that, you may want to deal primarily with one of their distributors in the U.S. that you already have a relationship with*.  Now, back to the product. They have Water Brick sizes from just over a gallon to 3.5 gallons and they are interlocking bricks that you can fill with water and stack on top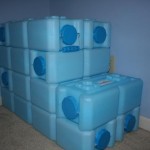 of each other.  I even found a picture of a home that a guy had made out of water bricks—though the silly man filled the water bricks with SAND instead of water—duh! They have easy grip handles on them that lay flush with the rest of the brick when you don't need access to it. They not only have the potential to eliminate wasted space, but they can also serve as a strong ally to shore up weaker areas in your storage rooms. Ok, and yes, I'm going to say it. They can easily be hidden under a beautiful table cloth or country quilt and serve as an end table, nightstand, or coffee table, etc. (Dang—I sure wish those guys had gotten back to me like they said they would. Imagine what I would have to say about them if I was able to proceed without any cautions! *grin*--see footnote*)  The down side, though with these is that you are paying for the advanced technology, research and development. These aren't cheap by any stretch of the imagination. But if your obstacle is "space" as opposed to money, then they are still cheaper than real estate. (I've been finding these easily at specialty retailers easy enough via Google)
Bigger water barrels
Ok, now let's move to a little bit bigger container—the 30-55 gallon barrels.  If you will discipline yourself to NEVER use recycled polyethylene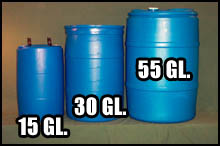 barrels, then you can actually fill these barrels up with water, leaving about 4 -6 inches of head space, and store these outside throughout the winter and the summer. There are actually very few areas of this nation which would not permit outside storage due to extreme temperatures. But that still leaves over half of you folks that CAN. You need the head room in order for the expansion of the container that occurs with extreme temperatures. Now, the interesting thing ,though, is that simply moving the barrels into a garage will mitigate much of the extreme temperature issues in another 20% of the U.S.—again leaving a head room.  How many of us have our garages cluttered with things that should have gone to the Goodwill ages ago when we could be storing valuable water there instead?  Again, self-reliance is all about the priorities. Yes, you will need a wrench, pump, etc. with these bigger containers. I've got to tell you, my husband and I do not live in a large home by any stretch of the imagination, but we have three times as much water as we need and I'm still not tripping over water containers every time I do a spring cleaning. I had about 6 months worth when I was living on my own in an 800 square foot apartment. But knowing what I know now, I could have easily had a year's supply of water stored throughout that apartment.
Ok, next is the bigger water containers. Of course you don't want to bother with anything other than gravity fed function when you're dealing with bigger containers. I'm just going to cut to the chase and tell you that after reviewing the content and actually conducting interviews of all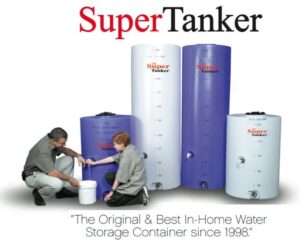 of the big polyethylene water tanks, I'm confident in steering you in only one direction—the "Super Tanker."  It's actually the original manufacturer in this field which doesn't qualify it as being the best on that merit alone, but it does give it a 15 year edge over the so-called competitors and wanna be copycats. Out of all of the sellers of large water tanks, this is the only one that's actually engineered for water storage, specifically to allow flow of the water and to allow proper distribution of the weight of the water and to solidly protect the bulk heads. There's an intentional amount of "give" in their material so that it can bear the weight of the water. Their design is also seamless, thus no compromises to the integrity with all of that weight. All of the other ones I found were made of recycled polyethylene and had absolutely no engineering at all. Granted, they brag about having brass spigots, but the fact of the matter is, you don't WANT brass spigots because you don't want to have the cross threads too tight. So don't be misled by the "bright shiny objects." Brass may be an issue if you were using that thing everyday for 5-10 years, but not when you're using it for "just in case… scenarios.
Also, I was dismayed to hear each of the competitors actually misinform me about the originally engineered product. (I have no tolerance for that. You either KNOW your competition and can illustrate the points of difference, or you keep your mouth closed—pure and simple.) The Super Tanker holds 250 gallons of water, fits through any standard doorway, takes up the footprint of only 28"x36"x81" (less than 2 55-gallon barrels), is BPA free, uses NON recycled plyethylene, has a UV rating of over 23 years in a hot Florida sunshine, very thick, solid walls, solidly holds up the weight of all that water ( 2500-3,000 pounds) and the PVC fittings are "schedule 80 PVC" which is actually twice as strong as the others. And lastly, it's FDA and the Canadian equivalent of FDA (Health Protection Board) approved as food-grade polyethylene.
The founders of "In Case Of…" which manufactures these things are more than just making a buck. These two have literally grandfathered the entire preparedness movement for the entire nation of Canada. They are clearly committed to quality and professionalism (even calling me back at 8 o'clock at night to answer my questions) and they even go to the hassle of ordering their spring loaded vented cap from Italy so that they had the perfect balance of tension and air flow without allowing dust and bugs into your unit. Yup, these puppies aren't light to ship, and the other guys are quick to tell you that the shipping of their product is much cheaper, but I wasn't born yesterday. If you're using recycled materials, you're costs are substantially lower than the real thing, thus you don't really have some fantastic deal on shipping, rather you're building the shipping into the cost of your unit.  Oh, and here's another cool thing I'll share with you. After reading my water filtration/treatment article, you'll realize that you absolutely do NOT have to rotate your stored water. So having this big boy filled up and taking up that small amount of floor space in a closet or in the basement will not be so daunting. The price with shipping in the U.S. is in the $500-$600 range for one of these. Again—cheaper than real estate and a lot less hassle. Five Star Preparedness will fill your special order on these Super Tanker items (send them an email requesting information), and if you mention Preparedness Pro when you send them the e-mail, they will actually give you 10% off any water filtration product you purchase from them at the time of your purchase as well.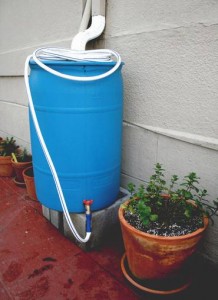 Lastly, you'll want to make sure that you have the appropriate open barrel type of containers on hand, as well as the PVC or aluminum piping so that you can collect water from off of your roof when rain comes. And don't worry about the bird droppings or the nuclear matter. After the water treatment article, that won't be a problem either. The point about being able to capture water is that you want to be able to do it as close to your shelter as possible. Going to the lake or the city pool is one of the worst ideas due to exhausting vital physical energy, and oh yeah, putting yourself in harm's way because you've got the same idea as thousands of others who didn't properly prepare.
This by no means is an exhaustive exploration on the topic, but I hope that it gives you a few ideas that will make water storage easier on you. Till next time when I uncover the bold-face lies the water filtration industry makes frequently to us unsuspecting folks.
For more specific information on the myths and facts of water storage, click here.
*Update, Water Bricks did finally get back to me shortly after this article was posted--in fact the co-founder and COO  answered all of my questions during a lengthy conversation and even provided me with his cell phone number for future questions. I learned SO much more that I'm going to have to write an entire article just on their product to do it justice.
© 2019 Of COURSE this post is Copyright Protected by Preparedness Pro. All Rights Reserved. NO portion of this article may be reposted, printed, copied, disbursed, etc. without first receiving written permission by the author. This content may be printed for personal use only. (Then again, laws are only as good as the people who keep them.) Preparedness Pro will pursue all violations of these rights just as vigorously as she does any of her other freedoms, liberties, and protections.