The fact of the matter is, I won't be doing much of anything until Monday because I'm just plain worn out! While the filming for 

National Geographic's "Doomsday Preppers" was an amazing experience (Nothing negative to say about that) it was grueling and it absorbed much more than just a couple days of my life as there was much to get ready. Suddenly I'm actually grateful for the experience I had with TLC's "Extreme Couponing" even if I wasn't a fan of their show and didn't want to be a part of it. Why? Because doing their show made me get my supplies totally organized and cleaned up AND it helped me to be so much cooler with the camera and even able to anticipate what National Geographic would need for their shoot. (Apparently that's an unheard of benefit to the field producer, so he was pretty pleased.)
So while I just chill out and relax from the last two weeks of craziness, I'm just going to write a little something today and then get cracking back to 3 times a week articles, starting next week.  But today, you get a partial recap of the past couple of weeks because the fact of the matter is, we really haven't discussed the dire need of self-defense for women. Today's article will only serve as an introduction to this extensive topic though.
For starters, you might like to know that one of the facets of my world of preparedness that National Geographic wanted to shoot was…wait for it…me shooting. Hee hee.  No seriously; they wanted to film me training three women how to do the quick-draw self-defense method that Scott and I have developed over the years. The cool thing is yes, they did get me on camera actually making my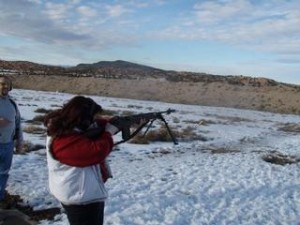 shot several times, and yes, training the women was awesome.  We had 3 novices there, one of which had never fired a gun before.  After teaching them the fundamentals, we asked them to take their first aimed shot. The gal who shot her first shot hit her target dead on—a small, dispensed shotgun shell that was planted 8 feet out (the traditional self-defense shot distance). The other two nailed their target on the second shot once they adjusted their minds to forget the bad habits they had been taught previously in their shooting experience.  I was SO dang proud of them, truly.
The fact of the matter is, women are an ideal target because they are believed to be the best leverage against a spouse or boyfriend, the weakest prey, and unfortunately, there's a sick kind of connection between a desperate man and his desire for assaulting women. (Still working on studying that one so that I can better understand how to combat it.) Unfortunately, there aren't anywhere near enough women who are sufficiently educated and practiced to properly defend themselves.  In my opinion, the firearm is the great equalizer between women and a maniacal drugged up man.  We definitely got that message across! Anyway, moving on. Suffice it to say that the time spent at the range was a good shoot…or should I say filming?
Next, we moved on to a large padded gymnasium in the area (that teaches gymnastics). There were 30 women there, all ready to take on what we had to teach them.  The first thing I did was instruct them as to the importance of the mental preparedness that's necessary to be able to defend oneself. Then we had them do a couple of exercises that showed them that leverage is their friend, not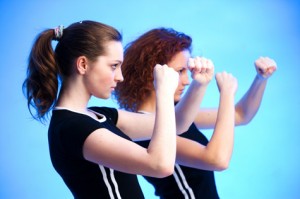 strength; and that in fact, any woman of any shape or size can defend herself if she understands that premise.  The really cool thing was that I had conspired with a nearby friend of mine who's actually one of the real superwomen in my life. She had practiced a special display with my husband beforehand in which he suddenly picks her up and throws her to the ground on her back (as would happen during an attack) and she then is able to come out victor because of the leverage strategies that she easily implements. My friend, Leah, has a slight, tone frame, though her cardiovascular system is quite healthy. But my husband, with 4 different martial art disciplines and the black belts to go with them, is a strong and experienced man when it comes to grappling. And he wasn't holding anything back from Leah. She had to get out of this situation on her own. (By the way, they did use a "stunt throw down" which looks like she's being thrown down from up high when in actuality it's only about 12 inches between her and the well-padded mat.) The goal was for me to be talking to the rest of the audience and then suddenly have Scott come up behind Leah and throw her down to the mat and assume the typical rape position—one hand on her throat while the other hand would normally be engaged in getting ready for the assault. Within a matter of second, Leah was able to throw him on his back! If she hadn't been trained when to stop, she would have broken his arm or dislocated his shoulder at the very least, and crushed his Adam's apple. The strategy played very well with the audience. They were stunned by the dramatic throw down and they were impressed that this slight of a woman was able to take down a strong man in a matter of seconds.  They were also more open to learning for themselves how to do such a thing.  I have to say, I got goose bumps and almost cried for joy while I was watching them, because it went perfectly. We then proceeded to share with the group how they, too could accomplish this same defense.
So, why was The Preparedness Pro teaching women about self defense, and more specifically about rape prevention? Because, history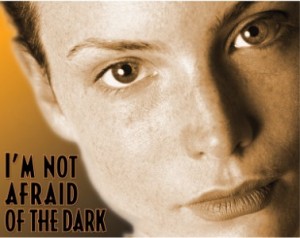 has continued to show that when there is a mass societal breakdown, sexual assault is as common as hunger.  People lose their grasp on human decency and there are few heroes to help.  Also, if there ever were a situation in which my husband needed to be out and checking on the rest of our neighbors, I want him to be able to go knowing that I had my responsibilities covered in maintaining the safety and sanctity of our home.
Unfortunately, this need isn't just about what will happen if life as we know it comes to a halt. It's also a prevalent problem every day. When I founded Women of Caliber several years ago, it was because I was shocked and enraged with the statistic that 1 out of 5 women would be the object of a rape or attempted rape by the time they are 22 years old!  The statistics die down after that age a bit, but then they escalate after a woman turns 70 years old!  This is NOT acceptable to me now, and it certainly won't be acceptable to me later when there are fewer heroes and more criminals running around who feel justified in their behavior as the result of the warped "desperate times call for desperate measures" mentality.
© 2019 Of COURSE this post is Copyright Protected by Preparedness Pro. All Rights Reserved. NO portion of this article may be reposted, printed, copied, disbursed, etc. without first receiving written permission by the author. This content may be printed for personal use only. (Then again, laws are only as good as the people who keep them.) Preparedness Pro will pursue all violations of these rights just as vigorously as she does any of her other freedoms, liberties, and protections.