By Guest Author: Scott Bishop
Want a solar system big enough to do the work, without having to drop a mint all at once? Yes, they really do exist. Today's article is brought to you by Scott Bishop, the better half of Kellene--The Preparedness Pro. While the article is lengthier than most, there really wasn't a good "break" point. Besides, I've also got to include a follow-up piece on how to assemble the solar panels. Enjoy!
My homemade version of a solar electricity system for alternative and backup power

So many people want an alternative energy source for backup power, emergency power, etc, but the made-for-you systems are so expensive that few can readily afford them. (One company that has recently sprung up provides a solar solution, at a cost of over $750, which includes a 30 watt solar panel, a 400 watt inverter, and a 350 Whr – that is, it will provide 350 watts for one hour – Power Pack, which contains a small charge controller and battery. Adding each additional 30 watt solar panel costs another $300, each additional 400 watt inverter is $120, and each additional Power Pack is a whopping $350. Though great for someone who simply wants to power a laptop for a few hours, this system would power a very small half-height fridge for less than an hour or two at the most – not a good solution for the long-term. On the positive side, this type of system is great for portability, but that isn't my aim for a true alternative or emergency backup power source.) Adding insult to injury, few know how to put a decent alternative or emergency power source together that will power more than a laptop or cell phone. So, having built them before, I decided to build another solar power system to document how I would go about it, hoping that others would see how easy it can be to build a great system at a much lower cost than store-bought. This article will include the basics of building a system, and future articles will include more in-depth information about the nitty-gritty details.
There are just a few simple building blocks to a solar power system; the solar panels, the charge controller, the battery bank, and the inverter.

Each solar panel consists of several solar cells. Though solar cells vary in specifications, meaning how many volts, amps, and watts each will produce, this is not a place to skimp since your solar panel real estate is limited. So, I purchased tabbed (I'll explain this later) 6" x 6" solar cells from www.solarwindsusa.com. These produce .6 volts and 8 amps each, which equates to 4.8 watts of power per cell, and are some of the better solar cells available. (As a comparison, many places cell 3"x6" solar cells that produce .5 volts and 4 amps, which equates to 2 watts. These cells are less efficient, require more work for assembly, and take up more space since you need a small space between each solar cell.) You can buy these solar cells separately or in a kit, which includes some solder, soldering flux, encapsulant, diodes, connectors, and silicone. You'll be buying that stuff anyway, so getting it in the kit makes a lot of sense for first timers who don't have it on-hand. The kit for a 250 watt solar panel costs $199.95. Compare that to the $600-$1000 range that you'll generally find for prebuilt panels on the Internet for the same wattage-rating. The kit does not come with the frame ($50 at Home Depot) or the glass ($70 at Jones Paint and Glass for tempered glass) since it is cheaper to buy these local than to have them shipped. The total power produced by your solar panels determines how fast you are able to recharge your battery bank after a day of usage, so they have to be sized to how much power you intend to consume over the long haul. I'll come back to the panels a bit later.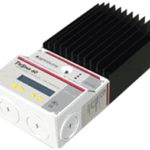 The charge controller sits between the solar panels and the battery bank and simply controls the voltage and amperage being supplied from the solar panels and applied to the batteries. In short, it makes the necessary conversions between the solar panel output and the battery input. I purchased a Morningstar Tristar TS-60 (60 Amp) from www.ecodirect.com for $174.95. That is probably overkill for most people, and you can get a good 30 amp charge controller for around $80 if you would prefer, but I intend to build a decent-size system, so I went with the larger charge controller. When purchasing a charge controller, a lot of new terminology comes into play – mostly PWM (Pulse Width Modulated) and MPPT (Maximum Power Point Tracking). PWM charge controllers maximize battery capacity and life and are quite a bit cheaper, while MPPT charge controllers maximize the energy produced by your solar panels to get every last ounce of energy into your batteries. Because battery-cost is so high, I chose the PWM charge controller for this system.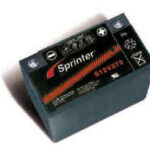 The batteries are one of the more expensive parts of the system, so I buy them used from places that get them out of wind-turbines after 1 to 2 years of use. Doing so gets me a great battery that is good for about another 8 years while paying about one-fifth to one-fourth the cost of a new battery. I like the GNB Sprinter S12V370F batteries because they are a heavy-duty, deep-cycle, AGM battery that is made for the type of system I am putting together. These batteries produce 370 watts of power, per cell (six cells in a 12-volt battery), for a period of 15 minutes, which means that each battery will produce 555 watts of power per hour (i.e. 370 watts * 6 cells / 4 fifteen-minute periods). They retail for around $400-$450 each, but I typically get them for about $75-$90 each. Depending on the system you build, you may need to buy them in sets of two or four, rather than just singly. The total storage capacity of your battery bank determines how long you can run various pieces of equipment. I'll come back to the batteries in a bit.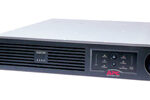 The inverter is a critical component that decides how much aggregate power your equipment can consume at a time. They are typically rated in the number of hours that they can continuously produce one amp of current without needing to be recharged. Most inverters sold in stores are very low power inverters, so you can't expect to run much off of them. As an example, a typical air-conditioning unit might consume 2500 watts of power, while a typical computer might consume 75 watts. Do you really want to spend your precious power on air-conditioning? For some people, maybe, and that's why you need to decide up-front about how much power you might need. (To get a decent idea of how much power different appliances, tools, etc, use, you can go to any number of sites, such as www.dieselgenerators.com/power.php.) Needless to say, that 75-300 watt inverter you were thinking of buying at Target or Kmart isn't going to do you much good in a serious system. Instead of buying an inverter from a store, I look through the classifieds for businesses that are selling used Uninterruptible Power Supplies for computer servers. By doing this, I get more for my money than the typical inverter. An Uninterruptible Power Supply has a battery bank already in it (though the batteries might be older and near their end of life), it has the ability to charge the battery bank from the wall outlet while power is still on, and it is meant to power higher-end computer systems and servers, which means that it is designed to produce good, clean power rather than the dirty stuff most inverters put out. I like the APC Smart-UPS 2200VA unit. It produces 1980 watts, which is about 16.5 amps at 120 volts (Power equals Voltage times Amperage), which is comparable to one full 20-amp house circuit that would run the refrigerator, a couple of lamps, the microwave, etc, at the same time. This UPS normally retails for about $800-$1000, but I have found them in the classifieds for as low as $150 each, and the batteries were still good. I purchased two of these for this system so that I can put together two full house-type circuits of 20 amps each. That is quite a bit of power.
Putting it all together…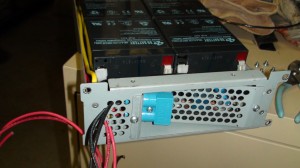 While a typical low-end inverter will tie directly to a 12-volt battery source, an Uninterruptible Power Supply usually configures its battery bank by connecting several batteries in series. Connecting batteries in series (connecting several batteries together in a string – negative of one battery to positive of the next battery – and connecting the starting negative post and the ending positive post to the system circuitry) has the effect of increasing the total system voltage, while connecting batteries in parallel (connecting the negative post of each battery together and the positive post of each battery together and then connecting one of the negative posts and one of the positive posts to the system circuitry) has the effect of increasing the total amperage output. Since Power (watts) equals Voltage times Amperage, increasing either increases the total power (watts) available in the system. By opening up the APC Smart-UPS 2200VA UPS, I find that there are a total of eight batteries (small 25 watt batteries). These batteries are broken up into two sets of four batteries, with each set of four batteries being connected in series (which increases the voltage for each set to 48 volts), and then the two sets being connected in parallel. Since I have to match my battery banks to the internal voltage of the UPS, this means that I have to purchase the batteries in sets of four so that each set of four can be connected in series to equal the 48-volt internal UPS system voltage. I have two of the APC UPS systems, so I decided to go with sixteen total GNB Sprinter batteries. This gives me a total of 4440 watts of power per UPS system (a total of 8880 watts of power between the two systems). By sheer coincidence (there are eight batteries internal to the UPS, and I have decided on eight external batteries per UPS system), I will be configuring the external batteries in the same configuration as the internal batteries (two sets of four batteries each, with each set connected in series, and the two sets connected in parallel).
A caution is in order here: 48 is the magic number where voltage is concerned, in that the human skin is resistant to voltage, and 48 volts is the level at which the human skin begins to allow current through to the electricity-conducting electrolytes in the body's fluids. So, when you are working with batteries in these systems, it is a good idea to wear leather gloves for added resistance.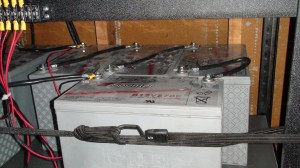 The batteries are connected to each other using a minimum of 4 AWG (gauge) wire in order to handle the potential current transfer between each of the batteries during charging from the solar panels, but 10 or 12 gauge wire connecting each bank of batteries to the UPS system is fine since the system is limited to supplying (drawing from the batteries) no more than 20 amps at a time.
At full-power, the Morningstar Tristar TS-60 charge controller would power both of these systems just fine, but I decided to use one for each UPS system (insert standard man-grunt here). The charge controller has a set of labeled terminals that connect to the battery banks. A minimum of 4 AWG wire should be used for these connections since you could have up to 60 amps traveling on those wires. Additionally, the charge controller has a set of labeled terminals that connect to the solar panels. I'll be using 12 AWG wire for these connections since I am building this system to provide no more than 20 amps per solar panel bank connection.
That leaves just the solar panel banks to connect. Each solar panel will provide 250 watts and will be connected in two parallel sets, each consisting of two panels connected in series, which means that each solar panel bank will produce a total of 62.5 volts at 16 amps for a total of 1000 watts per solar panel bank. Notice that this voltage does not have to equal the 48 volts of the battery banks since the charge controller will make the necessary transformations to the voltage levels, and configuring the panels in this manner means that the current being transmitted on the wires from each solar panel bank remains at less than the 20 amps per solar panel bank that I just mentioned. Since panels do not produce at 100% efficiency, I can connect four of the solar panel banks to each charge controller to get a total of 4000 watts of source power to recharge my battery banks each day. That means that I could nearly drain my batteries each evening and still have them recharged during each sunny day. In an emergency, I know I will be consuming much less power than a typical non-emergency day, so this is a pretty good system for my needs and desires.
When connecting the solar panels, remember that, when they are receiving sunlight, they are producing energy, so, again, wear gloves and take the necessary precautions inherent with electrical work. You may want to cover them while making the connections.
My cost…
(2) APC Smart-UPS 2200VA systems = $300
(16) GNB Sprinter S12V370F batteries = $1,200
(2) Morningstar Tristar TS-60 charge controllers = $350
(32) 250 watt solar panel kits = $6,400
(32) sets of frame and glass for each solar panel kit = $3,840
Miscellaneous connectors, wire, etc = $150
The grand total:  about $12,250.
That's a lot of money, right? Yes, but that equates to a little more than my total monthly power usage as it stands right now (with heating and air-conditioning), and that system would retail at about $40,000! And, the brilliant thing is that I don't have to add all of the solar panels up-front; I can add them one or two at a time over the next year. The same is true of the UPS systems, the batteries, and the charge controllers.
To sum it up, you could start with one UPS, four batteries, one charge controller, two solar panel kits with glass and frame, and be into a system that will produce enough emergency backup power to operate your refrigerator, computer, and other odds and ends, all at a cost of less than $1200; and, you would have a system worth about $6,500-$8,000. For refrigeration and so many other amenities during a crisis that I would otherwise have to do without, that is well-worth the time and cost (not to mention the savings!) to me. Someday soon, I hope to have my system built up to the point of not needing the power company at all; is that heresy?
This is a system that can be duplicated easily. I can add more inverters or UPS systems, more battery banks, more charge controllers, and/or more solar panels any time I like, to shape the system to my needs – emergency or otherwise.
© 2019 Of COURSE this post is Copyright Protected by Preparedness Pro. All Rights Reserved. NO portion of this article may be reposted, printed, copied, disbursed, etc. without first receiving written permission by the author. This content may be printed for personal use only. (Then again, laws are only as good as the people who keep them.) Preparedness Pro will pursue all violations of these rights just as vigorously as she does any of her other freedoms, liberties, and protections.