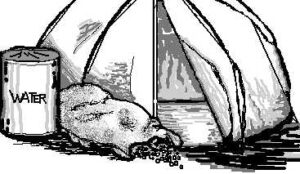 Today I posted a question for our Facebook readers. "What is one aspect of preparedness that you feel comfortable with right now?"  Unfortunately, for the most part the answers were riddled with regrets and superimposed labels of failure. I was a bit saddened to read some of the responses because the "cure" is so incredibly easy and yet there were many who were beating  themselves up for not having "arrived" at the perfect state of preparedness.
First of all, I suspect that for those people who have been focusing on various components of preparedness are much further along than they realize.  I think that for some, the missing bit of information is the lack of an accounting or an inventory.  Now I'll be the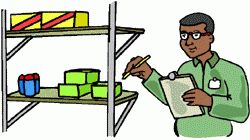 first person to tell you that I don't believe in spending arduous amounts of time keeping track of every single thing I bring into the home. But what I am good at is that periodically, I will take a rough tally of what I've got vs. what I need on a single, particular preparedness component, and then work from there.  So, if you feel that you're simply not prepared in any particular area, do a simply inventory of the area in which you feel you are best prepared.  You're likely to be surprised by how far along you've come or how little you have to go to be perfectly ready in that one area.
Second, focus your efforts on one small category within a category. For example, while someone may not have the year's supply of water that they know they need, they may discover that they have a year's supply of raspberry muffin mix, or canned chili, or dog food, etc. It's important for your mental well-being that you take credit when credit is due.  I find that this approach is much easier on a person who may struggle with depression or anxiety.
So when I find a really good deal on something, I specifically try to leverage that special with what my needs for the item will be on a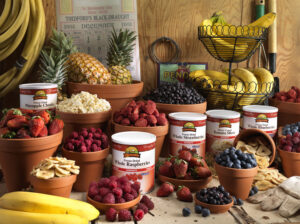 yearly basis. I asked my husband what he was comfortable with. Without blinking an eye he said "Jelly. Definitely jelly. We won't have to buy any of that for at least 2 years."  Here's another example: I did find a really good deal on raspberry muffin mix at Augason Farms for a steal. So I made a little calculation in my head that I could conceivably make raspberry muffins one dinner a week. So I purchased 36 of the bags. Knowing that you have the carbohydrate/grain serving of one meal a week for an entire year is worthy of feeling comfortable—at least in that regard.  Before you know it, you'll find yourself with a year's worth of muffins in a wide variety, or a year's worth of canned green beans, or a year's worth of a variety of sprouts.  All you need to do is focus your efforts on one "bite" at a time.  Focusing on the positive will give you more mental ammunition to move on and tackle other Principles of Preparedness.
Now, having said that, how about we graduate to another level of peaceful preparedness in action. Remember, there are 10 Principles of Preparedness, but within each of those principles there are all kinds of possibilities. For example, in the Principle of Clothing/Shelter you've got socks, nails, coats, shoes, plywood, tools, etc.  Why not focus on one of those sub-categories and get one of those accomplished.  For about $15 you can have a year's supply of nails.  For nothing, combined with a sale and a coupon, you can have a year's supply of kid's underwear, socks, etc.  Do all that you can with the sub-categories with a focus on a year's time frame.  You'll be astounded at how quickly that kind of thinking will manifest itself in your preparedness success.
There are many things you can make or purchase in which one single item will provide you all that you need for a year, in a particular sub-category of preparedness. For example, one of the gals commented on Facebook that she felt comfortable with her ability to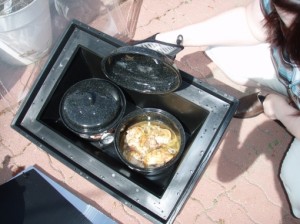 cook for a year. Why? Because she had invested in a sun oven and she lives in the desert.  That's perfect. That's one less thing she has to fret and worry about. Is there some aspect of preparedness you can accomplish simply by acquiring ONE item?  How about a hand-washer for your laundry (no more than $20), or even one of those old fashioned clothes washer remakes that you can get from Lehman's? How about a clothesline and clothes pins? It won't take you much to be able to relax knowing that you've got the alternative clothes washing and drying taken care of for less than $40. Sounds like an easy merit point to me.
If any of this "year's supply" talk is causing you to suffer a panic attack then simply focus on shorter time frames. Even if you get prepared in one week increments, it will still be beneficial to you mentally and emotionally.  Push yourself to at least focus on the shorter time frames. And may I suggest that you pursue such efforts with as much FOCUS as you would if you were trying to get tickets for the newest Harry Potter or Twilight movies?  I have worked with hundreds of families over the years in their preparedness efforts and I can tell you that the number one obstacle for them is focus—not money, not time, not knowledge—it's focus.
Lastly, if I had my dream world it would be that everyone who reads this simply looks at one principle of preparedness and focus on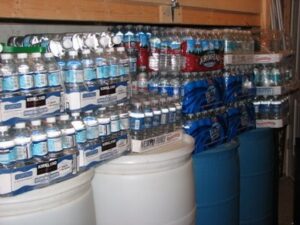 that particular principle until they fulfill those needs for their family at a minimal level. You can always build on the sophistication and the breadth of possibilities later. But if you get your "year's supply" of just one Principle of Preparedness you'll discover that such an accomplishment will lead you in confidence towards attacking other areas with purpose and success.  Water for example, it really doesn't take that much effort, expense or mental exhaustion to get enough water for your family for one year. I can't tell you how many of my friends and neighbors have EMPTY 55 gallon blue barrels in their backyard or in their garage.  Come on! Get the lead out. Get cracking on something and get it checked off your list!
This is just one of the many ways that I approach Preparedness from a panic-free state and instead get to experience comfort and peace.
© 2019 Of COURSE this post is Copyright Protected by Preparedness Pro. All Rights Reserved. NO portion of this article may be reposted, printed, copied, disbursed, etc. without first receiving written permission by the author. This content may be printed for personal use only. (Then again, laws are only as good as the people who keep them.) Preparedness Pro will pursue all violations of these rights just as vigorously as she does any of her other freedoms, liberties, and protections.