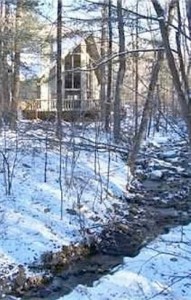 A couple of weekends ago I was visiting with a wonderful couple who live out in the middle of a gorgeous portion of what I call "God's country." Their house was up at the top of a hill with 20 acres and a beautiful, rolling stream nearby.  They were conscientious of many of the principles of preparedness—more so that most I get to visit with.  However, when I asked about their Water Preparedness, one of them said to me, "What do I need that for?" He knew he needed water, of course, but he saw no need to make room for any water storage inside his home when he had a beautiful natural source outside.  Unfortunately, as I began to share just a few of the reasons why this would be important, it was clear that I wasn't going to be able to share anything new with him. He felt quite physically strong at the time, I'm sure, and perhaps even invincible to what might someday pollute the water outside his home, making his outside water unfit and even deadly to drink.
To be truthful, this particular conversation has haunted me a bit in the past weeks.  There have been far too many times that I have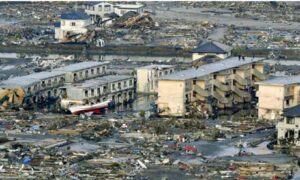 practiced my way through some mental "what if" exercises and come upon the firm conclusion that it's an absolute MUST to have some drinking and cooking water available inside the home—safe from all that Mother Nature or acts of Man might do to it.  As I look at the horrific images of the earthquake and tsunami in Japan, I am reminded that much more how important this is. What a horrible irony, to survive the worst earthquake ever to hit Japan, then a subsequent tsunami, and then the potential of radioactive fall-out only to die from thirst, dehydration, or hypothermia.  In fact, as I was thinking about this last night, I was actually a bit taken aback to realize that several of my key primary reasons for having water stored INSIDE the home had actually been heaved upon the citizens of Japan.
Earthquake: You may have a swimming pool nearby or a quaint little babbling brook, and you may even be getting your water from a spring-fed well, but that does not protect you completely from needing water inside your home—especially in the event of a earthquake.  An earthquake spews gases from the ground, heaves any and all kinds of foreign material every which way—including in your water that's outside, and even makes it dangerous for one to "go fetch" water.  That little water source by the house is a great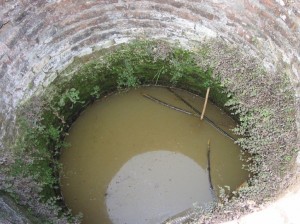 luxury now, but when the earth moves and shakes all around, that source may no longer exist.  If you look at Japan, what water they had no longer flows into the homes—even those areas not destroyed by the shaking—and the water is now polluted with gasoline from automobiles thrown to and fro, raw feces-filled sewage, blood from the dead (two legged and otherwise), etc. So, if you are fortunate to survive in your home whether it's near the center of a quake or even if it's 200 miles away, you simply do NOT want to risk consuming water that has been polluted in such a fashion—regardless of how "he-man" you've been in drinking from the source in the past. Keep in mind that diseases spread via sewage and tainted blood are contagious—thus it's not just about what you are or are not willing to drink—it could seriously impact others around you if you consume unwisely. Also, what if you can't safely move about your property to get water due to the damage Mother Nature has unleashed? What if a part of your body was injured during the earthquake, making the fetching of water a monumental physical task? Remember, I keep saying; it's absolutely critical to conserve physical energy during a crisis. PLANNING on lugging water from one place to another is not congruent with conserving physical energy.
Tsunami: A tsunami carries with it the same potential of poisoning your water source, even if you are far inland from its effects. It's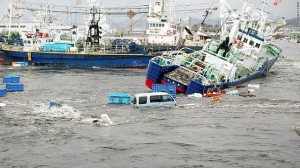 ironic that there's water everywhere following a tsunami, and yet none of it is fit to drink. Worse, the tsunami takes all that I just shared with you previously and stirs it all up, potentially creating many worse scenarios than science has yet discovered.  Then as the wave retreats back to the sea, it carries out with it many of the containments that it mingled with inland, thus compromising the safety of the marine life you might otherwise rely upon.
Radiation Exposure: I actually mentioned the possibility of this to the fine person I was talking to in response to his "why?". The response I got was shrugged shoulders and an assertion that he's probably already consumed worse in drinking from his natural water source now.  While I admit that there are very few natural water sources without their own share of contaminants, any notion that radiation consumption isn't serious is downright wrong.
Hypothermia: What many folks don't realize is that you actually require more water consumption during bouts of cold than you do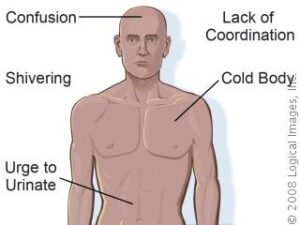 heat. Water is the bodies first cry for energy and for the brain to function properly. Without proper hydration—even more critical in times of stress—your mind will do some crazy things. I've read of numerous accounts of how hypothermia and even its sister condition, hyperthermia, to completely alter their state of reality. In several instances, those suffering from hypothermia shed all of their clothes, confused as to what their bodies were really experiencing.
While you may feel all "Rambo" (insert obligatory caveman grunt sound here) about what you are willing to drink, would you really be willing to make that decision for someone you love or perhaps someone who's health is already sorely compromised? You may have the constitution of Thor, but what about that 6 month old infant? Are you really willing to take a chance in giving the baby contaminated water? Without food, yes, a person will suffer a tortured death, but with no water in 72 hours, a person may still live but they will indeed suffer physiological compromise—whether it be in their kidneys, liver, intestines, or even their mental health.
So rather than thinking of all of the reasons why we don't have to go to the effort of having some water inside our homes with which to drink and prepare foods, how about we try and figure out a way that we CAN do it.  Sure you can boil water—does nothing to eliminate radioactive material; sure you can keep the entrance to your well covered—won't do you any good if the well is caved in.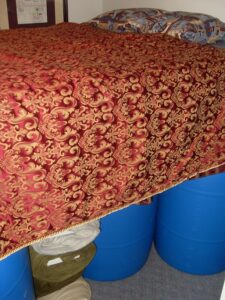 And yes, you could lose your house in the blink of an eye with a tornado, hurricane, earthquake or tsunami—making all of your in-home efforts at preparedness ineffective.   Yes, there are at least 100 reasons why NOT to bother with the water storage inside your home. But with that there are also 100 other reasons why you should have some water stored in your home.  After all, what is preparedness really about? Preparing for the worst and hoping for the best, right? Well, I think we're all seeing one of the worst scenarios play out on our computer screens and televisions. We need water handy and we need to have the most simple of ways to filter it! So, let's learn from all of this horrific unfolding of events and prepare accordingly. I promise you, you won't turn into a cowardly troll just because you take the measure of having water stored inside your home. There isn't a down-side if your priorities are in check. And remember, every tangible preparedness resource needs a back-up. In fact, I always say that I need a "back-up for my back-up for my back-up."  I'd much rather have the embarrassment of my guest bedroom mattresses hiked up on a 55 gallon water barrels than not have water when I really, really need it.
© 2019 Of COURSE this post is Copyright Protected by Preparedness Pro. All Rights Reserved. NO portion of this article may be reposted, printed, copied, disbursed, etc. without first receiving written permission by the author. This content may be printed for personal use only. (Then again, laws are only as good as the people who keep them.) Preparedness Pro will pursue all violations of these rights just as vigorously as she does any of her other freedoms, liberties, and protections.