We've received a LOT of new readers lately and as such I'm hearing a lot of questions that are also covered in articles in the past. So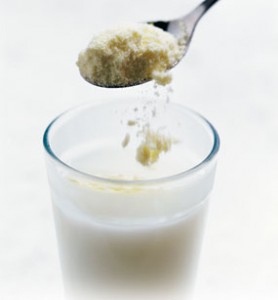 today I thought I'd help someone find an article on the use and selection of powdered milk that I swore I had written at one time. But I gotta tell ya, I'm not all that impressed with the search features of Wordpress. I figure if I can't even find the dern-blasted article, then how can I expect anyone else to. So, I'm going to provide some basic powdered milk 101 kind of information today that will hopefully answer a lot of questions.
For starters, understand that to me powdered milk  was a cruel form of torture inflicted on me as a child. I can still remember the stench in the kitchen when Mom would try to mix it ½ and ½ in the regular milk. Truth be told, I don't think Mom liked it much either and thus she started getting raw milk for us kids. Hallelujah!  So frankly, having been suitably scarred as a child, I never in a million years would have believed that I could actually find a powdered milk that I liked nor one that I could sneak on my husband. But find it I did after attending a cooking class.  In fact, I found several powdered milks that I like the taste of, believe it or not.
It's important to note that most powdered milk has had the nutrients added back in so that it's "just as nutritious" as the regular milk you buy. Frankly, I feel like a total liar when I say that though without clarification. Fact is, the regular milk you buy is awful, in my opinion. Now I'm scarred for life for another reason after reading "The Untold Story of Milk."  As a result I purchase only raw milk.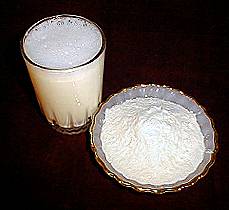 Powdered milk however has a little different story. I would trust it a heck of a lot better than the regular stuff I buy because of how it's "powdered." To put it simply, everything is stripped of it, then it's dried, and then nutrients are added back in.  So in my mind I feel like drinking powdered is actually better for me than the regular stuff should I run amuck in having access to my raw milk.
Most powdered milk is akin to skim milk in taste because the fat is usually removed from it for processing.  So if you see a powdered milk that says "whole" chances are they have painstakingly added back in some of the milk fat OR some other alternative fats. So be choosy when selecting a "whole" powdered milk.
The difference between instant and non-instant is whether or not you have to add hot water to properly mix the milk.  In which case,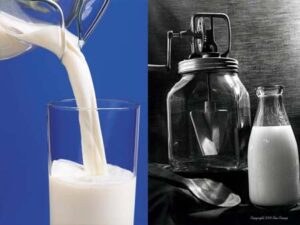 adding hot water usually also means you'll see instructions to refrigerate a while before consuming.  I agree, cold milk does hide quite some typical palate offenses. My favorite brand of powdered milk, though doesn't require refrigeration. I can mix it up by the glass or by the gallon and when I'm done mixing it, it's ready to go. The ultimate palate test to me is whether or not I can drink it right after mixing or if I have to cover it up with some ice or a dash of vanilla extract (which, by the way,  is a great way to get the powdered milk you have to taste a bit better.)
Ironically there are a lot of folks who have previously been lactose intolerant but who are able to tolerate a good powdered milk. This is because of the extraction of some of the parts of traditional milk during the drying process.
If you've got a real powdered milk stored in a sealed bucket or a #10 can, you can easily expect 20-30 years of shelf-life from it. (That which comes from Costco in the big orange boxes doesn't store as long. However, even old powdered milk can make a lot of the other things I make with  milk)  When you have a real powdered milk,  you can expect to be able to make ricotta and mozzarella cheese, sour cream, cottage cheese, sweetened condensed milk, buttermilk, and even a whipped topping.  So as I have invested in powdered milk over the years, I don't just view it as drinking milk—as I haven't just gulped a glass of milk down since I was a teenager—rather I see it as a great source for some of the dairy products I've really come to rely on.  With most brands of powdered milk, you will have a tough time making yogurt though—but it IS possible, Folks. However, generally speaking, yogurt and kefir making goes much better when made from raw milk.
Powdered milk is also quite reasonably priced when you purchase in bulk. As of last month, my average price for powdered milk
works out to only 99 cents a gallon! I just keep watching for sales and then when the price is right, I pounce like a hungry kitten. The nice thing about that is that prior to powdered milk, we used to waste a lot of milk in my house. It would simply go bad before I had the chance to use it all.  But with powdered milk, I can make up as little or as much as I want—easy peesy. So nothing has to go to waste.  One tool that I cannot be without is my little plunging/mixing pitcher. I bought mine from Pampered Chef, but I've seen similar ones at other kitchen stores.  These kind of mixing pitchers can make all the difference in the world to the taste of the powdered milk too. There's nothing worse that going to take a sip of powdered milk only to be greeted by a glob of musty smelling powder.
My favorite powdered milk is Country Fresh by Augason Farms (aka Morning Moos).  It's equivalent in taste to a skim milk. When I first tasted that at a class I begged the instructor to let me take some home with me so that I could try it out on my husband. If I could get it past him, I was definitely going to buy it.  Sure enough, I brought it home, said "Here. Drink this." My husband looks up at me a bit skeptically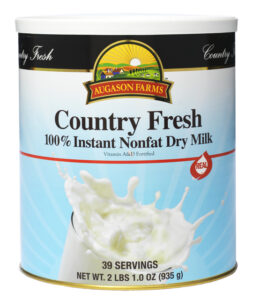 andtrusting me, he drank it. When he was done he placed the cup down triumphantly and said "It's milk!"  I said, "Nope. It's POWDERED milk!"  It took some convincing that such was the case. He was sold.
Augason Farms (formerly known as Blue Chip Foods)  also makes a milk that was created specifically for children and others who need a little fat in their milk.  That milk is called their "Morning Moos Milk" and is labeled appropriately as a milk alternative product. The reason being is that they've added flavoring back into the product in addition to fat.  I've got to tell you, the flavored milks that they have in the Morning Moos line is delightful! Their chocolate milk tastes like a cold fudgesicle! They also have an orange and a strawberry flavored Morning Moos milk. The orange takes me back to the days when I used to buy orange push-up pops from the ice cream truck.
The only disappointing thing I discovered about my Country Fresh milk is that it usually costs about 70% more than another brand that's almost as good, and makes only ½ as much. The other brand is Country Cream.  It is much less than Country Fresh and makes twice as many quarts, but it has a faint "powdered milk" taste to it which is easily remedied when cold. Regardless of the taste of the two, they are both great for baking and cooking.  I can (and do) use my powdered milk for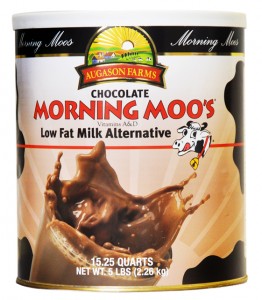 just about any recipe that calls for milk. However, I have yet to have it leave me with the mandatory milk mustache that one enjoys after eating acouple of Oreos—another great substitute for Prozac. *grin*  Just so you know, I've had some attendees of my classes over the years tell me that they actually prefer the Country Cream over the Country Fresh. (Perhaps they have less picky palates than mine.)
I am frequently asked about my opinion of the milk that is sold by the LDS Canneries. One thing I have to say is if the LDS Cannery produces it, its high quality and I don't have to worry about corn syrup and other garbage in it.  And frankly, I don't mind using it at all for baking and cooking, or even for making other dairy items from it. But it's got just a little too much of that powdered milk taste for me to pour it over my oatmeal and not notice the taste. Then again, it's usually less expensive than the regularly priced milks I've already mentioned. So perhaps I can use the LDS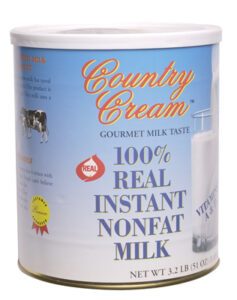 Cannery kinds I've got specifically for baking, etc. and leave the others to chugging.
So here's your go-to article for basic info on powdered milk. I'm going to give you all an A+ for attending today's class of Powdered Milk 101. But I'll give you extra credit if you actually push past your comfort zone and TRY some for yourself. It is an important part of your food pantry.  I once read a book of a woman who did an experiment for a year and lived off of wheat, salt, honey, and powdered milk.  There are so many possibilities for you when you've got it.  And I promise you, I've got a pretty picky palate (I can always taste whether or not a baker has used too much baking powder or soda in their cookies or if a baking mix has gone rancid). So I assure you that if I can find a powdered milk that passes my standards, there's bound to be one that will pass yours!
© 2019 Of COURSE this post is Copyright Protected by Preparedness Pro. All Rights Reserved. NO portion of this article may be reposted, printed, copied, disbursed, etc. without first receiving written permission by the author. This content may be printed for personal use only. (Then again, laws are only as good as the people who keep them.) Preparedness Pro will pursue all violations of these rights just as vigorously as she does any of her other freedoms, liberties, and protections.