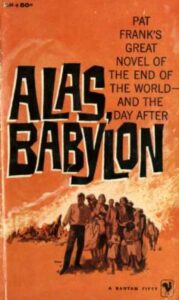 As I've shared previously, "Alas, Babylon" is one of my favorite books relating to preparedness. I can read and reread it and still find myself making mental notes, "Oh yeah, I never thought of needing something like that."  For some reason the last read through had me really paying attention to the clothing aspect of preparedness. As such, I thought I'd share a few of my thoughts with you.
For starters, understand that I am in no way expert in seamstress matters. I wouldn't know what to do with a pattern if my life depended on it. I actually feel a bit guilty about that as I was raised by a phenomenally talented mother who could sew and create some of the best clothes. As if someone's trying to give me a big hint, I also have a dear mother-in-law who is also fanatical about sewing, complete with tons and tons of fabric, and more thread that I could shake a stick at.  It's her passion for sewing that motivates her to stand on her feet all day long at the local fabric store, at an age when most people are good to make it to the rocking chair. In spite of plenty of experts to ask to teach me, I have managed to dodge any talent in that regard.  I can put a button back on or sew up a rip, but it's most likely not done properly as my mother or mother-in-law would do it, but it will work in a pinch.  I take a modicum amount of comfort that I'm not the only one in this boat.  Do they even still have Home Economics in school?  As such, I think that at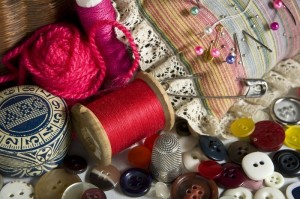 the very least, having the appropriate supplies will make an unfamiliar task a bit easier and more successful and is therefore that much more important in my case. So, what does The Preparedness Pro have on hand in order to compensate for her lack of stitching talent?
Well, for starters, lots of spare needles and thread—strong thread.  What I may not be able to do in the form of competent stitching, strong thread will compensate.  Be sure that the needles are not the cheap ones from the Dollar Store.  A needle is to a seamstress like a shotgun is to a hunter.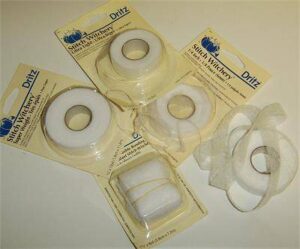 Next—duct tape. Yup, you read that right. Duct tape and lots of it, as it has so many uses. Hemming pants? No problem with duct tape in a pinch. You won't win any Miss American contests this way of course, but it will do just fine. Along those same lines there's also "no-sew fusible fabric tape." A hot iron and a little bit of water is all it takes to have a good hem. What? You might not have a hot iron in dire circumstances? Well silly, that's what one of those old fashioned irons that you heat up on the wood burning stove are for. Sure, it's a great bookend now, but later, you'll be happy you have it.
Fabric glue will help me in a pinch if I've got a small tear in my light duty clothes. I simply use it much like I would clear nail polish and a run in my stockings. I realize that didn't exactly help the men folk whatsoever, so ask a woman who's 40 years of age or older what I mean by that.  Any younger and the gal probably doesn't even know what nylons are.
Safety pins are an absolute must. Even accomplished seamstresses know the value of a safety pin in an uncomfortable situation. But I figure that any situation which requires me to be handy with a needle and thread will indeed be uncomfortable. So, lots and lots of safety pins for me. *grin*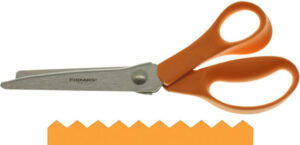 A premium quality pair of pinking shears is also on my must have list. Using these shears to cut some of the fleece fabric I've accumulated will make a zig-zag finish as I cut and make fraying much less likely on the ends, which means I don't have to sew a hem! Yea! You can use them on nearly any standard clothing weight of fabric, including jeans. So let's say you manage to find a pair of jeans in the midst of the rough circumstances, but they are too long because you're only 5'3" like me.  So, all you do is pull out your quality pinking shears, cut the excess length and voila! There you have it! To keep your shears in good condition, may I suggest that you don't permit the little ones to go around the house cutting paper and other such items?  If you find your shears getting dull, simply cut heavy duty foil over and over and that will do wonders for them. If you find them getting a bit stuck, then cut through wax paper a few times.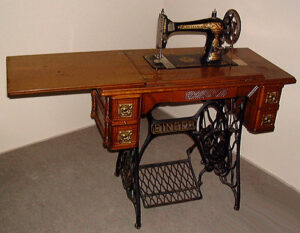 Now, while this may sound a bit odd for someone who doesn't sew, the ultimate item on my prep list is a treadle sewing machine.  My mother had one in the house while we were growing up and frankly, it gave me a bit of comfort knowing that if we didn't have power, no problem, Mom would still be able make clothes as we continued to "grow and destroy."  For those of you who don't know, a treadle sewing machine is one that does not operate with electricity, rather you simply use your feet to get the wheels moving which then causes the needle to go up and down just like an electric sewing machine. With such a possession, having some spare needles for the machine as well as a couple of spare "belts" for the wheels is a wise idea.  The ones I've always seen were made by Singer, but I believe there was at least one other copycat brand out there. Unfortunately, I lost out to my competent seamstress of a sister in being able to keep Mom's treadle sewing machine when she died, but I'll keep looking for one. It's definitely on my active acquisition list. I not only consider this an asset for my own possible talents which may reveal themselves in a time of necessity, but it's an asset to my community as well. I may not be able to sew, but others may and they'll be happy to have such a tool. Besides, I always loved the look of that Singer treadle sewing machine in our front room growing up. It's where Mom always put her keys and purse when she came home from work.
If there is a situation in which all of this advice is relevant, it will no doubt bring with it hard physical labor for which the clothes we have today are rarely suited—excuse the pun.  Additionally, such a circumstance will no doubt require hand washing which is much harder on the fabric of the clothes. So I always keep my eye out for clearance sales of heavy denim fabric. In fact, I've found some denim fabric at the thrift stores a couple of times for dirt cheap.  I'm not suggesting that I need denim fabric so that I can make jeans from scratch—not gonna happen—rather you need denim in order to patch denim.  Worst case scenario, you can simply purchase some used denim jeans from the thrift store and sock them away to use as patching material in a challenging scenario.
Lastly, I continue to focus on my standard preparedness supplies understanding that I can always pay for sewing skills with a good hot meal, seeds, etc. If I have the most basic of tools and supplies for this task, them I'm that much better off. Keep in mind that I've always believed that if a serious challenge were to come our way in which we were without power, then a restoration of that power would take at least a year. A lot can happen to a kid's clothing and their growing body in that span of time. I would, by no means, suggest that you purchase an entire wardrobe to have on hand for the next year of your children's sizes, however, going to the thrift store—especially when it's on a 50% discount day—and purchasing a "back-up" outfit for each person in the family is a wise idea. Have one outfit, including underwear, socks, etc., for warm and one for cold weather.  I would store these items in your bailout bag or 72 hour kit if you've got one.  Depending on the make up of your family, you might not even need to purchase these items at a thrift store as they may already be available as hand-me-downs from one child to the next. Regardless, it's wise to be conscious of the fact that we shouldn't take clothing for granted; after all, it's the 5th Principle of Preparedness in order of prioritization.  Heat stroke and frost bite may become an issue much sooner than thirst or starvation. Regardless, the mending supplies will come in handy and extend the use of the clothes you already have on hand and undoubtedly come in handy for those who through that preparedness was only about food and water.
© 2019 Of COURSE this post is Copyright Protected by Preparedness Pro. All Rights Reserved. NO portion of this article may be reposted, printed, copied, disbursed, etc. without first receiving written permission by the author. This content may be printed for personal use only. (Then again, laws are only as good as the people who keep them.) Preparedness Pro will pursue all violations of these rights just as vigorously as she does any of her other freedoms, liberties, and protections.