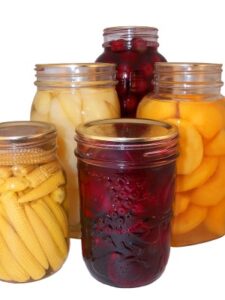 Some of you are definitely going to regret reading this, especially those of you who do any type of canning.
When it comes to canning I often ask myself why someone never came up with an alternative to the flat lid portion that has to be replaced all the time.  I mean really, for over 75 years we've been doing canning the same way.  Well, hang on to your Blackberry's folks, 'cause enlightenment has come—to a man no less! *grin* Go figure. (Seriously, I'm shocked that it wasn't a woman who thought of this since it's usually women who do the canning in the home.)
Two weekends ago I found the Holy Grail of canning supplies—REUSABLE CANNING LIDS!! Yes, there IS a God and he inspired a unique man by the name of Loren Steig from Michigan (we can't all have the good fortune of being Buckeyes, I guess). 
Since 1976 Loren has been manufacturing these amazing little things but with very little notice.  In all this time he's found his product in only a small handful of retail shelves throughout the U.S.  But the good news is that YOU can get these awesome things right from the internet and you've got someone who's telling you about them.  I wish I had a Preparedness Pro to tell me about these 15 years ago!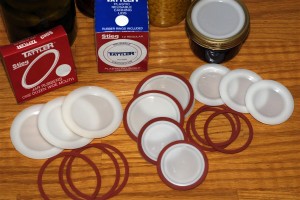 You can use re-use these lids in the pressure canner or in dry canning, whichever you want.  They have a lifetime warranty on them and Loren says that he's never had to replace a single one.  There are two pieces, a rubber gasket and a plastic (BPA free) flat part. You place the rubber gasket (which looks like a red rubber band) on the plastic flat piece around the ridge.  Simply clean them with hot water and then put them on top of your clean jars; then screw on the standard ring that you always use.  The standard ring needs to be screwed on a bit loosely so that your jars can vent during pressure canning. After you've done your pressure canning, you'll want to re-tighten the lid as the pressure builds up inside the jar and loosens them a bit, but other than that there's no difference to using these versus the ones faithful canners have been using for years!
One of the things that I really like about these is that I won't run the risk of rusting any of my canned goods, regardless of how acidic they might be. And I had absolutely NO problem sealing any of my jars using this new lid and my Food Saver either!  Seriously, when it comes to canning, I'm now officially in heaven! In fact, I made a total fool of myself when I met the man who created these, informing him live on my radio show that I had fallen in love! (Gee, I hope he knew I meant the lids and not him.)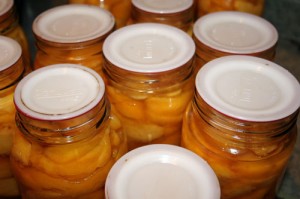 They come in regular size and wide mouth size and…wait for it…can even be washed in the dishwasher!  Water bath, pressure canning or dry pack canning it doesn't matter. In fact, I had less trouble taking off the Tattler lid from my dry vacuum canning experiment than the regular lids I use now. While I may end up missing those little popping noises that give me such great satisfaction after canning 20 quarts of meat, I'm willing to part with a little bit of romantic music in exchange for saving lots and lots of money.  You can use a Sharpie pen to label your canned goods right on the plastic top and with a little bit of elbow grease it will come off so that you can re-label your next batch of goods.
The only downside I have with the product is more of a company/marketing issue.  The manufacturer gives very, very small mark-up to the retailer; which is exactly why they aren't in more stores. A retailer has to order 500 of them just to get a 5% discount. I would never advise a retailer to put something on their shelf with that small of a profit margin. When you consider shipping costs, which are usually easier for the consumer to swallow if built partially into the price of the product, plus the 2-3% of the sale which goes to the credit card companies, plus the cost of labor and taxes, this isn't exactly the best business plan; and would explain why, in spite of the amazing product, they've remained relatively unknown since 1976.  They also require that all retailers sell the product at a specific price—something that usually only the likes of Bosch and other foreign-made products which are in high demand get away with.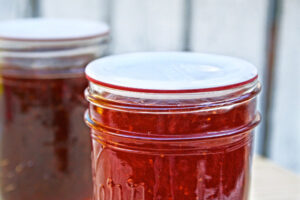 Ironically, when I spoke with the owner, he was concerned about being in too many stores and unable to keep up with the production. Catch 22 there.  One of the typical mistakes businesses make—they can't decide if they want to be a retailer or a wholesaler and thus limit their growth in either area. So, they have a ways to go before they value their position as a wholesaler rather than a retailer, but the product is still wonderful! You can get three dozen of them for $20 for the regular size and $23 for the wide mouth size, before tax and shipping.  Compare that to $8.50 for 12 of the regular lids that aren't reusable. And if you're a crazy canner like me you can also get the "bulk pricing" and get a mix of 250 of both sizes (each) for just under $300.  Personally, I'm going to see how I can work that into my budget or get a bunch of my girlfriends to go in on it with me so that we can get a better price. When you figure that I use about 50-100 Mason jars a year, depending on what's given out to the neighbors at Christmas time, I suppose having a few hundred of them wouldn't be such a bad idea.
I can just see it now…when I die my children and great-grandchildren are going to be arguing over who gets my reusable canning lids even more so than the fine china!  *grin*
To get these lids you can go to www.reusablecanninglids.com or do an internet search and see if you can get lucky and find a more competitive price on someone else's retail site. They are branded "Tattler" so you might have more success looking under their brand name. Regardless, do the happy dance and get canning!!
© 2019 Of COURSE this post is Copyright Protected by Preparedness Pro. All Rights Reserved. NO portion of this article may be reposted, printed, copied, disbursed, etc. without first receiving written permission by the author. This content may be printed for personal use only. (Then again, laws are only as good as the people who keep them.) Preparedness Pro will pursue all violations of these rights just as vigorously as she does any of her other freedoms, liberties, and protections.