Today's article is part 2 of the article which was posted yesterday: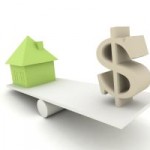 So to recap: Mortgage terms are approved for so long (15, 30, or even 40  years) because they are assets on the banks' books—assets which give them the power to lend eight times the amount of that asset. Yes, this means that the mortgage companies are making money on air—nothing new if you've been reading my previous articles on Financial Preparedness. 
This is why it's such a hassle for you to have the audacity to pay your mortgage off early. Think about it just one second. What happens when you pay your mortgage off early? Think…think…think…Oh yeah, that $2,000,000 in loans which they have issued out there as a result of your $250,000 loan now has to be completely redone. Sure they can still have the money out there in loans in exchange for the $250,000 of cash you used to pay off your mortgage. That is, unless of course they've been spending the money you've been paying all along OR have been issuing other loans at a eight times the value of your payments to the bank all along.  But what really throws a wrench in their books is when a person can no longer make the payments on their home and thus has to walk away.  Guess what that means?  The bank no longer has a $250,000 asset; which means they just got their legal lending limits reduced by $2.5 million.  So what do they do? Call the $2.5 million in loans in? Hardly.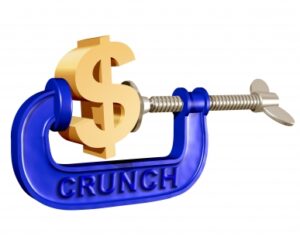 Calling loans due on a moments notice is only permissible in the commercial world of lending. It's true that a commercial loan can be called due for any reason at any time.  A commercial property borrower could be showing great profit and loss, great history, and it does nothing to insulate them from this one clause in their loan contracts.  This clause was originally created because the commercial market is highly volatile. Business can change simply because of a bad comment on the internet and commercial bank divisions never want to take on that kind of risk.  As a result, the "any time, any reason" clause is used in all commercial closing documents.
Case in point: Remember one of the consequences of the terrorists attacks of 9/11? It had a huge impact on the hospitality industry. As a result, thousands of loans were called due on hospitality properties before the banks started hemorrhaging money.  In addition, all lending on hospitality properties was put on hold for nearly 2 years.  You had to be some kind of squeaky clean and wealthy and profitable in order to get funding on a hotel or motel.
Impact of Foreclosure
One in eight homes is now seriously behind on their mortgage payments. This is a state of the industry that was NEVER anticipated by the Federal Reserve or the Treasury Department.  It was inconceivable as it never happened before—not even during The Great Depression, because there weren't as many homeowners percentage-wise as there are now. Make no mistake about this folks, this was not a planned crisis—although there are plenty of those.  The mortgage industry thought that the Emperor's New Clothes story was just some fantasy fable and that they were the exception to the rule. This particular crisis bit the mortgage industry and all of those who are heavily invested in it, right in the butt!
Having such a large percentage of their assets literally disappear overnight, mortgage lenders are scrambling just to maintain the status-quo. Their hopes are that they can foreclose and resell the delinquent properties fast enough-before they get audited and subsequently shut down by the FDIC for not having the proper asset to lending ratio. As a result they have been foreclosing like crazy without having the original promissory notes (as they were lodged with the trading platforms)—which ARE required in order to foreclose—AND without taking time to dot all of their "I's" legally.  Even without the trading platform angle coming into play, the servicing of the mortgage loans get sold off and resold so many times, it's VERY, VERY rare that a mortgage lender has the original Promissory Note any longer. Again, this crisis is unprecedented. They never thought that they would have citizens savvy enough to demand evidence of the original Promissory Note. Commercial law requires UCC possession of the original note, which is what creates a "holder in due course."  And only a holder/lender in due course can foreclose on a property. Of course,  that then raises another problem because then you have title problems when the lender sells the house to someone else; why, because  when it's contested in court and a judge finds that the foreclosure wasn't done legally, there is a new owner holding convoluted title to a home he doesn't own but went through hell to purchase! This is why Old Republic Title Company just announced that they would no longer do any title work for any GMAC  or Chase mortgage loans—that involves the 4th largest and the 3rd largest mortgage holders, respectively.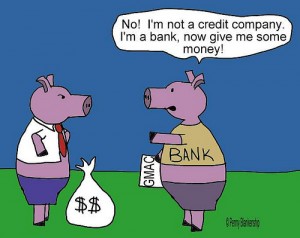 Let's not forget that the U.S. Treasury is the largest majority stockholder of GMAC after giving them $17 billion dollars last year. Aha. Are you seeing things a bit more clearly now? So much for thinking that they were too big to fail.
This whole mess is falling down around the U.S. Treasury's ankles because of the precariously perched house of cards that we've been building as a nation is finally coming to light for what it is (or have been permitted to be built as a result of our apathy and their secrecy).  All money in our system only gets created due to a debt now—not assets.  And when you double dip the showing of assets on your books, and then lend out at a ratio of 92-8, once you lose your grip on that holding, everything free falls. Now you've got a bank with 2.5 million out there in debt thanks to this one house valued at $250,000 that they are showing as an ASSET. So, what do the banks have to do? They have to call in that debt! But if it's a residential mortgage, they aren't allowed to do that.  As I've said previously, if  it's a commercial loan, then they can, but that then spirals into a mess in the world of small and mid-sized businesses—which then affects jobs.  It only makes our economic situation that much worse—and unfortunately this is only one of the horrible symptoms coming to light due to our debt-based economy. This particular crisis is indeed affecting the skin and bones or our country—our places to live, to raise families, to rest and recharge. But the currency on which we're relying as legal exchange of these transactions is the heart of the problem. How many people do you know still alive with no skin, bones, or heart?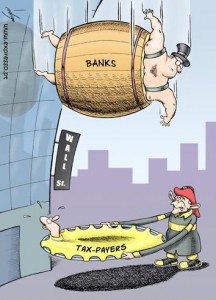 OK. Just to clarify: the books of the banks are now "cooked" because the assets which they had are no longer viable; which means that the lending which they issued based on those assets are about to crumble as well. See the looming domino effect, folks? So, here's part of the reason why I've been begging folks to get completely out of debt—even their mortgage. Do you really want to be entangled in this mess? Do you really want to risk the roof over your head while these guys try and get their acts together? This is EXACTLY why the modification program came out—to put a band-aid on this situation so that it didn't blow up in their faces. This is also why the modifications are ONLY available to those who are delinquent on their mortgage loans. The mortgage lenders are in such hot water, they need every little dime they can get from those people who are paying their loans like they should. They have so much monetary hemorrhaging going on right now, they are now required to be UBER choosey in granting the monetization loans solely to those who they believe will not put them in this dangerous position in the future. The problem with that, though, is that they are applying a mythical 800 credit score criteria to persons who have already shown themselves to be 580 credit score kind of people—as a result of unemployment, inflation, weather-related crisis', etc. But when it comes to their lending regulations, that's all the lenders are really permitted to consider, even in the midst of this crisis.  They still have to be accountable to the lending regulations, regardless of how much money the U.S. Government, aka We the People, throws at them.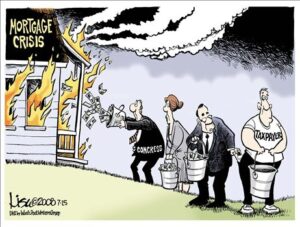 Now, let's look at the bailout money. As you know, Fannie Mae and Freddie Mac, as well as a slew of major banks, have received U.S. Government bailouts. Such bailouts were granted under threat that the sky would fall if it didn't take place. This is true, but the real question is WHO'S SKY WOULD FALL? The answer is the Federal Reserve, the U.S. Treasury, and the corporation of the U.S. Government—again—it's the corporation, not our nation that would be sorely impacted if the bailouts were not created. Perhaps now you'll understand why the bailouts have done NOTHING to lube up the rails of lending and credit extension at these banks; they HAVE to hold on to this bailout money in order to cover the gaps that are now being brought on by the massive amounts of foreclosures they are facing! Sure these banks received X millions of dollars in bailout monies; but that X million of dollars only enables them to continue to play in the trading platform game—something they would have had to cease if they had to call in all of the appropriate loan volume.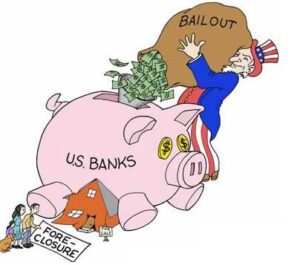 So, let me finish by sharing with you why I feel like this is the beginning of the perfect storm, Folks.  Right now, the mortgage industry is involved in a fantasy triage. Pretty soon, regardless of how much hope, change, and smoking mirrors that are used, the industry is going to flat-line. There will be no hiding of that.  And THAT, my friends, will be your precursor to a complete financial collapse in which our U.S. currency isn't worth the paper it's printed on. When you hear the words that a company is "too big to fail" it translates clearly into "We are so entangled with this company that if it fails, the gig will be up and we'll all have to go back to honest livings." We have seen only the beginning of banks dropping like flies because their hands are tied with foreclosures now.  They can't recoup their costs, their bogus books won't help them. They are literally committing financial Hara-kiri right now (none of this would have ever come to light had there not been so many foreclosures). We've created more currency in the last 18 months than we have in the last 200 years without any accountability or justification for that money to be created.  So I ask you, are you beginning to see the writing on the wall? At the risk of sounding anything other than genuinely concerned, I beg you all to get out of debt and get prepared with your necessary supplies NOW while you're money is still worth something.
© 2019 Of COURSE this post is Copyright Protected by Preparedness Pro. All Rights Reserved. NO portion of this article may be reposted, printed, copied, disbursed, etc. without first receiving written permission by the author. This content may be printed for personal use only. (Then again, laws are only as good as the people who keep them.) Preparedness Pro will pursue all violations of these rights just as vigorously as she does any of her other freedoms, liberties, and protections.