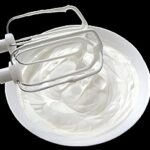 In honor of the $1,500 worth of Preparedness Giveaway this month I thought I'd pass along one of my favorite recipes using this great shelf-stable dairy product combined with some of my favorite freeze-dried fruits.  If you didn't know, Spiff-E-Whip is one of the 65 different prizes being given away for this special event!
Spiff-E-Whip is definitely one of my "must have products".  It's got no fat and only 2 grams of carbohydrates per serving.  I can turn it into a pie filling, pudding, fluffy topping, chocolate mousse, or a frosting with nothing more than water and a little whisking.
When I use freeze-dried fruit in this recipe instead of frozen, the fruit tastes nice, fresh, and plump, not mushy. I couldn't believe it when I first tried it.  I could have sworn that fresh produce was put into the dish right before I took a bite!  Using the same water which I reconstitute the fruit in is one of my ways to make the dish a little bit more flavorful, and depending on what fruit you use, it also gives it a little bit of festive color.  I like to use freshly grated orange zest, but I have made it with dried orange zest before to satisfactory reviews—after all, I may not always have fresh orange zest available, right?
One of the nice things about this recipe is that Five Star Preparedness is offering Spiff-E-Whip as one of its group buy specials this month.  Even better, they are offering it in a #10 can.  I'm excited about that because I can only get it from the local stores and manufacture in the smaller 20 ounce size.  So I definitely plan on snagging several.  Be sure to enter to win in the $1,500 Preparedness Giveaway often and you could snag some for FREE!!!
Freeze-Dried Spiff-E Fruit Mousse
Take 3 cups of your favorite freeze-dried fruits. (I prefer to mix strawberries, blueberries, and pineapple.)
Place them in a bowl or a pitcher and then cover them in 3 cups of very cold water.  Let stand for about 15 minutes.
Drain the fruit, reserving the liquids from the fruit reconstitution.
In a separate bowl, mix together 2 Cups of Spiff-E-Whip and 1 ½ cups of the reserved liquid from the fruit. Mix on high with an electric mixer until creamy and fluffy. Add 1 teaspoon of almond extract.  Gently fold in the drained reconstituted fruits.
Dish into small dessert dishes and top with about 1 tablespoon of freshly grated orange zest.
Makes 6 to 8 servings
Enjoy!
To see our upcoming event schedule, click here
Check out our in-home-course programs
Subscribe to Preparedness Pro today and never miss a thing!
For any questions or comments on this article, please leave a comment on the blog site so that everyone can benefit!
Copyright Protected 2010, Preparedness Pro and Kellene. All Rights Reserved. No portion of any content on this site may be duplicated, transferred, copied, or published without written permission from the author. However, you are welcome to provide a link to the content on your site or in your written works.
© 2019 Of COURSE this post is Copyright Protected by Preparedness Pro. All Rights Reserved. NO portion of this article may be reposted, printed, copied, disbursed, etc. without first receiving written permission by the author. This content may be printed for personal use only. (Then again, laws are only as good as the people who keep them.) Preparedness Pro will pursue all violations of these rights just as vigorously as she does any of her other freedoms, liberties, and protections.